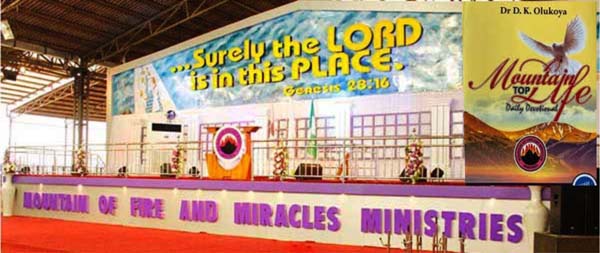 Written by Dr D.K. Olukoya, General Overseer, MFM worldwide
Posted by allcitynews.ng
MFM topic for Wed 3 August 2022: the ultimate pursuit (3)
WELCOME to MFM Devotional, 03/08/22
PRAISE & WORSHIP
O Jesus, I have promised
1 O Jesus, I have promised
To serve Thee to the end;
Be Thou forever near me,
My Master and my Friend;
I shall not fear the battle
If Thou art by my side,
Nor wander from the pathway
If Thou wilt be my Guide.
2 Oh, let me feel Thee near me;
The world is ever near;
I see the sights that dazzle,
The tempting sounds I hear;
My foes are ever near me,
Around me and within;
But, Jesus, draw Thou nearer,
And shield my soul from sin.
3 Oh, let me hear Thee speaking,
In accents clear and still,
Above the storms of passion,
The murmurs of self-will;
Oh, speak to reassure me,
To hasten, or control;
Oh, speak, and make me listen,
Thou Guardian of my soul.
4 O Jesus, Thou hast promised
To all who follow Thee
That where Thou art in glory
There shall Thy servant be;
And Jesus, I have promised
To serve Thee to the end;
Oh, give me grace to follow,
My Master and my Friend.
5 Oh, let me see Thy footmarks,
And in them plant mine own;
My hope to follow duly
Is in Thy strength alone.
Oh, guide me, call me, draw me,
Uphold me to the end;
And then to rest receive me,
My Savior and my Friend.
BIBLE IN ONE YEAR:
1 Chronicles 15:23-40, 1 Chronicles 16:1-36, 1 Romans 16 Psalm 90:11-17
MEMORY VERSE: Philippians 3:8, "Yea doubtless, and I count all things but loss for the excellency of the knowledge of Christ Jesus my Lord: for whom I have suffered the loss of all things, and do count them but dung, that I may win Christ."
MOTIVATIONAL QUOTES:
A life not committed to pursuing God shall eventually be reckoned as a wasted life.
PROPHETIC WORD FOR TODAY:
You shall not be counted among the wasted ones, in the name of Jesus.
FIRE SCRIPTURE:
Philippians 3:7-10
MESSAGE:
The spiritual equation designed by God for the eternal joy and inner fulfilment of mankind is for man to depend totally on Him and to do everything possible to pursue and possess the Lord God as his inheritance.
However, the devil has manufactured a lot of toys and things that will definitely perish with this corrupt world to becloud the reasoning ability of man and to also deaden man's appatite for God, thereby turning the pursuit of many towards the vain things of this world.
Beloved, you need to know that if you spend your entire life pursuing the vain things of this world, you will surely stand before the dreadful throne of judgement on that day to give account of your borrowed life.
What have you been pursuing? Men who have made impact in their generations; men who have left their glorious footprints on the sand of time, men whom the Lord delights in and boasts about are men like Apostle Paul whose singular pursuit in life is God only. They are not suffering from the plague of divided attention or half-hearted commitment. They are men of only one agenda-in pursuit of God.
Are you like these men described above? Can God boast about you? Can't you learn from Paul who said all those things that were worthwhile and of great value to him he had treated with contempt and consider them as excreta? Your pursuit in life will either bring you celebration or tribulation after your exist from this planet.
Remember you brought nothing along with you as you came into this world and so shall you return empty when you depart to great beyond. The only assurance of eternal joy for you is to make God your ultimate pursuit now that you still have the opportunity. I enjoin you to make this life- changing and eternal decision now, before it is too late. May you not be wasted, in the name of Jesus.
PRAYER POINTS:
MORNING
1. O Lord, deliver me from the vain pusuit of this life, in the name of Jesus.
2. Holy Ghost fire, purge my heart and set my affection on God alone, in the name of Jesus.
3. Dark arrow fired to injure my spirit man, backfire, in the name of Jesus.
EVENING
4. O Lord, give me fresh hunger for You, in the name of Jesus.
5. Strongman of my father's house dragging me away from the way of Calvary, release me, and die, in the name of Jesus.
6. Wasters in my foundation, die by fire, in the name of Jesus.
7. O Lord, make my life Your dwelling place, in the name of Jesus.