admin
6 days ago
4 min read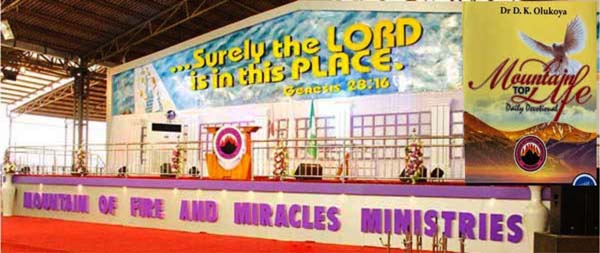 Written by Dr D.K. Olukoya, General Overseer, MFM worldwide
MFM topic for Thur 4 August 2022: remnant according to the election of grace
WELCOME to MFM Devotional, 04/08/22
PRAISE & WORSHIP
1 Revive thy work, O Lord,
thy mighty arm make bare;
speak with the voice that wakes the dead,
and make thy people hear.
2 Revive thy work, O Lord,
disturb this sleep of death;
quicken the smould'ring embers now
by thine almighty breath.
3 Revive thy work, O Lord,
create soul-thirst for thee;
and hung'ring for the Bread of Life
O may our spirits be.
4 Revive thy work, O Lord,
exalt thy precious name;
and, by the Holy Ghost, our love
for thee and thine inflame.
5 Revive thy work, O Lord,
give Pentecostal show'rs;
the glory shall be all thine own,
the blessing, Lord, be ours.
BIBLE IN ONE YEAR:
1 Chronicles 16:37-43, 1 Chronicles 17, 1 Chronicles 18, 1 Corinthians 1:1-17, Proverbs 19:3-12
MEMORY VERSE: Romans 11:5 "Even so then at this present time also there is a remnant according to the election of grace."
MOTIVATIONAL QUOTES:
No matter how dark a generation may be, there is always a shinning soul.
PROPHETIC WORD FOR TODAY:
You will not be a heartache to Heaven, in the name of Jesus.
FIRE SCRIPTURE:
Romans 11:1-5
MESSAGE:
It can be said that from the first generation of mankind, God has been having the challenge of unfaithfulness from the side of man. Nonetheless, God is ever seeking for men who will stand for Him faithfully irrespective of the raging perversion in their generations.
The Holy Bible is full of numerous stories of man's unfaithfulness towards God right from the beginning as instituted by Adam to this present time; and also with the glowing and motivating stories of men who remained faithful to God to the end.
Eventually, the point is no matter how evil and wicked a generation may be, God will always find very few people who will still choose to remain faithful to Him in spite of all odds. In Christianity, these faithful ones are referred to as the remnant. That is, a small group of people who will decide to remain faithful and be saved.
Remember, in the time of Noah, he still decided to remain faithful to God despite the alarming depth of corruption in his days. Can you see that you have no excuse whatsoever? Also, during the time of Elijah, he chose to remain steadfast to the end of his days despite the fact that rebellion and spiritual decadence had taken over the land. The people of Israel had forsaken their God and had married themselves off to Baal and other heathen gods. Are you steadfast?
You can also remember vividly well the story of the four Hebrew children, Daniel and his friends, who purposed to remain faithful to God despite the sinfulness and wickedness of their days. Are you faithfully standing for God? There is always a remnant according to the election of grace in every generation; those who will remain faithful to God, no matter the height of sin and perversion. Our present world is corrupt, just as like the time of Noah; but Noah stood faithful in his own time. Will you also stand faithful and be counted for God in your generation?
PRAYER POINTS:
MORNING
1. Lord Jesus! take Your place in my life, in the name of Jesus.
2. Holy Spirit, help me not to fail God, in the name of Jesus.
3. Demon spirit targeting my life for destruction, be crushed by the Holy Ghost bulldozzer, in the name of Jesus.
EVENING
4. Authority of darkness over my soul, scatter by thunder, in the name of Jesus.
5. Heaven shall not weep over my life, in the name of Jesus.
6. Grace to run this race well and finish strong, fall upon me, in the name of Jesus.
7. Error that will rob me of glorious eternity, I bury you by fire, in the name of Jesus.
 and be saved
Allcitynews.ng Special Notice:-
Salvation of your soul is very vital to God.
Beloved Reader, Remember! John 3:3 says, "Truly, truly, I say to you, unless ye are born again, ye cannot see the kingdom of God."
If you are ready to give your life to Christ Jesus, please pray the displayed prayer below in faith:
Lord Jesus, I am a sinner. I confess all my sin, have mercy on me, forgive me all my sin. Lord Jesus come into my life. I accept You as my Lord and Personal Saviour. I believe in my heart You died and rose from the dead to set me free. Thank You Lord for saving me, in Jesus name Amen.
If you just prayed the prayer of salvation! Congratulations! You are now born again. You need to belong to a Bible-Believing Church where you can know more. For testimonies, counselling or prayer requests, write or call:
ecounselling@mountainoffire.org
, +234 (0)808 770-0112 ; OR +234(0)8164028731.
Weekly Activities: Sunday Worship Service, 7am to 10am. Bible Study: 5-7pm. Wednesday Revival/Manna Water Service:4.30pm to 7pm. Every Friday, Prayer Rain (except Friday before PMCH) in Prayer City.
Monthly Programme: First Saturday of every month; Power Must Change Hands (PMCH)7am to 9am.
MAY THE PEACE OF THE LORD BE WITH YOU!!
ADVERTISE or PUBLISH a Story on allcitynews.ng: Kindly contact us at
ojezand@yahoo.com
. Have breaking story! Please send such with pictorial evidence to the above email. Thank you.
Disclaimer:
Comments expressed here do not reflect the opinions of allcitynews.ng or any employee thereof. It assumes no responsibility or liability for any errors or omissions in the comments.