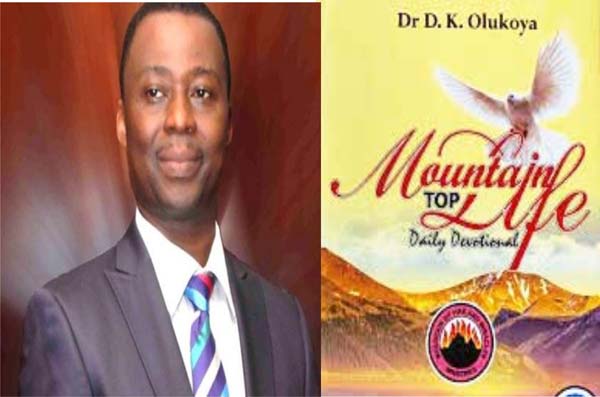 MFM 2022: MY YEAR OF BECOMING DIVINE SPECTACLE
Written by Dr D.K. Olukoya, General Overseer, MFM worldwide
Posted by allcitynews.ng
MFM Topic,TUE 02-11-22:-lesson from life of Jonah
Welcome to MFM Devotional, 02/11/22
PRAISE & WORSHIP:
1 O worship the King all-glorious above,
O gratefully sing his power and his love:
our shield and defender, the Ancient of Days,
pavilioned in splendor and girded with praise.
2 O tell of his might and sing of his grace,
whose robe is the light, whose canopy space.
His chariots of wrath the deep thunderclouds form,
and dark is his path on the wings of the storm.
3 Your bountiful care, what tongue can recite?
It breathes in the air, it shines in the light;
it streams from the hills, it descends to the plain,
and sweetly distills in the dew and the rain.
4 Frail children of dust, and feeble as frail,
in you do we trust, nor find you to fail.
Your mercies, how tender, how firm to the end,
our Maker, Defender, Redeemer, and Friend!
5 O measureless Might, unchangeable Love,
whom angels delight to worship above!
Your ransomed creation, with glory ablaze,
in true adoration shall sing to your praise!
BIBLE IN ONE YEAR: Mark 2
PROPHETIC WORD FOR 2/11/22:
I decree that the power of total obedience will come upon you as from today, in the name of Jesus.
MEMORY VERSE:
Ecclesiates 12:13
"Let us hear the conclusion of the whole matter: Fear God, and keep his commandments: for this is the whole duty of man."
MOTIVATIONAL QUOTE:
There are no detours around God's will, and anything short of total obedience to God is disobedience.
2/11/22 FIRE SCRIPTURE: Jonah 1:1-5
1 The word of the LORD came to Jonah son of Amittai:
2 "Go to the great city of Nineveh and preach against it, because its wickedness has come up before me."
3 But Jonah ran away from the LORD and headed for Tarshish. He went down to Joppa, where he found a ship bound for that port. After paying the fare, he went aboard and sailed for Tarshish to flee from the LORD.
4 Then the LORD sent a great wind on the sea, and such a violent storm arose that the ship threatened to break up.
5 All the sailors were afraid and each cried out to his own god. And they threw the cargo into the sea to lighten the ship. But Jonah had gone below deck, where he lay down and fell into a deep sleep
The life of Jonah shows that anyone who pitches himself or herself against God cannot succeed in life. It also proves that failure to carry out God's instructions, however contradictory to reason they may appear to be, always results in great spiritual loss. Jonah was disobedient to God's instruction. As a result, God became angry with him and troubled him.
Though God had sent him to Nineveh, Jonah boarded the ship going to Tarshish. He decided to travel in the ship of disobedience. God's anger was kindled against him. Hence, God sent a storm or terrible wind to trouble the ship. The captain and other passengers cast lot and found out that the problem was caused by Jonah. Therefore, they threw him into the sea.
After that the storm became still. Jonah was swallowed by a whale and remained in its belly for three days and three nights. It was when he repented that God commanded the whale to vomit him. Beloved, what happened to Jonah is the fate that will befall anyone living in disobedience to God's word or command: God's anger, judgement and punishment. Jonah rejected the will of God and chose to be self-willed and rebellious. God told him to go to Nineveh and preach repentance to a whole nation.
Though the sins of Nineveh were great and grievous, God decided to show them mercy and give them a long rope by sending Jonah to deliver His message to them and get them to change from their evil ways rather than being swift in judging and destroying them.
Jonah felt that God ought to destroy them and not give them any opportunity to repent. So, he went to Joppa instead of Nineveh. Also, Jonah concluded within himself that the people of Nineveh had gone so corrupt and sinful that they were not likely to forsake their evil ways. So he felt that there was no point in going to deliver God's message of repentance to them. In each instance, Jonah did not show complete trust in the sovereignty and omniscience of God. He did not submit himself to the supremacy of divine counsel. Could he have known better than God to determine who deserves His mercy and love and who does not?
PRAYER POINTS:
MORNING
1. Father, help me to always do divine bidding and Your word, in the name of Jesus.
2. I will not face the wrath of God, in the name of Jesus.
3. I receive the grace to always trust God sovereignty and omniscience, in the name of Jesus.
EVENING
4. Father, give me the grace to love as You love, in the name of Jesus.
5. O God, arise and increase my passion for souls, in the name of Jesus.
6. I overcome the spirit of self-will and rebellion, in the name of Jesus.
7. Father, help me to be unquestioningly, promptly and completely obedient to you, in the name of Jesus.
Special Notice by allcitynews.ng:
Salvation of your soul is very vital to God.
Beloved Reader, Remember! John 3:3 says, "Truly, truly, I say to you, unless ye are born again, ye cannot see the kingdom of God."
If you are ready to give your life to Christ Jesus, please pray the displayed prayer below in faith:
Lord Jesus, I am a sinner. I confess all my sin, have mercy on me, forgive me all my sin. Lord Jesus come into my life. I accept You as my Lord and Personal Saviour. I believe in my heart You died and rose from the dead to set me free. Thank You Lord for saving me, in Jesus name Amen.
If you just prayed the prayer of salvation! Congratulations! You are now born again. You need to belong to a Bible-Believing Church where you can know more. For testimonies, counselling or prayer requests, write or call: ecounselling@mountainoffire.org, +234 (0)808 770-0112 ; OR +234(0)8164028731.
Weekly Activities: Sunday Worship Service, 7am to 10am. Bible Study: 5-7pm. Wednesday Revival/Manna Water Service:4.30pm to 7pm. Every Friday, Prayer Rain (except Friday before PMCH) in Prayer City.
Monthly Programme: First Saturday of every month; Power Must Change Hands (PMCH)7am to 9am.
MAY THE PEACE OF THE LORD BE WITH YOU!!
ADVERTISE or PUBLISH a Story in allcitynews.ng! Have breaking story! Kindly send such with pictorial evidence to
ojezand@yahoo.com. Thank you.
Disclaimer:
Comments expressed here do not reflect the opinions of allcitynews.ng or any employee thereof. It assumes no responsibility or liability for any errors or omissions in the comments.
Allcitynews.ng's goal: To be the most influential, informative and reliable issues-based online newspaper in working for the unity, peace and development of the Country.