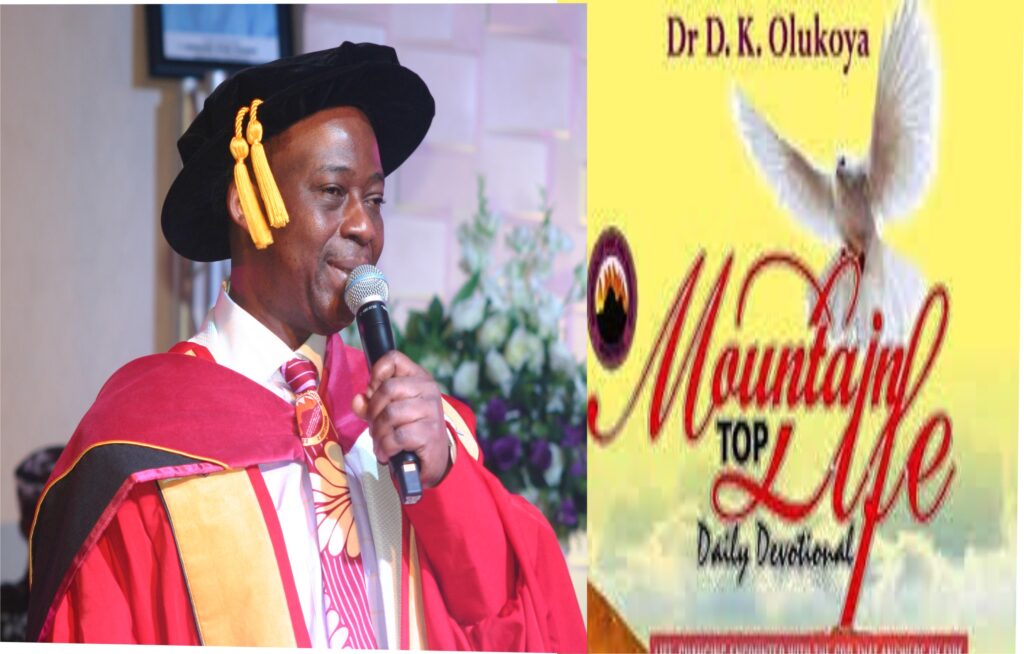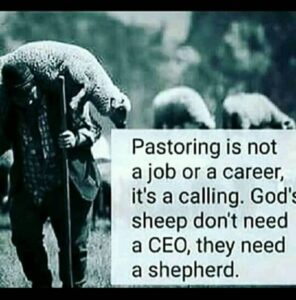 MFM 2022: MY YEAR OF BECOMING DIVINE SPECTACLE
Written by Dr D.K. Olukoya, General Overseer, MFM worldwide
Posted by allcitynews.ng
MFM Topic,TUE 1-11-22:-effective delegation: a leadership secret (1)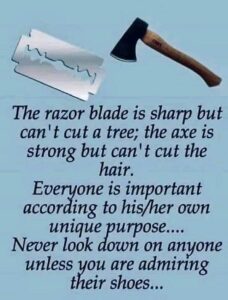 Welcome to MFM Devotional, 01/11/22
BIBLE IN ONE YEAR:
Jeremiah 24–26; Titus 2
MEMORY VERSE:
2 Timothy 2:2 – "And the things that
thou hast heard of me among many witnesses, the same commit thou to faithful men, who shall be able to teach others also."
2 Timothy 2:2
Easy-to-Read Version
2 What you have heard me teach publicly you should teach to others. Share these teachings with people you can trust. Then they will be able to teach others these same things.
MOTIVATIONAL QUOTES:
The job of a leader is to ensure that all the work gets done – not to do it all by himself or herself.
PRAISE & WORSHIP:
1 Let us, with a gladsome mind,
praise the LORD, for He is kind:
for His mercies shall endure,
ever faithful, ever sure.
2 Let us blaze His Name abroad,
for of gods He is the God:
for His mercies shall endure,
ever faithful, ever sure.
3 He with all-commanding might
filled the new-made world with light:
for His mercies shall endure,
ever faithful, ever sure.
4 All things living He doth feed;
His full hand supplies their need:
for His mercies shall endure,
ever faithful, ever sure.
5 He His chosen race did bless
in the wasteful wilderness:
for His mercies shall endure,
ever faithful, ever sure.
6 He hath with a pious eye
looks upon our misery:
for His mercies shall endure,
ever faithful, ever sure.
7 Let us therefore warble forth
His high majesty and worth:
for His mercies shall endure,
ever faithful, ever sure.
PROPHTIC WORD FOR 01-11-22:
Receive wisdom from above to be an outstanding leader, in the Name of
Jesus.
FIRE SCRIPTURE:
Exodus 18 (Easy-to-Read Version)
Advice From Moses' Father-in-Law
18 Jethro, Moses' father-in-law, was a priest in Midian. He heard about the many ways that God helped Moses and the Israelites. He heard about the Lord leading the Israelites out of Egypt.
2 So Jethro went to Moses while Moses was camped near the mountain of God. Jethro brought Moses' wife, Zipporah, with him. (Zipporah was not with Moses, because Moses had sent her home.)
3 Jethro also brought Moses' two sons with him. The first son was named Gershom, because when he was born, Moses said, "I am a stranger in a foreign country."
4 The other son was named Eliezer, because when he was born, Moses said, "The God of my father helped me and saved me from the king of Egypt."
5 So Jethro went to Moses while Moses was camped in the desert near the mountain of God. Moses' wife and his two sons were with Jethro.
6 Jethro sent a message to Moses that said, "This is your father-in-law Jethro. I am bringing your wife and her two sons to you."
7 So Moses went out to meet his father-in-law. Moses bowed down before him and kissed him. The two men asked about each other's health. Then they went into Moses' tent to talk more.
8 Moses told Jethro everything the Lord had done for the Israelites. He told what the Lord did to Pharaoh and the people of Egypt. He told about all the problems they had along the way. And he told his father-in-law how the Lord saved the Israelites every time there was trouble.
9 Jethro was happy when he heard all the good things the Lord had done for Israel. He was glad that the Lord had freed the Israelites from the Egyptians.
10 He said, "Praise the Lord! He freed you from the power of Egypt. He saved you from Pharaoh.
11 Now I know the Lord is greater than all the gods. They thought they were in control, but look what God did!"
12 Jethro got some sacrifices and offerings to honor God. Then Aaron and all the elders of Israel came to eat with Moses' father-in-law Jethro. They all ate together there with God.
13 The next day, Moses had the special job of judging the people. There were so many people that they had to stand before him all day.
14 Jethro saw Moses judging the people. He asked, "Why are you doing this? Why are you the only judge? And why do people come to you all day?"
15 Then Moses said to his father-in-law, "The people come to me and ask me to ask for God's decision for their problem.
16 If people have an argument, they come to me, and I decide which person is right. In this way I teach the people God's laws and teachings."
17 But Moses' father-in-law said to him, "This isn't the right way to do this.
18 It is too much work for you to do alone. You cannot do this job by yourself. It wears you out. And it makes the people tired too.
19 Now, listen to me. Let me give you some advice. And I pray God will be with you. You should continue listening to the problems of the people. And you should continue to speak to God about these things.
20 You should explain God's laws and teachings to the people. Warn them not to break the laws. Tell them the right way to live and what they should do.
21 But you should also choose some of the people to be judges and leaders.
"Choose good men you can trust—men who respect God. Choose men who will not change their decisions for money. Make these men rulers over the people. There should be rulers over 1000 people, 100 people, 50 people, and even over ten people.
22 Let these rulers judge the people. If there is a very important case, then they can come to you and let you decide what to do. But they can decide the other cases themselves. In this way these men will share your work with you, and it will be easier for you to lead the people.
23 If you do this as God directs you, then you will be able to do your job without tiring yourself out. And the people can still have all their problems solved before they return home."
24 So Moses did what Jethro told him.
25 Moses chose good men from among the Israelites. He made them leaders over the people. There were rulers over 1000 people, 100 people, 50 people, and ten people.
26 These rulers were judges for the people. The people could always bring their arguments to these rulers, and Moses had to decide only the most important cases.
27 After a short time Moses said goodbye to his father-in-law Jethro, and Jethro went back to his own home.
01:11:22 MESSAGE:-
One of the factors that enhance leadership effectiveness is delegation. There is an old adage that says, "If you want something done right, you must do it yourself." Although this may sound true in some cases, outstanding leaders get work done through others.
Delegation is the act of empowering others to accomplish a task. Whether you are a leader in your home, at work (career or business), in church or some other spheres of influence, you need to acquire and use the skill of delegation. You will record greater success, to the glory of God.
Delegation has its root in Scripture and it is useful in helping to raise leaders, build morale and give others in the team a sense of responsibility and belonging. In Genesis 1:28-30; 2:15-20, God delegated authority to Adam and Eve. He gave them the responsibility to work and take care of the land. He gave them the authority to rule and to subdue. He also held them accountable for their actions.
Great leaders in the Bible like Moses, David, Nehemiah, Jesus Christ and the apostles used this principle of delegation to achieve huge success in their divine assignments. Our Fire Scripture for today reveals the application of the principle of delegation during Moses' time as Israel's leader.
After Moses had led the children of Israel out of Egypt and they were in the wilderness, journeying to the Promised Land, he found himself labouring from early morning until late at night, attempting to solve the numerous conflicts that arose among the people (Exodus 18:13-16). Moses had unintentionally become a workaholic.
When Moses' father-in-law, Jethro, a priest of Midian, saw Moses' workload and stress, as he attended to different cases from day break to sunset daily, he knew that his style was wrong and unsustainable. He called Moses aside and gave him some invaluable counsel about the principle of delegation. The five principles that Jethro introduced to Moses are as relevant today as they were then.
Beloved, the job of a leader is to ensure that all the work gets done – not to do it all by himself or herself. Learn from Moses' mistake and turn a new leaf today!
PRAYER POINTS:
MORNING
1. Father, give me wisdom to be an effective leader, in the Name of Jesus.
2. My Father, give me the grace to delegate effectively, in the Name of Jesus.
3. O God, arise and make me a great team builder, in the Name of Jesus.
EVENING
4. I reject every wrong, counter-productive and unsustainable leadership strategy, in the Name of Jesus.
5. I shall not misuse any authority delegated to me, in the Name of Jesus.
6. My Father, make me an excellent worker and achiever, in the Name of Jesus.
7. I shall receive "well done good and faithful servant" from the Lord, in the Name of Jesus.
Special Notice by allcitynews.ng:
Salvation of your soul is very vital to God.
Beloved Reader, Remember! John 3:3 says, "Truly, truly, I say to you, unless ye are born again, ye cannot see the kingdom of God."
If you are ready to give your life to Christ Jesus, please pray the displayed prayer below in faith:
Lord Jesus, I am a sinner. I confess all my sin, have mercy on me, forgive me all my sin. Lord Jesus come into my life. I accept You as my Lord and Personal Saviour. I believe in my heart You died and rose from the dead to set me free. Thank You Lord for saving me, in Jesus name Amen.
If you just prayed the prayer of salvation! Congratulations! You are now born again. You need to belong to a Bible-Believing Church where you can know more. For testimonies, counselling or prayer requests, write or call: ecounselling@mountainoffire.org, +234 (0)808 770-0112 ; OR +234(0)8164028731.
Weekly Activities: Sunday Worship Service, 7am to 10am. Bible Study: 5-7pm. Wednesday Revival/Manna Water Service:4.30pm to 7pm. Every Friday, Prayer Rain (except Friday before PMCH) in Prayer City.
Monthly Programme: First Saturday of every month; Power Must Change Hands (PMCH)7am to 9am.
MAY THE PEACE OF THE LORD BE WITH YOU!!
ADVERTISE or PUBLISH a Story in allcitynews.ng! Have breaking story! Kindly send such with pictorial evidence to
ojezand@yahoo.com. Thank you.
Disclaimer:
Comments expressed here do not reflect the opinions of allcitynews.ng or any employee thereof. It assumes no responsibility or liability for any errors or omissions in the comments.
Allcitynews.ng's goal: To be the most influential, informative and reliable issues-based online newspaper in working for the unity, peace and development of the Country.