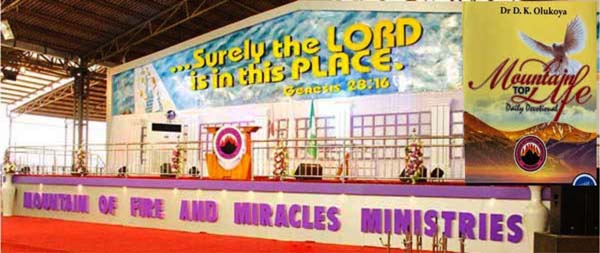 Written by Dr D.K. Olukoya, General Overseer, MFM worldwide
Posted by allcitynews.ng
MFM Topic for Wed 14 Sept 22:- lesson from the life of Jonathan
WELCOME to MFM Devotional, 14-09-22
BIBLE IN ONE YEAR: ISAIAH 33, ISAIAH 34, ISAIAH 35, GALATIANS 1, Psalm 107:10-22
Memory verse: 1 Samuel 14:6:-
"And Jonathan said to the young man that bare his armor, come and let us go over unto the garrison of these uncircumcised. It may be that the Lord will work for us, for there is no restraint to the Lord to save by many or by few."
Motivational quotes: the love of God for you is unconditional.
Prophetic word for 14/09/22:
Your destiny helper shall arise and locate you today, in the name of Jesus.
Fire Scriptures: 1 Samuel 14:1-23
Praise and worship
Tis So Sweet to Trust in Jesus
'Tis so sweet to trust in Jesus,
Just to take Him at His Word;
Just to rest upon His promise,
Just to know, "Thus saith the Lord!"
Jesus, Jesus, how I trust Him!
How I've proved Him o'er and o'er;
Jesus, Jesus, precious Jesus!
Oh, for grace to trust Him more!
I'm so glad I learned to trust Him,
Precious Jesus, Savior, Friend;
And I know that He is with me,
Will be with me to the end.
Jesus, Jesus, how I trust Him!
How I've proved Him o'er and o'er;
Jesus, Jesus, precious Jesus!
Oh, for grace to trust Him more!
Jesus, Jesus, how I trust Him!
How I've proved Him o'er and o'er;
Jesus, Jesus, precious Jesus!
Oh, for grace to trust Him more!
Oh, for grace to trust Him more!
14 SEPT 22 MESSAGE:
Jonathan was the eldest son of King Saul. He was supposed to be the rightful heir to the throne of Israel after the death of this father Saul. But the fact that God brought another man to ascend the throne instead of him was acceptable to him. he was a man of great courage, fidelity and unselfishness. he was a man with heroic faith. Consider his statement in 1 Samuel 14:6.
Jonathan was a faithful and loyal friend to David, friend. Loyalty is one of life`s most costly qualities found in friends. It is the most selfless part of love. To be loyal is not for yourself only but to stand by your commitment and willingness to suffer for it. Jonathan was a shining example of loyalty. Sometimes, he was faced with choosing between his father, Saul and his friend David, who was a servant to his father.
However, Jonathan allowed truth to guide him. He knew that his father sought to kill David unjustly and he stood by David and helped him to escaped from his father.
The Bible, which is the word of truth, had nothing negative to say about Jonathan. He was a perfect example of a good and godly friend.
Beloved, are you a true friend or a backbiter? Are you a jealous person or a hypocrite who would laugh before your friend but try to pull him down behind his back? Can the Bible testify about you like Jonathan are you courageous, loyal and faithful friend?
Jonathan was ready to take a second place without jealous or envy and still maintain his love and loyalty for David. No wonder when David looked back and remembered the friendship of Jonathan, he wept and made a lamentation recorded in 2 Samuel 1:26.
Beloved, are you such a friend as Jonathan? If you were in the position of Jonathan, would you have helped David to escape or would have joined forces with Saul to kill him? Think about it?
PRAYER POINTS:
MORNING
1. O Lord, raise a voice for me as you did for David, in the name of Jesus.
2. Every unfriendly friend looking for my downfall, be disgraced, in the name of Jesus.
3. Father Lord, just as you raised Jonathan to be a destiny helper for David, arise in your mercy and raise a destiny helper for me, in the name of Jesus.
EVENING
4. Powers seeking my life for destruction, die in Jesus name.
5. Evil conspiracy against my moving forward, scatter, in Jesus name.
6. O Lord, baptize me with unfeigned love for my neighbor, in the name of Jesus.
7. O Lord, baptize me with the seven perfect spirit recorded in Isaiah 11:12, in the name of Jesus.
Special Notice by allcitynews.ng:
Salvation of your soul is very vital to God.
Beloved Reader, Remember! John 3:3 says, "Truly, truly, I say to you, unless ye are born again, ye cannot see the kingdom of God."
If you are ready to give your life to Christ Jesus, please pray the displayed prayer below in faith:
Lord Jesus, I am a sinner. I confess all my sin, have mercy on me, forgive me all my sin. Lord Jesus come into my life. I accept You as my Lord and Personal Saviour. I believe in my heart You died and rose from the dead to set me free. Thank You Lord for saving me, in Jesus name Amen.
If you just prayed the prayer of salvation! Congratulations! You are now born again. You need to belong to a Bible-Believing Church where you can know more. For testimonies, counselling or prayer requests, write or call: ecounselling@mountainoffire.org, +234 (0)808 770-0112 ; OR +234(0)8164028731.
Weekly Activities: Sunday Worship Service, 7am to 10am. Bible Study: 5-7pm. Wednesday Revival/Manna Water Service:4.30pm to 7pm. Every Friday, Prayer Rain (except Friday before PMCH) in Prayer City.
Monthly Programme: First Saturday of every month; Power Must Change Hands (PMCH)7am to 9am.
MAY THE PEACE OF THE LORD BE WITH YOU!!
ADVERTISE or PUBLISH a Story on allcitynews.ng: Kindly contact us at ojezand@yahoo.com. Have breaking story! Please send such with pictorial evidence to the above email. Thank you.
Disclaimer:
Comments expressed here do not reflect the opinions of allcitynews.ng or any employee thereof. It assumes no responsibility or liability for any errors or omissions in the comments.