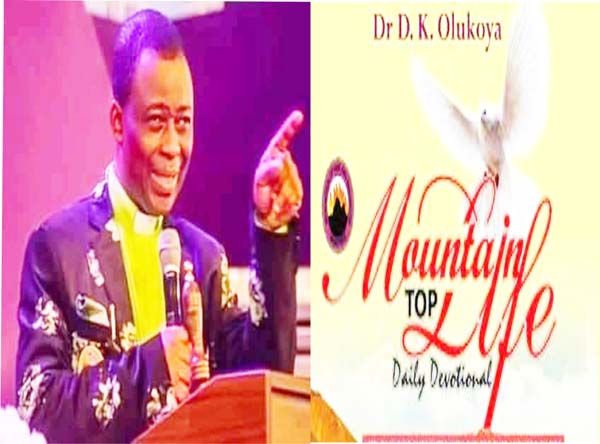 Written by Dr D.K. Olukoya, General Overseer, MFM worldwide
Posted by allcitynews.ng
MFM Topic, MON 31-10-22:-how to find the will of God (5)
Welcome to MFM Devotional, 31/10/22
BIBLE IN ONE YEAR: Obadiah 1, Hebrews 2, Proverbs 26:13-22
FIRE SCRIPTURE: Mark 14:12-16
MEMORY VERSE:
Judges 14:4 – "But his father and his mother knew not that it was of the LORD, that he sought an occasion against the Philistines: for at that time the Philistines had dominion over Israel."
MOTIVATIONAL QUOTES:
Those who love, seek and live by the Truth will find and do God's will.
PRAISE & WORSHIP
1 When we walk with the Lord
in the light of his Word,
what a glory he sheds on our way!
While we do his good will
he abides with us still,
and with all who will trust and obey.
Refrain:
Trust and obey, for there's no other way
to be happy in Jesus but to trust and obey.
2 But we never can prove
the delights of his love
until all on the altar we lay;
for the favor he shows,
and the joy he bestows
are for them who will trust and obey. [Refrain]
3 Then in fellowship sweet
we will sit at his feet,
or we'll walk by his side in the way;
what he says we will do,
where he sends we will go –
never fear, only trust and obey. [Refrain
PROPHETIC WORD FOR 31/10/22:
I PROPHESY THAT FROM TODAY, YOU WILL BEGIN TO REAP THE BENFITS OF FINDING AND DOING THE WILL OF GOD, IN THE NAME OF JESUS.
MON 31/10/22 MESSAGE:
Today, as we round off this eye-opening discourse on how you can find and do God's will, we shall look at two more ways: obvious circumstances and the witness of the Spirit.
Beloved, God often sets up circumstances to show His will. In 2 Samuel 5:22-25, God gave David a specific sign as to when to rise and attack the Philistines. Also in Mark 14:12-16, when Jesus' disciples asked Him where they would prepare for Him to eat the Passover, He told them, "Go into the city and a man will meet you carrying a pitcher of water; follow him…" In Luke 10:8-9, Jesus also told His disciples, "Whatsoever city ye enter, and they receive you, eat."
Let us examine some examples of obvious circumstances. The Ethiopian eunuch requested an explanation of Isaiah 53 (Acts 8:30-35). Sergius Paulus, Governor of Cyprus, called for Barnabas and Paul, and desired to hear the word of God (Acts 13:7). Jesus and His disciples were invited to the marriage in Cana, Galilee. Jesus' miracle there caused many to believe (John 2:1-11). Similarly, when the Brook of Cherith dried, Elijah knew it was time to move on, and God told him where to go (1 Kings 17:1-9).
Beloved, for you to find God's will through obvious circumstances, you should have faith in God and don't "look at the waves" and conditions. That was the mistake Peter made when he was walking on water as commanded by Jesus (Matthew 14:30-31).
Finally, God sometimes reveal His will through "the witness of the Spirit". The Bible reveals that sometimes God leads by giving us a strong desire. Proverbs 21:1 says that the king's heart is in the hand of the Lord… he turneth it whithersoever he will. Psalm 37:4 also says, "Delight thyself in the Lord; and he shall give thee the desires of thine heart. In Judges 14:1-4, Samson desired a Philistine woman.
The Bible says, "But his father and mother did not know that it was of the LORD- that He (the LORD) was seeking an occasion to move against the Philistines. For at that time the Philistines had dominion over Israel" (verse 4).
I pray that you will be guided by the Holy Spirit to find and do the will of God consistently, in the name of Jesus.
PRAYER POINTS:
MORNING
1. Father, I thank You for giving me the knowledge to find and do Your will, in the name of Jesus.
2. Father, I thank You for not leaving me Fatherless and helpless, in the name of Jesus.
3. O God, give me the blessings that are due to those who do Your will, in the name of Jesus.
EVENING
4. I reject unbelief and doubt, in the name of Jesus.
5. Father, lead the journey of my life with Your supreme will, in the name of Jesus.
6. Father, help me to identify obvious circumstances you set for Your will, in the name of Jesus.
7. O God, help me to always understand and obey the witness of Your Spirit, in the name of Jesus.
Special Notice by allcitynews.ng:
Salvation of your soul is very vital to God.
Beloved Reader, Remember! John 3:3 says, "Truly, truly, I say to you, unless ye are born again, ye cannot see the kingdom of God."
If you are ready to give your life to Christ Jesus, please pray the displayed prayer below in faith:
Lord Jesus, I am a sinner. I confess all my sin, have mercy on me, forgive me all my sin. Lord Jesus come into my life. I accept You as my Lord and Personal Saviour. I believe in my heart You died and rose from the dead to set me free. Thank You Lord for saving me, in Jesus name Amen.
If you just prayed the prayer of salvation! Congratulations! You are now born again. You need to belong to a Bible-Believing Church where you can know more. For testimonies, counselling or prayer requests, write or call: ecounselling@mountainoffire.org, +234 (0)808 770-0112 ; OR +234(0)8164028731.
Weekly Activities: Sunday Worship Service, 7am to 10am. Bible Study: 5-7pm. Wednesday Revival/Manna Water Service:4.30pm to 7pm. Every Friday, Prayer Rain (except Friday before PMCH) in Prayer City.
Monthly Programme: First Saturday of every month; Power Must Change Hands (PMCH)7am to 9am.
MAY THE PEACE OF THE LORD BE WITH YOU!!
ADVERTISE or PUBLISH a Story in allcitynews.ng! Have breaking story! Kindly send such with pictorial evidence to
ojezand@yahoo.com. Thank you.
Disclaimer:
Comments expressed here do not reflect the opinions of allcitynews.ng or any employee thereof. It assumes no responsibility or liability for any errors or omissions in the comments.
Allcitynews.ng's goal: To be the most influential, informative and reliable issues-based online newspaper in working for the unity, peace and development of the Country.