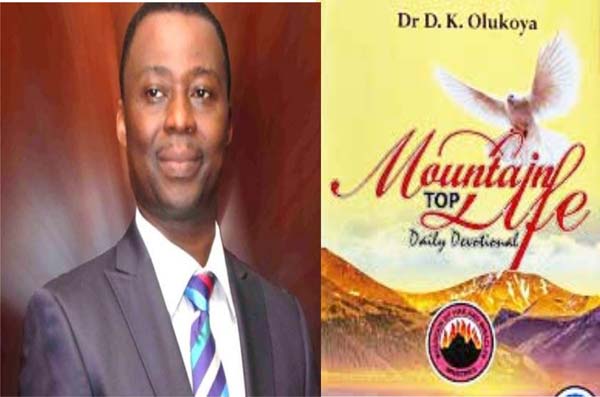 Written by Dr D.K. Olukoya, General Overseer, MFM worldwide
Posted by allcitynews.ng
MFM Topic for Fri 23 Sept 2022:-the Christian leader
WELCOME to MFM Devotional, 23-09-22
PRAISE & WORSHIP:
Christ is our cornerstone
1 Christ is our cornerstone,
on him alone we build;
with his true saints alone
the courts of heav'n are filled.
On his great love our hopes we place
of present grace and joys above.
2 Here may we gain from heav'n
the grace which we implore,
and may that grace, once giv'n,
be with us evermore
until that day when all the blest
to endless rest are called away.
3 Oh, then, with hymns of praise
these hallowed courts shall ring;
our voices we will raise
the Three in One to sing
and thus proclaim in joyful song,
both loud and long, that glorious name
BIBLE IN ONE YEAR: Isaiah 55, Isaiah 56, Isaiah 57:1-13, Ephesians 2, Psalm 110:1-7
FIRE SCRIPTURE: 1 Peter 5:2-10:
2 Feed the flock of God which is among you, taking the oversight thereof, not by constraint, but willingly; not for filthy lucre, but of a ready mind;
3 Neither as being lords over God's heritage, but being examples to the flock.
4 And when the chief Shepherd shall appear, ye shall receive a crown of glory that fadeth not away.
5 Likewise, ye younger, submit yourselves unto the elder. Yea, all of you be subject one to another, and be clothed with humility: for God resisteth the proud, and giveth grace to the humble.
6 Humble yourselves therefore under the mighty hand of God, that he may exalt you in due time:
7 Casting all your care upon him; for he careth for you.
8 Be sober, be vigilant; because your adversary the devil, as a roaring lion, walketh about, seeking whom he may devour:
9 Whom resist stedfast in the faith, knowing that the same afflictions are accomplished in your brethren that are in the world.
10 But the God of all grace, who hath called us unto his eternal glory by Christ Jesus, after that ye have suffered a while, make you perfect, stablish, strengthen, settle you.
MEMORY VERSE:
"Feed the flock of God which is among you, taking the oversight thereof, not by constraint, but willingly; not for filthy lucre, but of a ready mind;" – 1 Peter 5:2
MOTIVATIONAL QUOTES:
Lead the way according to the mind and will of God.
PROPHETIC WORD for 23/9/22:
GOD WILL MAKE YOU AN EXEMPLARY LEADER IN THIS GENERATION, IN THE NAME OF JESUS.
23/9/22 MESSAGE:
A leader is someone with a magnet in his heart and a compass in his head. A Christian leader is one that has the love of God in his heart. A Christian leader serves his flock in love and sincerity. A shepherd ought not to lord over God's heritage, but be a good example to his flock (1 Peter 5:2,3).
To be a Christian leader, you need to grow in God's love daily else you will forsake the flock that Christ has entrusted to you. No leader can function effectively without passion for his followers. It is the passion that keeps you going even in the days of adversity. In John 10:29, Jesus said that none can pluck His sheep out of His Father's hands. That is how much a shepherd should guard his flock.
John 4:34 says, "Jesus saith unto them, My meat is to do the will of him that sent me, and to finish his work." A Christian leader builds capacity to be able to defend, protect and feed his flock. Anyone whom God has appointed to lead His people is expected to take up the responsibility with all seriousness.
A leader has been given followers by God to direct them in the path that God has ordained for them. Jesus' focus was to finish the work which He was sent to the world to do. Every Christian leader will give account of the flock assigned to him. God said to Ezekiel in chapter 3:20 21, "Again,
When a righteous man doth turn from his righteousness, and commit iniquity, and I lay a stumbling block before him, he shall die: because thou hast not given him warning, he shall die in his sin, and his righteousness which he hath done shall not be remembered; but his blood will I require at thine hand. Nevertheless if thou warn the righteous man, that the righteous sin not, and he doth not sin, he shall surely live, because he is warned; also thou hast delivered thy soul."
A leader leads the way for others to follow. God in His wisdom has established an order for men. He made some leaders and others followers. Ask God for grace so that their blood will not be required of you.
PRAYER POINTS:
MORNING
1. Power to be a good leader, come upon me now, in the name of Jesus.
2. I will not mislead my flock, in the name of Jesus.
3. Grace to finish the work of God gloriously, overshadow my life now, in the name of Jesus.
EVENING
1. Every attack against the oil of leadership upon my head, receive confusion, in the name of Jesus.
2. Arrows of backwardness attacking my ministry, backfire, in the name of Jesus.
3. Wolves in the midst of my sheep, catch fire and burn to ashes, in the name of Jesus.
4. Powers assigned to use my flock against me, die by fire, in the name of Jesus.
Special Notice by allcitynews.ng:
Salvation of your soul is very vital to God.
Beloved Reader, Remember! John 3:3 says, "Truly, truly, I say to you, unless ye are born again, ye cannot see the kingdom of God."
If you are ready to give your life to Christ Jesus, please pray the displayed prayer below in faith:
Lord Jesus, I am a sinner. I confess all my sin, have mercy on me, forgive me all my sin. Lord Jesus come into my life. I accept You as my Lord and Personal Saviour. I believe in my heart You died and rose from the dead to set me free. Thank You Lord for saving me, in Jesus name Amen.
If you just prayed the prayer of salvation! Congratulations! You are now born again. You need to belong to a Bible-Believing Church where you can know more. For testimonies, counselling or prayer requests, write or call: ecounselling@mountainoffire.org, +234 (0)808 770-0112 ; OR +234(0)8164028731.
Weekly Activities: Sunday Worship Service, 7am to 10am. Bible Study: 5-7pm. Wednesday Revival/Manna Water Service:4.30pm to 7pm. Every Friday, Prayer Rain (except Friday before PMCH) in Prayer City.
Monthly Programme: First Saturday of every month; Power Must Change Hands (PMCH)7am to 9am.
MAY THE PEACE OF THE LORD BE WITH YOU!!
ADVERTISE or PUBLISH a Story on allcitynews.ng: Kindly contact us at ojezand@yahoo.com. Have breaking story! Please send such with pictorial evidence to the above email. Thank you.
Disclaimer:
Comments expressed here do not reflect the opinions of allcitynews.ng or any employee thereof. It assumes no responsibility or liability for any errors or omissions in the comments.