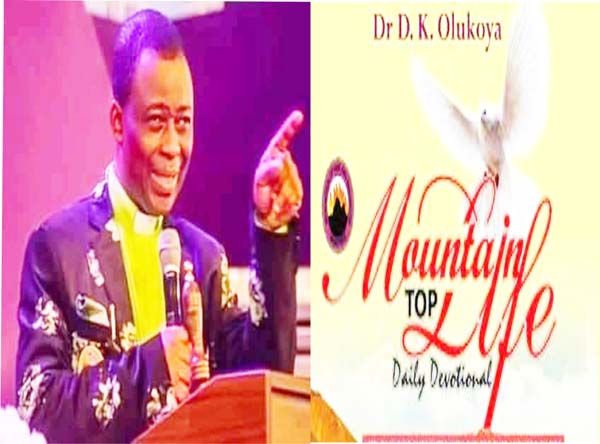 Written by Dr D.K. Olukoya, General Overseer, MFM worldwide
Posted by allcitynews.ng
MFM Topic for Mon 26 Sept 22:- the value of applying God's word (2)
WELCOME to MFM Devotional, 26-09-22
PRAISE & WORSHIP:-
THY WORD IS A LAMP TO MY FEET
1 Thy Word is a lamp to my feet,
A light to my path alway,
To guide and to save me from sin,
And show me the heav'nly way.
Refraiin:
Thy Word have I hid in my heart,
That I might not sin against Thee;
That I might not sin, that I might not sin,
Thy Word have I hid in my heart.
2 Forever, O Lord, is Thy Word
Established and fixed on high;
Thy faithfulness unto all men
Abideth for ever nigh. (Refrain)
3 At morning, at noon, and at night
I ever will give Thee praise;
For Thou art my portion, O Lord,
And shall be thro' all my days! (Refrain)
4 Thro' Him whom Thy Word hath foretold,
The Saviour and Morning Star,
Salvation and peace have been bro't
To those who have strayed afar. (Refrain)
BIBLE ON ONE YEAR: Isaiah 63, Isaiah 64, Isaiah 65:1-16, Ephesians 4:17-32, Ephesians 5:1-7, Psalm 112:1-10
MEMORY VERSE: 2 Timothy 3:16-
"All scripture is given by inspiration of God, and is profitable for doctrine, for reproof, for correction, for instruction in righteousness."
MOTIVATIONAL QUOTES:
The Spirit of God gives life to our spirit through God's word.
PROPHETIC WORD FOR 26/9/22:
Arrows of the night tormenting your soul, be uprooted by the fire in the word, in the name of Jesus.
FIRE SCRIPTURE: 2 Timothy 2:15-
15 Study to shew thyself approved unto God, a workman that needeth not to be ashamed, rightly dividing the word of truth.
26 Sept 22 MESSAGE:
A misunderstanding of the meaning of the word of God can lead to its misguided application. We must understand how a passage is applied when it was first given before we can understand how it applies now.
When Jesus said "…To day shalt thou be with me in paradise" (Luke 23:43), its immediate application was for the thief beside Him but because all scripture is inspired by God and is profitable for doctrine, for reproof, for correction, for instruction in righteousness, the Lord wants all believers to take advantage of its full application to their lives. Obviously, the contemporary application is not that each Christian will die today and be with Jesus in paradise.
But one way we can apply this text is in terms of preparing for death by examining ourselves daily because it is possible for the trumpet to sound at any time or for death to come. You can also apply the text regarding the presence of Christ. Matthew 28:20b says,  ..And, 10, I am with you always, even unto the end of the world. Amen."
As Christians, Christ is always present within us, thus He is with us today even though we are not yet in paradise. How does a fresh awareness of Christ's presence affect your prayers or outlook on the rest of the day? Jesus' promise to the thief is an example of how not every promise is meant to be applied today exactly the same way it was originally given. Yet many other promises are general, universal, and perpetual in their application. Some obvious examples are John 3:16, Romans 10:9, Psalms 23: 1, Psalms 91, etc.
How can we know which passage should be applied somewhat differently than when first given? This is where a growing knowledge of scripture through hearing, reading, studying and in particular, meditating on God's word pays dividends. For the better we understand the Bible, the better equipped we will be to apply it.
PRAYER POINTS:
MORNING
1. Word of God, become real in my life, in the name of Jesus (John 1:14).
2. Word of God, quench every darkness in my soul, in the name of Jesus (Matthew 6:23).
3. Word of God, renew and transform my mind, in the name of Jesus (Romans 12:2).
EVENING
4. Lord Jesus, give me the spirit of wisdom and revelation in the knowledge of You through Your word, in the name of Jesus (Ephesians 1 :17).
5. O Lord, sanctify me through Your word, in the name of Jesus (John 17:17).
6. Holy Spirit, come into my life and help me obey God's word always, in the name of Jesus (Ezekiel 36:27).
7. Word of God, give me a new heart and spirit, in the name of Jesus (Ezekiel 36:26)
Special Notice by allcitynews.ng:
Salvation of your soul is very vital to God.
Beloved Reader, Remember! John 3:3 says, "Truly, truly, I say to you, unless ye are born again, ye cannot see the kingdom of God."
If you are ready to give your life to Christ Jesus, please pray the displayed prayer below in faith:
Lord Jesus, I am a sinner. I confess all my sin, have mercy on me, forgive me all my sin. Lord Jesus come into my life. I accept You as my Lord and Personal Saviour. I believe in my heart You died and rose from the dead to set me free. Thank You Lord for saving me, in Jesus name Amen.
If you just prayed the prayer of salvation! Congratulations! You are now born again. You need to belong to a Bible-Believing Church where you can know more. For testimonies, counselling or prayer requests, write or call: ecounselling@mountainoffire.org, +234 (0)808 770-0112 ; OR +234(0)8164028731.
Weekly Activities: Sunday Worship Service, 7am to 10am. Bible Study: 5-7pm. Wednesday Revival/Manna Water Service:4.30pm to 7pm. Every Friday, Prayer Rain (except Friday before PMCH) in Prayer City.
Monthly Programme: First Saturday of every month; Power Must Change Hands (PMCH)7am to 9am.
MAY THE PEACE OF THE LORD BE WITH YOU!!
ADVERTISE or PUBLISH a Story on allcitynews.ng: Kindly contact us at ojezand@yahoo.com. Have breaking story! Please send such with pictorial evidence to the above email. Thank you.
Disclaimer:
Comments expressed here do not reflect the opinions of allcitynews.ng or any employee thereof. It assumes no responsibility or liability for any errors or omissions in the comments.