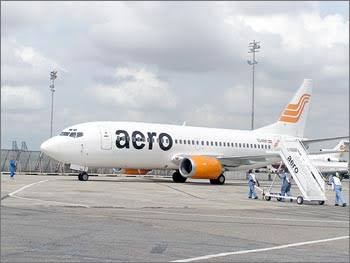 By allcitynews.ng
Concerned by the daily harsh business environment in the country,
Aero Contractors has announced its readiness to suspend passenger flights from Wednesday, July 20.
The airline, made this known on Monday, said the suspension is temporary but did not indicate when it will resume operations.
In May, Aero had denied plans to shut down operations after reports alleged that the airline was cash-strapped and might soon go out of business.
Aero said the decision to suspend passenger flights was taken due to the fact that most of its aircraft are currently undergoing maintenance, resulting in an inability to offer a seamless and efficient service to customers.
"We are working to bring these aircraft back to service in the next few weeks, so we can continue to offer our passengers the safe, efficient, and reliable services that Aero Contractors is known for, which is the hallmark of Aero Contractors Company of Nig. Ltd," the statement reads in part.
"This does not in any way affect the maintenance activities of the Approved Maintenance Organisation (AMO) otherwise known as AeroMRO, the Approved Training Organisation (ATO) also known as Aero Training School, the Helicopter and Charter Services operations."
It would be recalled that operators in aviation industry that have been lamenting the unaffordability of aviation fuel and other running costs have been calling for urgent intervention from Federal Government to enable them stay in business.
ADVERTISE or PUBLISH a Story on allcitynews.ng: Kindly contact us at ojezand@yahoo.com. Breaking stories should be sent to the above email and substantiated with pictorial evidence.
Disclaimer:
Comments expressed here do not reflect the opinions of allcitynews.ng or any employee thereof. It assumes no responsibility or liability for any errors or omissions in the content of this site.