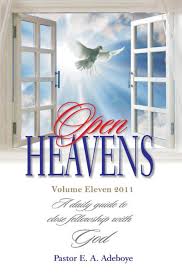 TOPIC FOR TODAY, WEDNESDAY 6:5: 21: Give, it shall be given unto you
By Pastor E. A Adeboye
 
MEMORISE: Proverbs 11:24
"There is that scattereth, and yet increaseth; and there is that withholdeth more than is meet, but it tendeth to poverty."
READ:  Luke 6:38 (KJV)
38. Give, and it shall be given unto you; good measure, pressed down, and shaken together, and running over, shall men give into your bosom. For with the same measure that ye mete withal it shall be measured to you again.

Givers always get the attention of Heaven; I know this from the story of the Shunammite woman in (2 Kings 4:8-17). When you do what God wants, He will respond by meeting your needs supernaturally and promptly. The Shunammite woman took care of Elisha; she demonstrated an uncommon commitment to the man of God. As a result, one day, the Spirit of God led Elisha to ask her what she needed. The man of God found out she was barren and prophesied into her life in (2 Kings 4:16-17): …About this season, according to the time of life, thou shalt embrace a son. And she said, Nay, my lord, thou man of God, do not lie unto thine handmaid. And the woman conceived, and bare a son at that season that Elisha had said unto her, according to the time of life.
Without fail, God's word through Elisha came to pass. Beloved, when you give to God sacrificially, the impossible will become possible in your life. I recall a brother who volunteered to drive me everywhere I went while on a ministerial assignment in Eastern Nigeria. When it was time for me to leave, I gave him some money in appreciation of his gesture, saying "Brother, kindly give this small gift to your children". His response shocked me. He shouted "Amen" continuously and prayerfully. I asked the Pastor-in-Charge of that Province why the brother was so enthusiastic about the gift I gave his children. I was told that although the brother was so rich, he didn't have any child. I said God would surprise him with a miracle.
When I visited the city the following year, the same brother was at the airport to pick me up. However, this time, he surprised me with a gift. With tears of joy streaming down his face, he said "This is a gift from my first son" He who had been childless for years became a proud father miraculously, simply by offering to drive God's servant in his car, and believing the word of the Lord. His reproach was rolled away. I pray that your next offering will bring a gift that money cannot buy into your life in Jesus name. Begin to give sacrificially from today and the Lord will bless you beyond your wildest dreams.
ACTION POINT: Look around you, find someone in need and bless him or her.
BIBLE IN ONE YEAR: Matthew 23-24
 
SPECIAL NOTE!
Beloved Reader, the sweetest way to enjoy full blessings from God in this 2021 is to make Jesus Christ your personal Lord & Saviour. Remember! the Lord Jesus in John 3:3 says, "Truly, truly, I say to you, unless ye are born again, ye cannot see the kingdom of God."
If you are ready to give your life to Christ Jesus, please pray the displayed prayer below in faith:
Lord Jesus, I am a sinner. I confess all my sin, have mercy on me, forgive me all my sin. Give me grace to go and sin no more. I invite You, come into my life. I accept You as my Lord and Personal Saviour. I believe in my heart You died and rose from the dead to save me Thank You Lord for saving me, in Jesus name Amen.



If you just prayed this prayer of salvation now, please call the following numbers for counselling and prayer request on: 
08033440631 
07064979797 
08101204546 
08103830237 
Or mail: info@rccg.org, God bless you.
Beware! this period we are in today brings fulfilment of this saying of Jesus Christ:
"And because iniquity shall abound, the love of many shall wax cold," Matt 24:12.
Our prayer for all of us is: any power, any problem that will quench our love for God and His unfailing Word, Holy Ghost Fire will destroy and flush them away.
Good Day Beloved, Thank you for your patient with us. Thank you for all your comments, observations, feedbacks and time spent on this platform. We cherish your presence here.  
In the name of Jesus Christ of Nazareth, & by the power in the Blood of Jesus, you will never be a victim to whatever calamity, affliction, flying around in the name of Jesus, Amen!