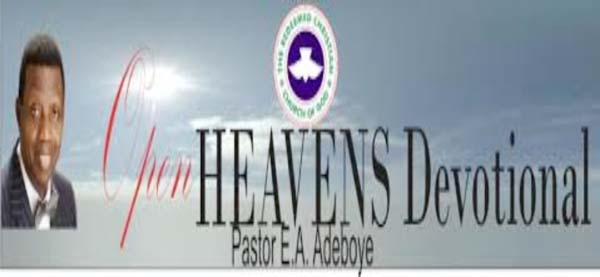 TOPIC FOR TODAY, TUESDAY 1:6:21: Is God silent?
By Pastor E. A Adeboye
 
OPEN HEAVEN 1 JUNE 2021 MEMORIZE: Behold, the LORD's hand is not shortened, that it cannot save; neither his ear heavy, that it cannot hear: Isaiah 59:1


OPEN HEAVEN 1 JUNE 2021 BIBLE READING ISAIAH 59:1-3
1. Behold, the LORD's hand is not shortened, that it cannot save; neither his ear heavy, that it cannot hear:
2. But your iniquities have separated between you and your God, and your sins have hid his face from you, that he will not ear.
3. For your hands are defiled with blood, and your fingers with iniquity; your lips have spoken lies, your tongue hath muttered perverseness.
HAPPY NEW MONTH  BELOVED,
PERSONAL DAILY CONFESSION: I am favoured in all areas, nothing is impossible for me, protocols are broken for my sake. The peace of God that surpass all understanding is ours in Jesus mighty name, I am blessed in all areas and I excel all through in Jesus name amen.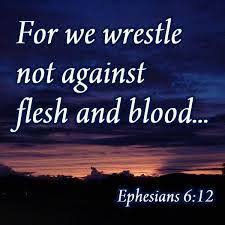 OPEN HEAVEN 1 JUNE 2021 MESSAGE
Usually, when people think God is silent, He may be speaking but they are just not listening.
At other times, they don't want to accept what He has to say.
God can also be silent when your covenant with Him has been broken.
This happened with King Saul who wanted to hear from God as well as familiar spirits.
If you have prayed to know Gods mind on certain issues and He seems to be silent, turn the searchlight on yourself.

God is never at fault; check your heart, sincerity and willingness to accept His plan for you.
God refuses to speak to some people simply because they have idols in their hearts.
Never allow your desire to stand between you and God.
When it appears as if God is silent, then there may be something you have to give up. Ezekiel 14:3 says:

"Son of man, these men have set up their idols in their heart, and put the stumbling block of their iniquity before their face: should I be enquired of at all by them?"
Some people cannot hear God because sin has created a barrier between them and God (Isaiah 59:1-3) or they have a wrong motive. James 4:3 says:
"Ye ask, and receive not, because ye ask "Ye ask, and receive not, because ye ask amiss, that ye may consume it upon your lusts."

For your prayers to be answered, you need to bring down the glory of God. Gods glory brings deliverance.
Psalms 24:8 says the Lord of glory is strong and mighty in battle.
I recall a student who wet himself in an examination hall. He was going to be excused from the hall when he asked the people around to send for his pastor. I was called and briefed on what happened. I got to the place and, discerning that the boy was under some demonic manipulation, I commanded the foul spirit to lose its hold in Jesus name.
God answered and he was immediately set free. He changed his clothes, returned to the hall and finished before everybody else.
Just imagine what would have happened if I had not been in tune with the Spirit of God to know what to do.
The shortest way of calling Gods attention when it seems He is silent is through intense praise. God dwells in the praises of His people.
His glory announces His person and presence; it is a revelation of His power and awesomeness.
No enemy can stand His glory. Call on Him today, listen to what He has to say and watch your life turn around for good.
OPEN HEAVEN 1 JUNE 2021 KEY POINT
Meditate over all what God has told you in the past and see whether you have ignored any. lf you have, repent and restitute your ways. OPEN HEAVEN 1 JUNE 2021 HYMN
OPEN HEAVEN 1 JUNE 2021 BIBLE READING IN ONE YEAR: HEBREWS 5:1-14, HEBREWS 6:1-20, HEBREWS 7:1-28
SPECIAL NOTE!
Beloved Reader, the sweetest way to enjoy full blessings from God in this 2021 is to make Jesus Christ your personal Lord & Saviour. Remember! the Lord Jesus in John 3:3 says, "Truly, truly, I say to you, unless ye are born again, ye cannot see the kingdom of God."

If you are ready to give your life to Christ Jesus, please pray the displayed prayer below in faith:
Lord Jesus, I am a sinner. I confess all my sin, have mercy on me, forgive me all my sin. Give me grace to go and sin no more. I invite You, come into my life. I accept You as my Lord and Personal Saviour. I believe in my heart You died and rose from the dead to save me Thank You Lord for saving me, in Jesus name Amen.
If you just prayed this prayer of salvation now, please call the following numbers for counselling and prayer request on: 
08033440631 
07064979797 
08101204546 
08103830237 
Or mail: info@rccg.org, God bless you.
Beware! this period we are in today is fulfilling this saying of Jesus Christ:
"And because iniquity shall abound, the love of many shall wax cold," Matt 24:12.
Our prayer for all of us is: any power, any problem that will quench our love for God and His unfailing Word, Holy Ghost Fire will destroy and flush them away.



Good Day Beloved, Thank you for your patient with us. Thank you for all your comments, observations, feedbacks and time spent on this platform. We cherish your presence here.
Beloved! We are in perilous time when kidnappings, banditry and other vices have become daily occurrences.
But the Lord is saying, do not be afraid! Be strong in the Lord! Be bold & be courageous! They will be defeated with prayer, because the God that answers prayer with signs & wonders is still alive.
In the name of Jesus Christ of Nazareth, & by the power in the Blood of Jesus, in this year 2021, you will never be a victim to whatever calamity, affliction, or tragedies
flying around in the name of Jesus, Amen!
Shalom!