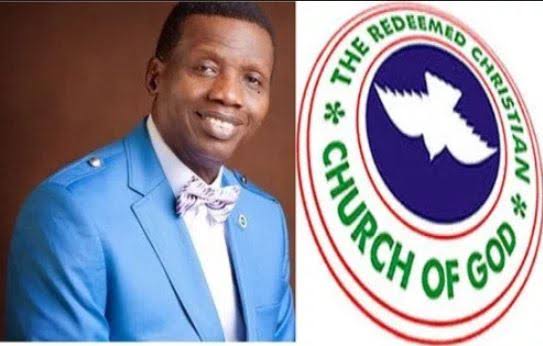 Written by Pastor E. A Adeboye, President, Christ the Redeemer's Ministries
Posted by allcitynews.ng
Topic for Mon 29:08:22:- sealed?
Welcome to Open Heaven, 29/08/22
MEMORISE: In whom ye also trusted, after that ye heard the word of truth, the gospel of your salvation: in whom also after that ye believed, ye were sealed with that holy Spirit of promise, Ephesians 1:13
OPEN HEAVEN 29 AUGUST 2022 BIBLE READING ACTS 19:1-6
1. And it came to pass, that, while Apollos was at Corinth, Paul having passed through the upper coasts came to Ephesus: and finding certain disciples,
2. He said unto them, Have ye received the Holy Ghost since ye believed? And they said unto him, We have not so much as heard whether there be any Holy Ghost.
3. And he said unto them, Unto what then were ye baptized? And they said, Unto John's baptism.
4, Then said Paul, John verily baptized with the baptism of repentance, saying unto the people, that they should believe on him which should come after him, that is, on Christ Jesus.
5. When they heard this, they were baptized in the name of the Lord Jesus.
6. And when Paul had laid his hands upon them, the Holy Ghost came on them; and they spake with tongues, and prophesied.
Happy new week Beloved,
Don't keep the word to yourself. Share this blessing with other believers by saving this website (rccgonline.org) and sharing the link by using the share button below and don't forget to say the prayers and declarations for the day.
Today's Powerful Confession: I confess today that my body is the temple of the Holy Ghost. The dwelling place of the Spirit of God. Therefore I do all I should to keep it holy, healthy, and strong. I receive the strength of God and declare that I have health and vitality in Jesus' name, Amen. Hallelujah!
OPEN HEAVEN 29 AUGUST 2022 MESSAGE
In the spirit realm, everyone has a mark on them for the sake of identification. It is either you have the mark of Christ or the mark of the devil on your head.
For those who have the mark of Christ, the devil and his agents dare not touch them. That is why Galatians 6:17 says: "From henceforth let no man trouble me: for I bear in my body the marks of the Lord Jesus."
This mark is a combination of three seals. The first seal is the blood of Jesus. The moment you give your life to Christ, His blood washes away your sins and gives you a unique seal which says you are now for Him (Colossians 1:20).
The second is baptism by immersion in water. This seal is so necessary that even Jesus Christ had to be baptised by immersion when He was here on earth (Matthew 3:13-15). Colossians 2:10-12 tells us that we are complete in Him when we get rid of sin in our lives and then are buried and risen with Him in baptism.
If you have not been baptised by immersion in water, it is a necessary seal that you should go after immediately. Read Romans 6:3-5 The third seal is the baptism of the Holy Ghost as we see in our memory verse today. Ephesians 4:30 also further confirms that we are sealed by the Holy Spirit: John the Baptist himself said Jesus was higher than he and would baptise us with the Holy Ghost and with fire (Luke 3:16).
Jesus confirmed this in Acts 1:5. When Jesus died and rose again, He left with us His very own Spirit – the Holy Spirit. This seal is what really marks us as sons of God according to Romans 8:14 "For as many as are led by the Spirit of God, they are the sons of God."
It is this seal that enables us to preach the gospel of Christ (Acts 1:8) and do greater things than Jesus did while on earth (John 14:12-17). It also gives us the ability to live above sin and bear fruits of holiness (Matthew 7:16).
If you have not been baptised in the Holy Ghost yet, ask God to baptise you with the Holy Ghost. If you have been baptised already, you can ask for a fresh infilling of the Holy Spirit in your life.
Thank you for reading today's devotional Beloved.
Make the decision to be a contributor to the advancement of God's Kingdom in one way or another. Live your life daily mindful of the purposes and plan of God.
Kindly purchase your own hard copy version of the Open Heavens devotional. You can buy it for your friends too as a potent evangelism tool.
God bless you, as you sow, into the book ministry of Pastor E.A. Adeboye in Jesus' name.
OPEN HEAVEN 29 AUGUST 2022 KEY POINT:
You need the seal of the Holy Ghost baptism to make full proof of your Christian life.
OPEN HEAVEN 29 AUGUST 2022 HYMN:
In Christ Alone
In Christ alone my hope is found
He is my light, my strength, my song
This Cornerstone, this solid ground
Firm through the fiercest drought and storm
What heights of love, what depths of peace
When fears are stilled, when strivings cease
My Comforter, my All in All
Here in the love of Christ I stand
In Christ alone, who took on flesh
Fullness of God in helpless babe
This gift of love and righteousness
Scorned by the ones He came to save
'Till on that cross as Jesus died
The wrath of God was satisfied
For every sin on Him was laid
Here in the death of Christ I live
There in the ground His body lay
Light of the world by darkness slain
Then bursting forth in glorious Day
Up from the grave He rose again
And as He stands in victory
Sin's curse has lost it's grip on me
For I am His and He is mine
Bought with the precious blood of Christ
No guilt in life, no fear in death
This is the power of Christ in me
From life's first cry to final breath
Jesus commands my destiny
No power of hell, no scheme of man
Can ever pluck me from His hand
'Till He returns or calls me home
Here in the power of Christ I'll stand
OPEN HEAVEN 29 AUGUST 2022 BIBLE READING IN ONE YEAR: JEREMIAH 25:1-38, JEREMIAH 26:1-24, JEREMIAH 27:1-22
Special Notice by allcitynews.ng:
Salvation of your soul is very vital to God.
Beloved Reader, Remember! John 3:3 says, "Truly, truly, I say to you, unless ye are born again, ye cannot see the kingdom of God."
If you are ready to give your life to Christ Jesus, please pray the displayed prayer below in faith:
Lord Jesus, I am a sinner. I confess all my sin, have mercy on me, forgive me all my sin. Lord Jesus come into my life. I accept You as my Lord and Personal Saviour. I believe in my heart You died and rose from the dead to save me. Thank You Lord for saving me, in Jesus name Amen.
If you just prayed the prayer of salvation! Congratulations! You are now born again. You need to belong to a Bible-Believing Church where you can know more. For testimonies, counselling or prayer requests please call any of the following numbers:
08033440631
07064979797
08101204546
08103830237
Or mail: info@rccg.org,
MAY THE PEACE OF THE LORD BE WITH YOU!
ADVERTISE or PUBLISH a Story on allcitynews.ng: Kindly contact us at ojezand@yahoo.com. Breaking stories should be sent to the above email and substantiated with pictorial evidence.
Disclaimer:
Comments expressed here do not reflect the opinions of allcitynews.ng or any employee thereof. It assumes no responsibility or liability for any errors or omissions in the content of this site.