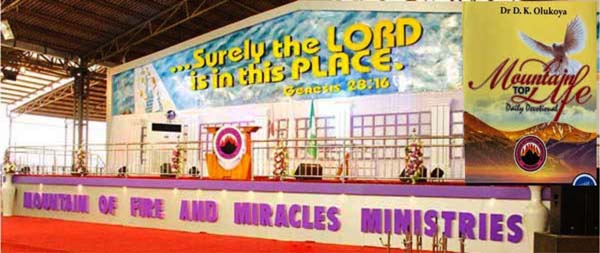 Written by Dr D.K. Olukoya, General Overseer, MFM worldwide
Posted by allcitynews.ng
MFM topic for Tue 30 August 2022: your foundation and your destiny
WELCOME to MFM Devotional, 30-08-22
PRAISE & WORSHIP:
A Mighty Fortress is our God
1. A mighty Fortress is our God,
A Bulwark never failing;
Our Helper He amid the flood
Of mortal ills prevailing:
For still our ancient foe
Doth seek to work us woe;
His craft and power are great,
And, armed with cruel hate,
On earth is not his equal.
2. Did we in our own strength confide,
Our striving would be losing;
Were not the right Man on our side,
The Man of God's own choosing:
Dost ask who that may be?
Christ Jesus, it is He;
Lord Sabaoth His Name,
From age to age the same,
And He must win the battle.
3. And though this world, with devils filled,
Should threaten to undo us,
We will not fear, for God hath willed
His truth to triumph through us:
The Prince of Darkness grim,
We tremble not for him;
His rage we can endure,
For lo! his doom is sure,
One little word shall fell him.
4. That word above all earthly powers,
No thanks to them, abideth;
The Spirit and the gifts are ours
Through Him who with us sideth:
Let goods and kindred go,
This mortal life also;
The body they may kill:
God's truth abideth still,
His Kingdom is forever.
BIBLE IN ONE YEAR: 2 Chronicles 35:20-27, 2 Corinthians 36, 2 Corinthians 3:7-18, Psalm 104:19-30.
MEMORY VERSE:
Psalm 11:3 – If the foundations be destroyed, what can the righteous do?
MOTIVATIONAL QUOTES:
Prayer is the wonderful power to correct a faulty foundation.
FIRE SCRIPTURE: 1 Chronicles 4:9-10
30-08-22 MESSAGE:
One of the wonders of salvation is that it will move you out of darkness to God's marvelous light, from loss to gain, from deficit to surplus, from defeat to victory and from failure to success. Unfortunately, an unbelieving person, who has a faulty or bad foundation, may not realise it, talk less of knowing how to deal with it in order to have a glorious destiny and end up in a glorious destination.
However, as a believer, this is not the case. In Psalm 11:3, the Psalmist asked, 'If the foundation be destroyed, what can the righteous do? The righteous can pray to God, the Master Builder, to rebuild and perfect his foundation. An unbeliever cannot pray; his prayer is an abomination to God.
Salvation confers God's mercy and grace upon a believer.
Millions of people, especially in the black race, have evil foundation. Many ancestral and family histories reveal that the foundation of many people is deeply rooted in idolatry, bloodshed, false religion, occultism, and so on.
Such ungodly platforms will introduce evil spirits into the victims' lives. Unless such persons experience salvation and are delivered, those evil spirits will mess up their lives and destinies and possibly lead them to hell. This will not be your portion, in the name of Jesus.
A bad or faulty foundation has many damaging effects on its victims. It has hindered many lives and destinies from being fulfilled. It is behind the failure, backwardness, stagnancy, poverty, nonachievement, infirmities and other woes that many people are going through today.
Beloved, when you give your life to Christ and become a child of God, you still need to address your faulty foundation through prayers. Jephthah, Solomon and Jabez all had faulty foundations, but the God of Israel delivered them. That same wonderful God is ready to help you, if only you will surrender your life to Him.
Deliverance is the children's bread, not for those who are outside the fold. You have a divine privilege to give your life to the Lord Jesus Christ, and should do so now. Then go boldly to the throne of grace and ask for mercy.
Tell the Lord to visit and perfect your foundation. Let Him remove all the consequences of that the faulty foundation brought into your life. Beloved, as you experience the power of God to save, to heal and to deliver, your life will never remain the same, in the name of Jesus.
PRAYER POINTS
MORNING
1.   My foundation, receive the fire of divine correction, in the name of Jesus.
2.   Holy Ghost fire, purge my spirit, soul and body, in the name of Jesus.
3.   Evil ancestral power in my foundation, catch fire and die, in the name of Jesus.
EVENING
4.   O God Arise! and deliver me from the consequences of evil foundation, in the name of Jesus.
5.   Serpents and scorpions in my foundation, catch fire and die, in the name of Jesus.
6.   Polygamous witchcraft in my foundation, die, in the name of Jesus.
7.   Blood of Jesus, wash and purge my foundation, in the name of Jesus.
Special Notice by allcitynews.ng:
Salvation of your soul is very vital to God.
Beloved Reader, Remember! John 3:3 says, "Truly, truly, I say to you, unless ye are born again, ye cannot see the kingdom of God."
If you are ready to give your life to Christ Jesus, please pray the displayed prayer below in faith:
Lord Jesus, I am a sinner. I confess all my sin, have mercy on me, forgive me all my sin. Lord Jesus come into my life. I accept You as my Lord and Personal Saviour. I believe in my heart You died and rose from the dead to set me free. Thank You Lord for saving me, in Jesus name Amen.
If you just prayed the prayer of salvation! Congratulations! You are now born again. You need to belong to a Bible-Believing Church where you can know more. For testimonies, counselling or prayer requests, write or call: ecounselling@mountainoffire.org, +234 (0)808 770-0112 ; OR +234(0)8164028731.
Weekly Activities: Sunday Worship Service, 7am to 10am. Bible Study: 5-7pm. Wednesday Revival/Manna Water Service:4.30pm to 7pm. Every Friday, Prayer Rain (except Friday before PMCH) in Prayer City.
Monthly Programme: First Saturday of every month; Power Must Change Hands (PMCH)7am to 9am.
MAY THE PEACE OF THE LORD BE WITH YOU!!
ADVERTISE or PUBLISH a Story on allcitynews.ng: Kindly contact us at ojezand@yahoo.com. Have breaking story! Please send such with pictorial evidence to the above email. Thank you.
Disclaimer:
Comments expressed here do not reflect the opinions of allcitynews.ng or any employee thereof. It assumes no responsibility or liability for any errors or omissions in the comments.