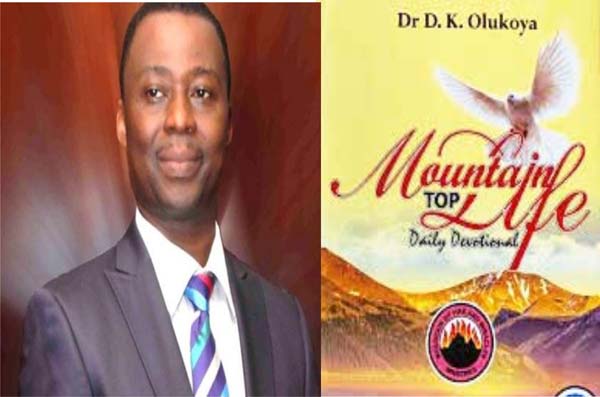 Topic for Monday 1: 3: 21: knowing and doing God's will
By Dr D.K Olukoya General Overseer MFM worldwide
WHERE IS YOUR FAITH!
IS IT ON JESUS or YOUR PROBLEM?
BIBLE IN ONE YEAR: Num. 14-15, Ps 90
FIRE SCRIPTURE: Romans 12:1-2
MEMORY VERSE: Matthew 7:21
 Not every one that saith unto me, Lord, Lord, shall enter into the kingdom of heaven; but he that doeth the will of my Father which is in heaven.
MOTIVATIONAL QUOTE: You are a slave to whom you obey.
PROPHETIC WORD FOR TODAY: Receive the power to do the will of God, in the name of Jesus.
The primary reason for our creation is to know God, have relationship with Him (just like Adam and Eve in the Garden of Eden) and obey Him. One of the attributes of a truly born again child of God is the desire to have more of God and to do His will (Ecclesiastes 12:13).
To know God, you must know the scripture and meditate upon it day and night. The more of the word of God you know, the more of God you know and the more you will conform to His will. The word of God reveals God to us as our Maker, our Saviour, our Coming King, our Healer, our Provider, the Unchangeable God that can change all things, the One who honours His words even more than His name.
Our memory verse emphasises the importance of knowing His will. The two major wills of God for mankind are as follows: First, that all men be saved. Second, that all men come to the knowledge of the truth. Having been saved as a child of God, you need to know the acceptable perfect will of God and walk therein. The perfect will of God, according to our text, is that we must present our bodies as a living sacrifice to God, not as instrument of sin but as a channel through which His righteousness is manifested.
We must make our body holy and make ourselves acceptable to God. We The following rewards await those who know God and do His will: They will be kept from falling. They will receive answers to their prayers. They will never be moved. They will abide forever and will have the confirmation of sonship as well as the assurance of eternity.
May God grant us the grace to know more of Him and do His will, in Jesus' name.
PRAYER POINTS:
MORNING
1. O God, arise, reveal Yourself to me the more, in the name of Jesus.
2. O God, open the eyes of my heart, in the name of Jesus.
3. My foundation, receive fire, in the name of Jesus.
EVENING
4. Spiritual cataract, covering my spiritual eyes, catch fire, in the name of Jesus.
5. O Lord, let my life be consecrated unto Thee, in the name of Jesus.
6. Mercies of God, speak for me, in the name of Jesus.
7. Any arrow of bewitchment targeted at me, backfire by fire, in the name of Jesus.
Special Note:
Beloved Reader, the sweetest way to enjoy all-round blessings from God in this Year 2021 is to make Jesus Christ your personal Lord & Saviour.  Remember! the Lord Jesus in John 3:3 says, "Truly, truly, I say to you, unless ye are born again, ye cannot see the kingdom of God."
If you are ready to give your life to Christ Jesus, please pray the displayed prayer below in faith:
Lord Jesus, come into my life. I accept You as my Lord and Personal Saviour. I believe in my heart You died and rose from the dead to save me. I am a sinner, I confess all my sin, have mercy on me, forgive me all my sin. Give me grace to go and sin no more. Thank You Lord for saving me, in Jesus name Amen.
If you just prayed the prayer of salvation online please send your testimonies and prayer request to ecounselling@mountainoffire.org, +234 (803) 078-0919 OR +234 (817) 363-1657.
Beware! this period we are in today brings fulfilment of this saying of Jesus Christ:
"And because iniquity shall abound, the love of many shall wax cold," Matt 24:12.
Our prayer for all of us is: any power, any problem that will quench our love for God and His unfailing Word, Holy Ghost Fire will destroy and flush them away. Good Day Beloved, Thank you for your patient with us. Thank you for all your comments, observations, feedbacks and time spent on this platform. We cherish your presence here.
In the name of Jesus Christ of Nazareth, & by the power in the Blood of Jesus, in thia year 2021 you will never be a victim to whatever calamity, affliction, roaming around in the name of Jesus, Amen!