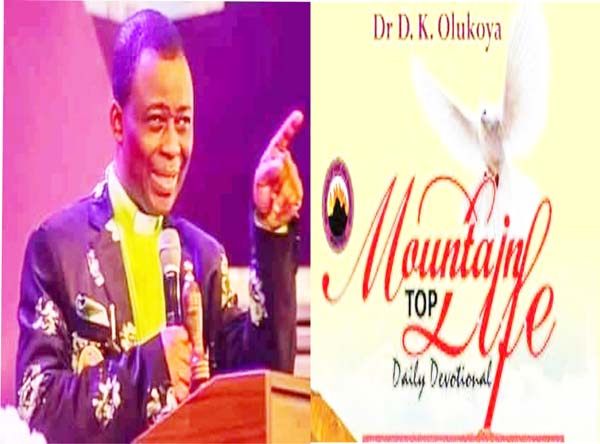 MFM 2023: MY YEAR OF GLORIOUS MANIFESTATION
Written by Dr D.K. Olukoya, General Overseer, MFM worldwide
Posted by allcitynews.ng
MFM Topic, Tue 17/01/23:- wonders of the anointing (2)
Welcome to MFM Devotional, 17/01/23
PRAISE & WORHIP:
Take any worship song as you are led by the Holy Ghost
BIBLE IN ONE YEAR:
Genesis 41–42; Matthew 12:1–23
MEMORY VERSE:
Isaiah 10:27 – And it shall come to pass in that day, that his burden shall be taken away from off thy shoulder, and his yoke from off thy neck, and the yoke shall be destroyed because of the anointing.
Isaiah 10:27
Easy-to-Read Version
27 He will take away the troubles Assyria brought you—troubles that are like heavy weights carried with a yoke on your neck. But that yoke will be taken off your neck. The burden will be lifted from your shoulders.
MOTIVATIONAL QUOTE:
God is the only giver of
uncommon anointing and when it comes, you will do uncommon exploits.
PROPHETIC WORD FOR 17/01/23:
Today, God shall arise and answer your prayer by fire, in the Name of Jesus.
FIRE SCRIPTURE:
Luke 5:1-7
Easy-to-Read Version
Jesus Chooses Some Followers
5 As Jesus stood beside Lake Galilee, a crowd of people pushed to get closer to him and to hear the teachings of God.
2 Jesus saw two boats at the shore of the lake. The fishermen were washing their nets.
3 Jesus got into the boat that belonged to Simon. He asked Simon to push off a little from the shore. Then he sat down in the boat and taught the people on the shore.
4 When Jesus finished speaking, he said to Simon, "Take the boat into the deep water. If all of you will put your nets into the water, you will catch some fish."
5 Simon answered, "Master, we worked hard all night trying to catch fish and caught nothing. But you say I should put the nets into the water, so I will."
6 The fishermen put their nets into the water. Their nets were filled with so many fish that they began to break.
7 They called to their friends in the other boat to come and help them. The friends came, and both boats were filled so full of fish that they were almost sinking.
17 Jan 23 MESSAGE:
In yesterday's devotional, we noted that there is nothing the anointing cannot do. It can do practically anything. According to today's fire scripture, Peter and his colleagues. had toiled all night with the hope of catching fish. They had inherited the business from their father, so there is no doubt about their expertise. But this particular day, they were confounded and confused. Why? They had failed at what they knew how to do best.
Dearly beloved, when failure wants to visit a man, it does not recognise professionalism or expertise and neither will it take experience into consideration. But when the anointed Jesus said in verse 4, "Launch out into the deep, and let down your nets for a draught", Simon Peter did not believe what happened next, because they enclosed a great multitude of fish; and their net broke. But the wonder of it all was that the fish did not fall back into the sea.
I pray for you, in that place or that point where you have failed, may you receive greater success and celebration, in the Name of Jesus.
The anointing works wonders. A woman had just one boy and the husband died but the powers that killed the husband were not satisfied. They wanted the life of the son and they also killed him. The woman had lost hope, but as they were taking the boy for burial, Jesus appeared on the scene (Luke 7:11-14).
Beloved, the story changed and the sorrow party they were having before the arrival of the Anointed Jesus turned to a celebration. The Lord turned their mourning into dancing. He can do the same for you.
Are you weeping for the loss of valuables or loved ones? Are you bowed down without helpers? Is the burden too much for you?
Jesus the Yoke Breaker says, "Come unto me all ye that labour and are heavy laden…." (Matthew 11:28).
PRAYER POINTS:
MORNING
1. The anointing of God, come upon me and destroy my stagnation, in the Name of Jesus.
2. Anointing of failure in any area of my life, be destroyed, in the Name of Jesus.
3. O Lord, arise and fight my battles, in the Name of Jesus.
EVENING
4. O Lord that answers by fire, answer my prayers by fire, in the Name of Jesus.
5. I shall not labour for others to eat, in the Name of Jesus.
6. Holy Ghost fire, ignite my life, in the Name of Jesus.
7. Anointing for faithful service, fall upon me, in the Name of Jesus.
Special Notice by allcitynews.ng:
Salvation of your soul is very vital to God.
Beloved Reader, Remember! John 3:3 says, "Truly, truly, I say to you, unless ye are born again, ye cannot see the kingdom of God."
If you are ready to give your life to Christ Jesus, please pray the displayed prayer below in faith:
Lord Jesus, I am a sinner. I confess all my sin, have mercy on me, forgive me all my sin. Lord Jesus come into my life. I accept You as my Lord and Personal Saviour. I believe in my heart You died and rose from the dead to set me free. Thank You Lord for saving me, in Jesus name Amen.
If you just prayed the prayer of salvation! Congratulations! You are now born again. You need to belong to a Bible-Believing Church where you can know more. For testimonies, counselling or prayer requests, write or call: ecounselling@mountainoffire.org, +234 (0)808 770-0112 ; OR +234(0)8164028731.
Weekly Activities: Sunday Worship Service, 7am to 10am. Bible Study: 5-7pm. Wednesday Revival/Manna Water Service:4.30pm to 7pm. Every Friday, Prayer Rain (except Friday before PMCH) in Prayer City.
Monthly Programme: First Saturday of every month; Power Must Change Hands (PMCH)7am to 9am.
MAY THE PEACE OF THE LORD BE WITH YOU!!
For ADVERT Placement; for EVENT Coverage; Have story to PUBLISH;
HAVE Breaking story with pictorial evidence OR wants to assist allcitynews.ng by DONATIONS, kindly contact us via ojezand@yahoo.com. Thank you.
Disclaimer:
Comments expressed here do not in anyway reflect the opinions of allcitynews.ng or any employee thereof. It assumes no responsibility or liability for any errors or omissions in the comments.
Allcitynews.ng's goal: To be the most influential, informative and reliable issues-based online newspaper in working for the unity, peace and development of the Country.