admin
10 months ago
4 min read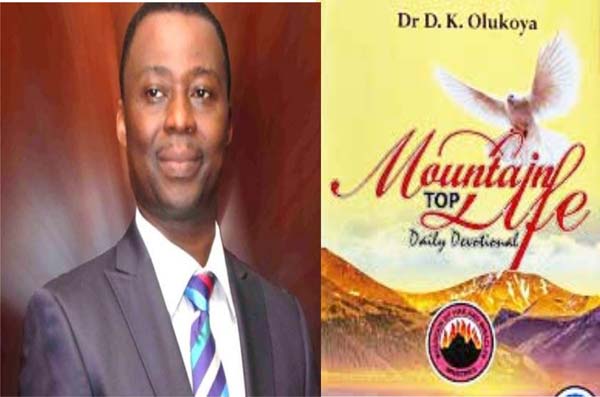 Written by Dr D.K. Olukoya, General Overseer, MFM worldwide
MFM topic for Tue 9 August 2022: divine turning point (2)
WELCOME to MFM Devotional, 09/08/22
PRAISE & WORSHIP
Copyrights
Verse 1
Blessed Savior we adore Thee
We Thy love and grace proclaim
Thou art mighty Thou art holy
Glorious is Thy matchless name
Chorus 1
Glorious glorious
Glorious is Thy name O Lord
Glorious glorious
Glorious is Thy name O Lord
Verse 2
Great Redeemer Lord and Master
Light of all eternal days
Let the saints of ev'ry nation
Sing Thy just and endless praise
Verse 3
From the throne of heaven's glory
To the cross of sin and shame
Thou didst come to die a ransom
Guilty sinners to reclaim
Verse 4
Come O come immortal Savior
Come and take Thy royal throne
Come and reign and reign forever
Be the kingdom all Thine own!
BIBLE IN ONE YEAR
1 Chronicles 28, Chronicles29, 1 Conrinthians 5, Psalm 93: 1-5
MEMORY VERSE
Genesis 1:3
"And God, Let there be light: and there was light."
MOTIVATIONAL QUOTE
Turning point in the life of those who succeed usually comes at the moment of crisis.
PROPHETIC WORD
Today, that area of your life that needs turning point encounter will receive divine attention, in the name of Jesus.
FIRE SCRIPTURE
Genesis 5:5-8
MFM Devotional 9/8/22 MESSAGE
God is the author of turning point in the life of man. We learnt this is in the life of Abraham yesterday. Similarly, when the whole world fell into the captivity of satan and sin, God orchestrated a turning point by giving His only Begotten Son, Jesus, to die for man's redemption.
A turning point refers to a junction, location or time when change occurs. A turning point could be positive or negative. But as a child of God whose hope and confidence is in God, may you experience a positive turn around, in the name of Jesus. A turning point is often birthed by a divine encounter.
There are several instances of turning point in the bible.
There was divine turning point when God commanded light to appear and it did (Genesis 1:3). The miraculous deliverance of Isreal from Egypt was a turning point in the history of the Isrealites. When a sinner is converted and becomes a saint ,it is a turning encounter . Paul's conversion on the road to Damascus was a major turning point in his life (Act 9) .
When the sick experience divine healing and are made whole , it is divine healing point . The man that Jesus healed at the pool of Bethesda after 38 years of infirmity (John 5:5-8) and the demoniac of Gadara who Jesus restored (Mark 5:25-27) are beneficiaries of divine turning point.
There is also turning point when sorrow turns to joy as in the case of Jabez (1Chronicles 4:9-10), when lack becomes plenty (2 Kings 4: 1-7), when failure becomes success (Luke 5:4-6) and when a "nobody" becomes prominent as in the story ofJoseph; and when a destiny is restored and aligned for fulfilment as was the case of Jacob at Peniel.
You will agree with me that divine turning point is desirable. I pray that you will experience it today, in the name of Jesus.
Beloved, to qualify for a turning point encounter, you need to do the following:
(1) Give your life to Jesus Christ.
(2) Love, study and live by the word of God.
(3) Be a worshipper and be prayerful.
(4) Be obedient to God.
Peter obeyed Jesus in John 5:4-6 and the woman of Zarephath obeyed Elijah.
(5) Be a sacrificial giver.
(6) Live a holy lifestyle.
(7) Have faith in God.
PRAYER POINTS:
MORNING
1. My Father, have mercy upon me today, in the name of Jesus.
2. O God my Father, let Your mercy produce a turning point in my life, in the name of Jesus.
3. Arise O God, and attend to the issues of my life by fire, in the name of Jesus.
EVENING
4. Grace of God, qualify me for a divine turning point, in the name of Jesus.
5. My Father! terminate my shame today, in the name of Jesus.
6. O God of mercy, visit my life and let me experience instant turnaround, in the name of Jesus.
7. My Father, grant me favour that overflows, in the name of Jesus.
Allcitynews.ng Special Notice:-
Salvation of your soul is very vital to God.
Beloved Reader, Remember! John 3:3 says, "Truly, truly, I say to you, unless ye are born again, ye cannot see the kingdom of God."
If you are ready to give your life to Christ Jesus, please pray the displayed prayer below in faith:
Lord Jesus, I am a sinner. I confess all my sin, have mercy on me, forgive me all my sin. Lord Jesus come into my life. I accept You as my Lord and Personal Saviour. I believe in my heart You died and rose from the dead to set me free. Thank You Lord for saving me, in Jesus name Amen.
If you just prayed the prayer of salvation! Congratulations! You are now born again. You need to belong to a Bible-Believing Church where you can know more. For testimonies, counselling or prayer requests, write or call:
ecounselling@mountainoffire.org
, +234 (0)808 770-0112 ; OR +234(0)8164028731.
Weekly Activities: Sunday Worship Service, 7am to 10am. Bible Study: 5-7pm. Wednesday Revival/Manna Water Service:4.30pm to 7pm. Every Friday, Prayer Rain (except Friday before PMCH) in Prayer City.
Monthly Programme: First Saturday of every month; Power Must Change Hands (PMCH)7am to 9am.
MAY THE PEACE OF THE LORD BE WITH YOU!!
ADVERTISE or PUBLISH a Story on allcitynews.ng: Kindly contact us at
ojezand@yahoo.com
. Have breaking story! Please send such with pictorial evidence to the above email. Thank you.
Disclaimer:
Comments expressed here do not reflect the opinions of allcitynews.ng or any employee thereof. It assumes no responsibility or liability for any errors or omissions in the comments.