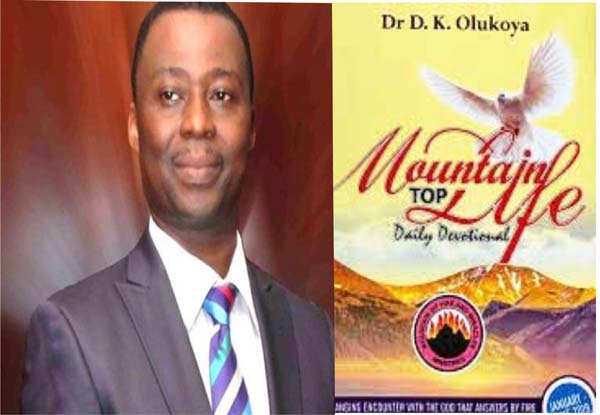 Written by Dr D.K. Olukoya, General Overseer, MFM worldwide
Posted by allcitynews.ng
MFM topic for Sun 31 July 2022: fear and its consequences
WELCOME to MFM Devotional, 31/07/22
PRAISE & WORSHIP
BIBLE IN ONE YEAR:
1 Chronicles 9, 1 Chronicles 10:1-14, Proverbs 18:17-24, Proverbs 19-1-2, Romans 14:1-18
MEMORY VERSE: Psalm 27:1-
"The LORD is my light and my salvation; whom shall I fear? The LORD is the strength of my life, of whom shall I be afraid?"
MOTIVATIONAL QUOTES:
Fear is the path to the dark side. Fear leads to anger, anger leads to hate and hate leads to suffering.
PROPHETIC WORD FOR TODAY:
I bind and cast out the spirit of fear out your life, in the name of Jesus
FIRE SCRIPTURE:
Philippians 4:6-7
The MESSAGE:
Fear is of the devil. When a person harbours and exhibits fear, it means that he does not trust God or believe that He exists. This is very dangerous. The enemy's favourite tool, which he uses is to attack Christians is fear. This is because he knows that when fear enters a person's heart, it is easy to bring down the person. Fear produces anxiety and creates.chaos in our lives.
It also affects those around us in negative way. Fear hinders us from being whom and what God wants us to be. The enemy uses fear to discourage people from praying and getting answers from God. Fear makes a problem look bigger than God, and that is a big lie from the devil. Nothing is bigger than God. Please, always remember that no problem is bigger than God who is faithful and very much able to deliver us from our problems.
The consequences of fear are destructive in the life of a believer. When a believer allows the spirit of fear to dominate his heart, he would become the enemy's slave. He would lose God's control over him and the enemy will take control of his thoughts and being. In addition, the same person will make wrong and ungodly decisons and start trusting in the things of the world instead of God. He would also go astray and return to sin with all its devasting effects.
Beloved, I enjoin you to be sober and vigilant. Do not be ignorant of the enemy's devices. God has not given us the spirit of fear, but of love, power and a sound mind (2 Timothy1:7). Put fear away from your heart and meditate on His word day and night. Put your trust in God because He never fails His own. Become a Bible addict by studying and meditating on His word daily. Also, become a prayer and praise addict. These profitable spiritual excercises will give you victory over the spirit of fear, over its torments and other consequences.
PRAYER POINTS:
MORNING
1. I uproot the spirit of fear from life, in the name of Jesus.
2. O God, have mercy and forgive me for doubting You, in the name of Jesus.
3. I break every chain of fear around my life, in the name of Jesus.
EVENING
4. O God, arise and send Your fire into my life, in the name of Jesus.
5. Spirit of the end time in my life, die, in the name of Jesus.
6. By the power in the blood of Jesus, I destroy the spirit of backwardness in my life, in the name of Jesus.
7. I cover my life with the blood of Jesus, in the name of Jesus.
Allcitynews.ng Special Notice:-
Salvation of your soul is very vital to God.
Beloved Reader, Remember! John 3:3 says, "Truly, truly, I say to you, unless ye are born again, ye cannot see the kingdom of God."
If you are ready to give your life to Christ Jesus, please pray the displayed prayer below in faith:
Lord Jesus, I am a sinner. I confess all my sin, have mercy on me, forgive me all my sin. Lord Jesus come into my life. I accept You as my Lord and Personal Saviour. I believe in my heart You died and rose from the dead to set me free. Thank You Lord for saving me, in Jesus name Amen.
If you just prayed the prayer of salvation! Congratulations! You are now born again. You need to belong to a Bible-Believing Church where you can know more. For testimonies, counselling or prayer requests, write or call: ecounselling@mountainoffire.org, +234 (0)808 770-0112 ; OR +234(0)8164028731.
Weekly Activities: Sunday Worship Service, 7am to 10am. Bible Study: 5-7pm. Wednesday Revival/Manna Water Service:4.30pm to 7pm. Every Friday, Prayer Rain (except Friday before PMCH) in Prayer City.
Monthly Programme: First Saturday of every month; Power Must Change Hands (PMCH)7am to 9am.
MAY THE PEACE OF THE LORD BE WITH YOU!!
ADVERTISE or PUBLISH a Story on allcitynews.ng: Kindly contact us at ojezand@yahoo.com. Have breaking story! Please send such with pictorial evidence to the above email. Thank you.
Disclaimer:
Comments expressed here do not reflect the opinions of allcitynews.ng or any employee thereof. It assumes no responsibility or liability for any errors or omissions in the comments.