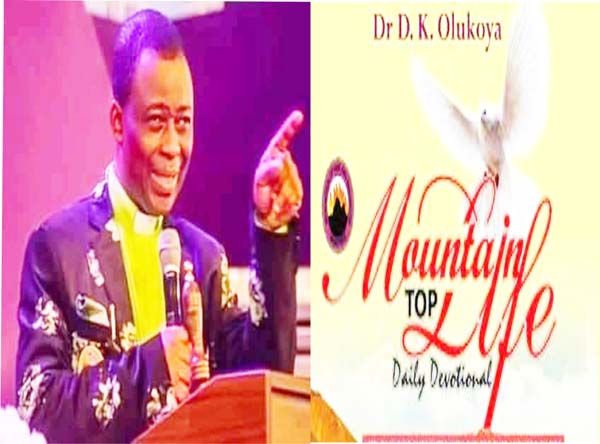 Written by Dr D.K. Olukoya, General Overseer, MFM worldwide
Posted by allcitynews.ng
MFM topic for Mon 1 August 2022: the ultimate pursuit (1)
WELCOME to MFM Devotional, 01/08/22
PRAISE & WORSHIP
HYMN for Monday 1 August
Blessed Savior We Adore Thee
Blessed Savior We Adore Thee
1.Blessed Savior we adore Thee,
We Thy love and grace proclaim;
Thou art mighty Thou art holy,
Refrain
Glorious is Thy matchless name!
Glorious, glorious,
Glorious is Thy name, O Lord!
Glorious, glorious,
Glorious is Thy name, O Lord! (Amen.)
2.Great Redeemer, Lord and Master,
Light of all eternal days;
Let the saints of every nation
Sing Thy just and endless praise!
3.From the throne of heaven's glory
To the cross of sin and shame,
Thou didst come to die a ransom
Guilty sinners to re-claim!
4.Come, O come, immortal Savior
Come and take Thy royal throne;
Come, and reign, and reign forever,
Be the kingdom all Thine own!
BIBLE IN ONE YEAR:
1 Chronicles 11, 1 Chronicles 12:1-22, Romans 14:19-23, Romans 15:1-13, Psalm 89: 46-52
MEMORY VERSE: Psalm 63:8- "My soul followeth after thee, thy right hand upholdeth me."
MOTIVATIONAL QUOTES:
The emptiness of life can only be filled by God on the inside.
PROPHETIC WORD FOR TODAY:
Your soul shall not be trapped by evil appetite, in the name of Jesus
FIRE SCRIPTURE:
Psalm 63:1-8, Psalm 42: 1-2
The MESSAGE:
God created man primarily for fellowship. The Almighty purposed that the spirit of man should make Him, the Lord God, its habitation. The satanic incursion into the life of man however disrupted this divine agenda. The scale of priority was changed. Man started living for self rather than living for God.
Yet, man cannot find rest for his soul without establishing that vital connection with the Almighty God. That deep hollow and emptiness in the heart of man shall continue to exist until man makes a complete u-turn and begin to earnestly seek God like the Psalmist whose soul pursues after God passionately.
Beloved, it is a known fact that after the fall, human beings have been pursuing and possessing the Lord God of mercy.
Many spend their lives pursuing money, building houses, buying mansions and exotic cars. Some pursue the acquisition of wealth and fame even to the obvious damnation of their souls. Other people pursue after degrees and other academic certificates.
Many others have been enslaved by the gathering of designer wears, shoes, bags and ostentatious jewelleries. In fact, some people spend all their time pursuing after opposite sex. There are other people who pursue the acquisition of satanic power and dark magical art. The devil has so much overwhelmed many lives with evil appetite, inordinate passion and has also distracted them from pursuing God, which is the ULTIMATE PURSUIT.
My beloved friend, hope you are not entangled by this rat race which is dragging many into hell fire. Our Lord Jesus Christ, in warning against wrong pursuit in life, says in Luke 12:15; "…Take heed, and beware of covetousness, for a man's life consisteth not in the abundance of the things which he possesseth." I believe you now understand the message the Spirit of Christ has passed across to you.
May your heart be opened to His voice today, in the name of Jesus.
PRAYER POINTS:
MORNING
1. Lord Jesus, capture my heart, in the name of Jesus.
2. Satanic tares programmed to invade my heart, die by fire, in the name of Jesus.
3. Undiluted love of God, explode in my heart, in the name of Jesus.
EVENING
4.My soul, be delivered from the track of wrong pursuits, in the name of Jesus.
5. Whatever will not add value to my life but is assigned to pull me down, release me and die now, in the name of Jesus.
6. O Lord, fill me with deep hunger for You, in the name of Jesus.
7. My inner man, receive fresh fire, in the name of Jesus.
Allcitynews.ng Special Notice:-
Salvation of your soul is very vital to God.
Beloved Reader, Remember! John 3:3 says, "Truly, truly, I say to you, unless ye are born again, ye cannot see the kingdom of God."
If you are ready to give your life to Christ Jesus, please pray the displayed prayer below in faith:
Lord Jesus, I am a sinner. I confess all my sin, have mercy on me, forgive me all my sin. Lord Jesus come into my life. I accept You as my Lord and Personal Saviour. I believe in my heart You died and rose from the dead to set me free. Thank You Lord for saving me, in Jesus name Amen.
If you just prayed the prayer of salvation! Congratulations! You are now born again. You need to belong to a Bible-Believing Church where you can know more. For testimonies, counselling or prayer requests, write or call: ecounselling@mountainoffire.org, +234 (0)808 770-0112 ; OR +234(0)8164028731.
Weekly Activities: Sunday Worship Service, 7am to 10am. Bible Study: 5-7pm. Wednesday Revival/Manna Water Service:4.30pm to 7pm. Every Friday, Prayer Rain (except Friday before PMCH) in Prayer City.
Monthly Programme: First Saturday of every month; Power Must Change Hands (PMCH)7am to 9am.
MAY THE PEACE OF THE LORD BE WITH YOU!!
ADVERTISE or PUBLISH a Story on allcitynews.ng: Kindly contact us at ojezand@yahoo.com. Have breaking story! Please send such with pictorial evidence to the above email. Thank you.
Disclaimer:
Comments expressed here do not reflect the opinions of allcitynews.ng or any employee thereof. It assumes no responsibility or liability for any errors or omissions in the comments.