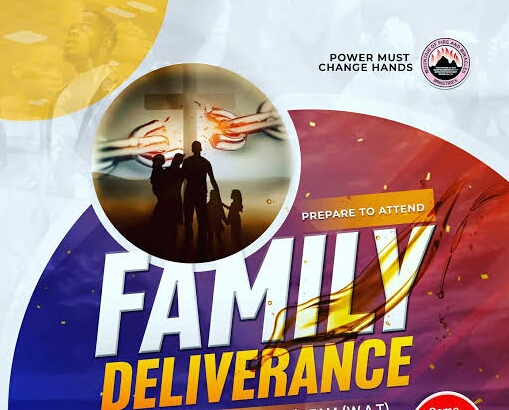 MFM 2022: MY YEAR OF BECOMING DIVINE SPECTACLE
Written by Dr D.K. Olukoya, General Overseer, MFM worldwide
Posted by allcitynews.ng
MFM Topic, FRI 04-11-22:-effective delegation: a leadership secret (4)
Welcome to MFM Devotional, 04/11/22
PRAISE & WORSHIP:
1 O worship the King all-glorious above,
O gratefully sing his power and his love:
our shield and defender, the Ancient of Days,
pavilioned in splendor and girded with praise.
2 O tell of his might and sing of his grace,
whose robe is the light, whose canopy space.
His chariots of wrath the deep thunderclouds form,
and dark is his path on the wings of the storm.
3 Your bountiful care, what tongue can recite?
It breathes in the air, it shines in the light;
it streams from the hills, it descends to the plain,
and sweetly distills in the dew and the rain.
4 Frail children of dust, and feeble as frail,
in you do we trust, nor find you to fail.
Your mercies, how tender, how firm to the end,
our Maker, Defender, Redeemer, and Friend!
5 O measureless Might, unchangeable Love,
whom angels delight to worship above!
Your ransomed creation, with glory ablaze,
in true adoration shall sing to your praise!
MEMORY VERSE: Matthew 10:1
"And when he had called unto him his twelve disciples. he gave them power against unclean spirits, to cast them out, and to heal all manner of sickness and all manner of disease".
MOTIVATIONAL QUOTE: 
As a leader, if you don't trust people enough to delegate tasks and responsibilities to them, they haven't failed-you have.
PROPHETIC WORD FOR 4/11/22: 
I decree that the fire of God shall consume any barrier in the way of your effective leadership, in the name of Jesus.
FIRE SCRIPTURE: Exodus 18:1-27
FRI 4 NOV 22 MESSAGE:
Believers who are leaders in different areas of life are expected to lead Iike Jesus. I hey should not be caught in the trap of doing it all alone. Today, we would examine why some leaders do not delegate and correct their wrong attitude.
The first reason some leaders do not delegate is insecurity. Such leaders do not want their subordinates or team members to succeed and outshine them. This notion is wrong and the fear is unfounded. One leader said that he was once afraid that if other people became good at his job as he was, he might be replaced.
However, he later added that when he started delegating, he learnt that there was no need to feel threatened when others succeeded and affirmed that their success became his success (Daniel 11:32b; Philippians 4:6-7;1 John 4:18).
The second reason is perfectionism. Such leaders want everything done just right, the same way and as well as they do it. They are difficult to please. Therefore, they take on the burden of the task alone. The truth is that if such leaders allow others to attempt the task and learn the process, others to00 will become efficient and successful (Matthew 11:28-30; Galatians 6:2).
The third reason is false pride. Leaders in this category want to portray themselves to their subordinates or followers as super talented or more gifted than others. However, a truly strong leader has the humility to know his own limitation, so that he can draw upon the strengths, resources and genius of others. The Bible condemns prideful self-confidence and self-reliant disposition (Proverbs 16:5, 18; Proverbs 29:13).
The fourth reason is lack of trust. This could be in the area of relevant skills and competencies, right attitude to work or character. One of the traits of a good leader is the ability to discover and harness the talents of other members of his team to get the team's desired result. Lack of trust will negatively affect team spirit, team building as well as dampen the morale of the team members and hinder the team's success.
As a leader, if you don't trust people enough to delegate tasks and responsibilities to them, they haven't failed-you have. Beloved, delegation makes work easier. Don't resist it!
PRAYER POINTS:
MORNING
1. Father, give me the grace to lead like Jesus, in the name of Jesus
2. I reject and abandon the wrong "do it alone" mentality, in the name of Jesus.
3. I reject the fear and lack of security that make many leaders not to delegate, in the name of Jesus.
EVENING
4. I overcome the spirit of perfectionism and failure to delegate in the name of Jesus.
5. My Father, deliver me from self-pride and its consequences, in the name of Jesus.
6. I bind and cast out the spirit of distrust and mistrust that hinders delegation, in the name of Jesus.
7. Father, help me to accept that delegation makes work easier and not resist it, in the name of Jesus.
Special Notice by allcitynews.ng:
Salvation of your soul is very vital to God.
Beloved Reader, Remember! John 3:3 says, "Truly, truly, I say to you, unless ye are born again, ye cannot see the kingdom of God."
If you are ready to give your life to Christ Jesus, please pray the displayed prayer below in faith:
Lord Jesus, I am a sinner. I confess all my sin, have mercy on me, forgive me all my sin. Lord Jesus come into my life. I accept You as my Lord and Personal Saviour. I believe in my heart You died and rose from the dead to set me free. Thank You Lord for saving me, in Jesus name Amen.
If you just prayed the prayer of salvation! Congratulations! You are now born again. You need to belong to a Bible-Believing Church where you can know more. For testimonies, counselling or prayer requests, write or call: ecounselling@mountainoffire.org, +234 (0)808 770-0112 ; OR +234(0)8164028731.
Weekly Activities: Sunday Worship Service, 7am to 10am. Bible Study: 5-7pm. Wednesday Revival/Manna Water Service:4.30pm to 7pm. Every Friday, Prayer Rain (except Friday before PMCH) in Prayer City.
Monthly Programme: First Saturday of every month; Power Must Change Hands (PMCH)7am to 9am.
MAY THE PEACE OF THE LORD BE WITH YOU!!
ADVERTISE or PUBLISH a Story in allcitynews.ng! Have breaking story! Kindly send such with pictorial evidence to
ojezand@yahoo.com. Thank you.
Disclaimer:
Comments expressed here do not reflect the opinions of allcitynews.ng or any employee thereof. It assumes no responsibility or liability for any errors or omissions in the comments.
Allcitynews.ng's goal: To be the most influential, informative and reliable issues-based online newspaper in working for the unity, peace and development of the Country.