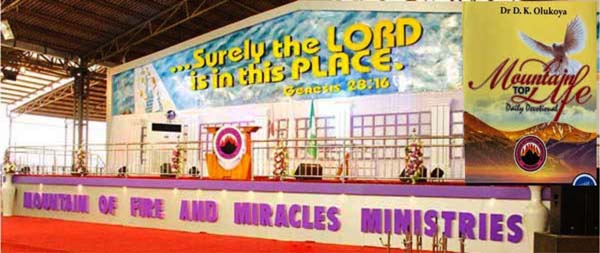 Written by Dr D.K. Olukoya, General Overseer, MFM worldwide
Posted by allcitynews.ng
MFM Topic for Fri 16 Sept 22:- overcoming storms of life (2)
WELCOME to MFM Devotional, 16-09-22
BIBLE IN ONE YEAR: ISAIAH 39, ISAIAH 40, ISAIAH 41, GALATIANS 3
Memory Verse: Matthew 7:25
"And the rain descended, and the floods came and the winds blew and beat upon that house and it fell not for I was found upon a rock."
Motivational Quotes:
Have faith in God; He never fails.
Prophetic Word for 16/9/22:
Every strange fire forcing you out of God's presences is quenched now, in the name of Jesus.
Fire Scripture: Psalm 27: 1-14
Praise and Worship
Today's memory verse is a highlight of what the believer goes through because of his faith in Christ. The devil will stop at nothing to make sure he frustrated the believer. The battle line has already been drawn. What the believer ought to do is to confront the challenges the enemy brings his way and conquer them through the power and grace of God and glorifying God through challenges.
The believer is not expected to sit down and begin to grumble, murmur or complain. The Bible says that the righteous is bold as a lion. You must be strong and courageous.
Abraham believed God well enough to leave his father's house and go to a land where God would show him (Genesis 12:1). Abraham believed God well enough to give him is promised son. The Bible says in roman 4:20: "He staggered not at the promise of God through the unbelief; but was strong in faith, giving glory to God even when the situation seemed hopeless. He believed God well enough and was willing to sacrifice his son Isaac to God.
The Bible says he knew that God was able raise the dead back to life (Romans 4:17). Did God eventually allow Abraham to sacrifice Isaac? No, he didn't. it was a test in Abraham's storm and he passed it.
Dear reader, like Abraham, we need to build our faith on Christ the Rock. Every other ground is sinking sand; only Christ is the solid foundation. In the storm of life, hold on tight to Jesus. No matter how heavy the burden of pain you bear, it is better with Christ in it. Jesus already told us in John 15:18-20 that, "if the world hates you, ye know that it hated me before it hated you….. if they have persecuted me. They will also persecute you…"
Be encourage today – that the storm you are facing is for greater glory and you will surely testify, in the name of Jesu.
PRAYER POINTS:
Morning
1. Arrows of the wicked tormenting my faith, backfire, in the name of Jesus
2. No weapon fashioned against my testimonies shall prosper, in the name of Jesus.
3. Anointing to overcome, overshadow my life now, in the name of Jesus.
Evening
4. Satanic wind blowing away my blessing, receive confusion and backfire, in the name Jesus.
5. Every domestic rage against my favor, die, in the name of Jesus
6. O God, arise and show yourself in my storm today, in the name Jesus.
7. Every challenge that has brought sorrow into my life shall become testimony, in the name of Jesus.
Special Notice by allcitynews.ng:
Salvation of your soul is very vital to God.
Beloved Reader, Remember! John 3:3 says, "Truly, truly, I say to you, unless ye are born again, ye cannot see the kingdom of God."
If you are ready to give your life to Christ Jesus, please pray the displayed prayer below in faith:
Lord Jesus, I am a sinner. I confess all my sin, have mercy on me, forgive me all my sin. Lord Jesus come into my life. I accept You as my Lord and Personal Saviour. I believe in my heart You died and rose from the dead to set me free. Thank You Lord for saving me, in Jesus name Amen.
If you just prayed the prayer of salvation! Congratulations! You are now born again. You need to belong to a Bible-Believing Church where you can know more. For testimonies, counselling or prayer requests, write or call: ecounselling@mountainoffire.org, +234 (0)808 770-0112 ; OR +234(0)8164028731.
Weekly Activities: Sunday Worship Service, 7am to 10am. Bible Study: 5-7pm. Wednesday Revival/Manna Water Service:4.30pm to 7pm. Every Friday, Prayer Rain (except Friday before PMCH) in Prayer City.
Monthly Programme: First Saturday of every month; Power Must Change Hands (PMCH)7am to 9am.
MAY THE PEACE OF THE LORD BE WITH YOU!!
ADVERTISE or PUBLISH a Story on allcitynews.ng: Kindly contact us at ojezand@yahoo.com. Have breaking story! Please send such with pictorial evidence to the above email. Thank you.
Disclaimer:
Comments expressed here do not reflect the opinions of allcitynews.ng or any employee thereof. It assumes no responsibility or liability for any errors or omissions in the comments.