TOPIC FOR TODAY: 4-8-21: The peril of wrong location
By Dr D.K Olukoya, General Overseer MFM worldwide
BIBLE IN ONE YEAR: Proverbs 30, Proverbs 31
FIRE SCRIPTURE: 

Memory verse: Matthew 13:7
 "And some fell among thorns; and the thorns sprung up, and choked them:"
Motivational Quote: You can turn moments of adversity to times of spiritual strength with the ever increasing power of God. Align your weakness with heaven strength and you will never be weary.
Prophetic Word: Every warfare against your life shall be scattered.

In today's devotional, we shall look at the dangers of a wrong location. Wrong locations produce deep problems. You must relocate from whatever wrong location in which you have found yourself. Among the children of God to whom God has promised to be their God and Father, are some who are sitting and abiding in the region of darkness. They know that they have familiar spirits but they are not making efforts to be delivered. This set of people are lost.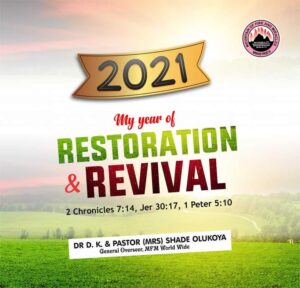 It reminds me of the story of a man who was between two armies in conflict. The first army put on a blue uniform. The other put on a red uniform. The man did not know which army would win the war. When the crossfire came, it met him in between the blue army and the red army. He was shut, because he was wrongly positioned and located.
Some people are agents of setback in the house of God. Whether they come early or not, they occupy the back row. Even in small meetings, they occupy the back seat, whether they got there early or not. Even when there are empty seats in front, they prefer the back seats. I have witnessed such a situation in our church.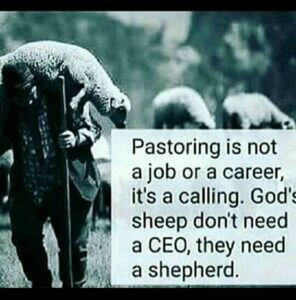 As there were lots of seats in front, I told the man who sat at the back to occupy one of the empty seats in front; but he refused. What he did was to simply move to the next seat from the back.
There are some people who don't want to sit in the church auditorium, but prefer to sit near the entrance gate or verandas. When you are positioned at the church veranda, you are wrongly located. The keyword for you is to reject your wrong location and return to the Lord who shall direct you to locate your divinely allocated location.
PRAYER POINTS:
MORNING
1. The dream of God for my life shall not be slaughtered. O God, arise and manifest my dreams in full, in the name of Jesus.
2. My cry, provoke angelic violence against strongmen assigned to my life, in the name of Jesus.
3. Every plantation of failure in my foundation, die, in the name of Jesus.
EVENING
4. Foundational witchcraft yoke, break, in the name of Jesus.
5. Every negative power flowing from my foundation to kill my destiny, die, in the name of Jesus.
6. Every dog of witchcraft barking against me, die, in the name of Jesus.
7. Every altar of witchcraft, I tear you down, in the name of Jesus.

SPECIAL NOTE!
Beloved Reader, the best way to enjoy the best of God is to make Jesus Christ your personal Lord & Saviour.  And remember! John 3:3 says, "Truly, truly, I say to you, unless ye are born again, ye cannot see the kingdom of God."
If you are ready to give your life to Christ Jesus, please pray the displayed prayer below in faith:


Lord Jesus, I am a sinner. I confess all my sin, have mercy on me, forgive me all my sin. Lord Jesus come into my life. I accept You as my Lord and Personal Saviour. I believe in my heart You died and rose from the dead to save me. Thank You Lord for saving me, in Jesus name Amen.
If you just prayed the prayer of salvation online please send your testimonies and prayer request to ecounselling@mountainoffire.org, +234 (803) 078-0919 OR +234 (817) 363-1657.
Beware! This Scripture: "And because iniquity shall abound, the love of many shall wax cold," Matt 24:12, is happening in our days.
Our prayer is: any power or any problem that will kill our love for God, blood of Jesus shall destroy and flush them away from us, through Jesus Christ our Lord, Amen.
Thank you for your patient with us. And thank you for all your comments, observations, feedbacks and time spent on this platform. We cherish your presence here.
Beloved! We are in perilous time when kidnappings, banditry and other vices have become daily occurrences. But the Lord is saying, do not be afraid! Be strong in the Lord! Be bold & be courageous!


In the name of Jesus Christ of Nazareth, you shall not be a victim to whatever calamity flying around by day or by night, in the name of Jesus, Amen!
Shalom!