By allcitynews.ng

Independent Hajj Reporters, (IHR), a civil society organization that seeks to entrench transparency in the Hajj and Umrah industry in Nigeria has commended the Executive Governor of Oyo, Engr. Seyi Makinde over his gesture towards Hajj 2022 pilgrims from his state.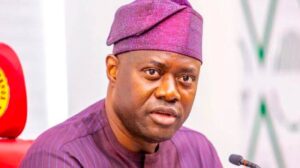 Governor Makinde ordered the state Muslim Pilgrims Welfare board not to deduct any amount from all the intending pilgrims from the state who missed the Hajj and had asked for a refund.
IHR in a statement made available to allcitynews.ng by the National Coordinator, Ibrahim Muhammed, said it is aware certain deductions were made from pilgrims' deposits in other states for service already paid for.
The CSO said the words of the governor while receiving the report of Hajj 2022 at the Government House, Agodi Ibadan is gladdening and also pleasing to the intending pilgrims who already lost the chance to perform the Hajj last year.
The Governor equally said that all those pilgrims who want to use their money for the 2023 Hajj would be the first to be considered for the exercise and that they would not make any additional payment to what they have already paid even if the fare for Hajj 2023 turns out to be a bit higher than last year's.
"This gesture means Oyo State Government will shoulder the differentials of 2023 Hajj fare for intending pilgrims from Oyo state that 'missed' the 2022 Hajj. This is worth commending" IHR said.
IHR also urges other State Executives to emulate Makinde by directing their respective States Muslim Pilgrims Welfare Boards/Agencies and Commission's not to deduct what they call "service charge" from Hajj refunds.
Some of these states kept pilgrims' deposits in commercial banks for months with accrued interests, yet they still deduct from the exact amount paid by pilgrims who missed Hajj.
IHR restated its commitment to protecting the interest of pilgrims and calls states who are in habit of "manufacturing non-existent and non-rendered services" from deducting money paid by pilgrims especially those pilgrims that could not travel for Hajj.
For ADVERT Placement; for EVENT Coverage; Have story to PUBLISH;
HAVE Breaking story with pictorial evidence OR wants to assist allcitynews.ng by DONATIONS, kindly contact us via ojezand@yahoo.com. Thank you..
Disclaimer:
Comments expressed here do not in anyway reflect the opinions of allcitynews.ng or any employee thereof. It assumes no responsibility or liability for any errors or omissions in the comments.
Allcitynews.ng's goal: To be the most influential, informative and reliable issues-based online newspaper in working for the unity, peace and development of the Country