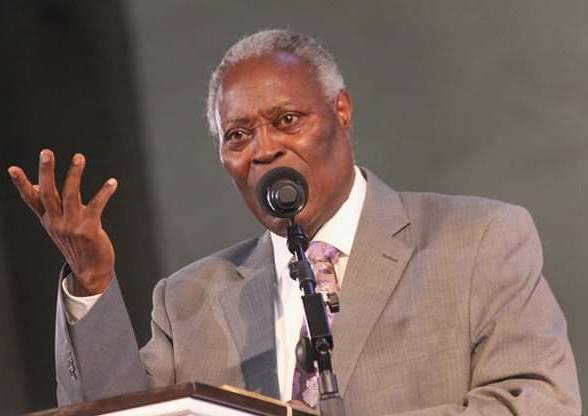 By allcitynews.ng
That Deeper Life church has been against the use of TV and other modern technologies in years gone bye may no longer be fresh news.
The news is the church having realised that modern technological tools, apart from being instrument of corruption and temptation could also serve as instrument of soul winning has made U-turn.
The General Superintendent of Deeper Christian Life Ministry, Pastor William Kumuyi, has explained why the church changed its stance against the use of television, radio, social media and other technological inventions.
As Kumuyi, in a Facebook video lamented that 'wicked people' are using the provisions of technology to advance their agenda, hence, the church cannot continue 'sleeping' but must 'wake up' and use the same technology for Gospel's sake.
Once addressing workers in a national workers' retreat in Ayobo area, Lagos, the GS who once expressed shock at the way and manner with which some members who were going to the extreme were voiding use of some things. "Who told you to avoid use of good body creams, who told you to avoid use of good wristwatch?," the GS asked the workers.
A brother once asked the GS during question and answer session in church service in Gbagada, "Since we have video recordings of our church programmes, how can our members watch these recordings?
Since then, the GS has gradually been telling and perhaps convince members of the need to get all these 'worldly tool'.
His response then was that "we do recordings for people including our members to watch. What we are against is watching those lustful and worldy programmes that can lead to temptation, in such, they should switch off from watching those corrupted materials."
He explained that the shift became imperative following his knowledge of this agenda by forces against the gospel with the use of technology.
"Why are you the latecomer, why are you the one to be the last to use all these things that the people are using to make the world worse, we are going to rise up," he said.
"Anything at the disposal of the people that are doing evil, we are going to take it away from them and use it for the propagation of the gospel. Let your no be changed to yes.
"People are getting new methods and they are doing evil. These are the last days and evil is growing worse because people go beyond using their natural strengths, natural technology, they use telephones, they use the media, they use all these connections, the Zoom and all these things to expand the evil they are doing."
Furthermore, Kumuyi said, "If those messengers of Satan are using the present-day technology and they are expanding, how about you? You will use those things available; they are not only available for messengers who do evil, they are available for the people that are doing good. You will use them."
Advertise or Publish a Story on allcitynews.ng: Kindly contact us at ojezand@yahoo.com. Have breaking story!, Please send such with pictorial evidence to the above email. Thank you.
Disclaimer:
Comments expressed here do not reflect the opinions of allcitynews.ng or any employee thereof. It assumes no responsibility or liability for any errors or omissions in the comments.