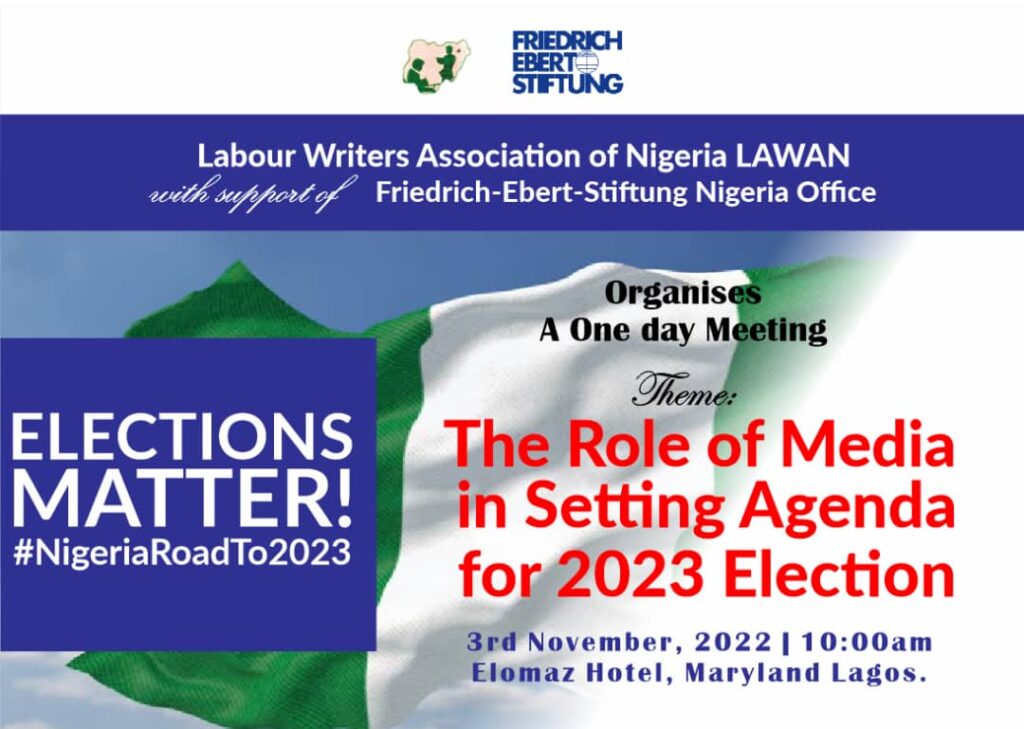 By allcitynews.ng
Labour Writers Association of Nigeria (LAWAN) has announced its readiness for stakeholders meeting on 2023 general elections.
The one day workshop, billed for 3rd November 2022, in Lagos is in joint partnership with Fredrich Ebert Stiftung. The event is expected to bring politicians from different political parties and other civil societies to brainstorm on how journalists can play sensitisation roles that would encourage eligible voters to participate in the elections.
LAWAN Chairman, Comrade Abimbola Oyesola while explaining the motive behind the workshop said, though media without doubt, has played a vital role in any matter of importance, elections inclusive the world over, there is still need for more enligthenment by journalists in order to play more positive impact to the country as a whole.
Moreover she noted that media has also helped many parties to go all out to push their presence and sell their ideas and ideals to the populace and also present their agenda.
"It is in line of this that Labour Writers Association of Nigeria (LAWAN), an umbrella body of media practitioners which cover the Organised Labour, Non Governmental Organisation and other social partners in the economy of the nation, in partnership with Fredrich Ebert Stiftung, is holding a one (1)day workshop, 3rd November 2022, for our members which cut across the print, broadcast and online media in the country."
The event themed, "ROLE OF MEDIA IN SETTING AGENDA FOR 2023 ELECTION" is expected to help media leverage on resources that will cut across labour and politics.
The goal of the workshop is to achieve near consensus among the media executives – in shaping constructive, objective and productive narrative before, during and after the 2023 general elections – in order to have credible and peaceful elections in the general interest of our nation.
And also, the workshop is expected to enlighten the Reporters on how they can champion a robust sensitisation for citizens to engender mass participation of eligible voters in Nigeria's electoral process. That is, to discuss how the Media can sensitize the Registered Voters on the need to come out and cast their votes.
We believe that if editors play their role very well it will contribute to the conduct of credible elections that are devoid of violence.
"Finally, I want to use this opportunity to thank our sponsor, Fredrich Ebert Stiftung, the Organised Labour present, political parties present, our Facilitators and everybody present here today."