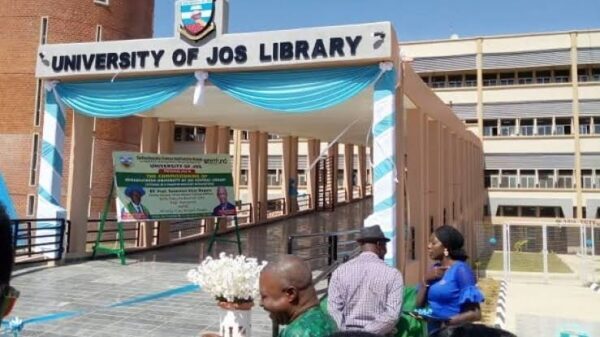 Over 300 participants have been scheduled to partake in an international conference being organized by the Department of English at the University of Jos.
The conference with the theme: "Language, Communication and Literature in an Uncertain and Turbulent World', has been scheduled for between April 17 to 19, 2023.
A statement obtained by journalists and issued by the Convener and Head, Department of English in the University of Jos, Prof. Jeff Doki and Chairman, Local Organizing Committee, Jerome Dooga (Associate Professor), listed Prof. Ulrike Gut of the University of Muenster, Germany and Cleric/astute Linguist, Rt Rev'd Prof. Emmanuel Bayode Ajulo as keynote and lead paper presenter respectively, while the Dean, Faculty of Arts, Prof. Isaac Lar and Vice Chancellor, Prof. Tanko Ishaya would be hosts.
Other Speakers are a Fellow of the Nigerian Academy of Letters and renowned scholar in Language and Literature in UNIJOS, Prof. David Jowitt; Prof. Kanchana Ugbabe and Prof. James Tar Tsaaior of The University of the Free State, Bloemfontein South Africa.
The sub-themes include 'Language, national integration, and peace', 'Literature and Gender-Based Violence', 'Communication and Domestic Violence in Pandemic', 'Corpus Linguistics', 'World Englishes: Current perspectives', 'Language and the human mind: Current views', 'The sociolinguistics of
English in Nigeria', 'Communicating peace in a multicultural setting' and
'Literature and contemporary realities'.
The organisers said, The guiding principle of the conference is that language and communication hold the key to how we understand and respond to a world full of uncertainty and turbulence. This principle has governed our commitment to connecting research and real-life
experiences with the attempt to access what is known, reconstruct and perhaps set future agendas for our approach to the understanding of Languages, Communication and Literature.
"In this premier international
conference, we want to strengthen several hundreds of co-researchers and practitioners from a wide range of linguistic, educational, social and cultural organisations who share the aim of making language, communication and literature socially engaging and internationally relevant to our dynamic and uncertain world.
"This conference consolidates the global notion of political, social, economic, health and cultural instability. We hope that this conference would create a community that should intervene in the major debates of our time and generate fresh ideas to mitigate the communication-related issues begging for answers. A key question here may be about capacity-building and competency for contemporary language learners, researchers and activists.
"Hence, this conference is a call for action. How do we boldly communicate the impact of the work languages, communication and literature do in the
world? These conference sub-themes would help address this and many other questions."
For ADVERT Placement;
for EVENT Coverage;
Have story to PUBLISH;
HAVE Breaking story with pictorial evidence
OR wants to assist allcitynews.ng
by DONATIONS,
kindly contact us via ojezand@yahoo.com. Thank you.
Allcitynews.ng's goal: To interface between policy makers & general public, most influential, informative and reliable issues-based online newspaper, working for unity, peace and development of the Country.
Disclaimer:
Comments expressed here do not in anyway reflect the opinions of allcitynews.ng or any employee thereof. It assumes no responsibility or liability for any errors or omissions in the comments.