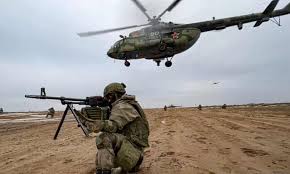 Can NATO play commitment role in this, is NATO involved with the crisis in Ukraine?
By allcitynews.ng with Associated Press
What you need to know about NATO and how they involved with the crisis in Ukraine.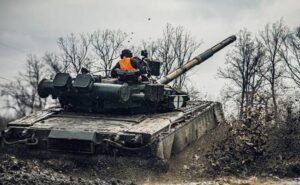 That Russia has invaded Ukraine may no longer be fresh or breaking news to most political and good governance watchers.
The strange and pitiable news is that despite its amazing strength, NATO is almost handicapped based on laid down operating law.
NATO Secretary-General Jens Stoltenberg, convened NATO leaders, both in person and on screen, for a virtual summit at NATO headquarters in Brussels, Friday, February. 25, 2022.
In light of Russia's invasion of Ukraine, NATO has deployed forces to eastern European countries.
Here is what you need to know about NATO and the role it is playing in the crisis.
What is NATO?: The North Atlantic Treaty Organization is a political and military alliance made up of 30 countries.
"NATO's purpose is to guarantee the freedom and security of its members through political and military means," according to the NATO website.Politically, the goal of NATO is to prevent conflict between countries through cooperation on defense and security-related issues.NATO has crisis-management operations set in place, in which military forces and other sources can be sent to member countries in need.
A brief history: NATO banned together after world War 11 (WWII) in 1949. In short, the goal of NATO was to deter Soviet expansionism through a strong North American appearance with Europe, and encouraging political integration between European countries, according to NATO.
What role does NATO play in the crisis between Russia and Ukraine?: Under Article 5 of the North Atlantic Treaty set by NATO, an attack on one NATO country is considered an attack on them all.
Under this agreement, member countries are permitted to use whatever means necessary to ensure security for other NATO members. This can include the use of armed force.Russia and Ukraine are not members of NATO.
President Joe Biden stated that U.S. troops will not be sent to either country, but troops are being sent to NATO countries nearby, according to ABC News.
Under Article 5, in the case that Russia's invasion seeps into nearby NATO countries, the U.S. will be ready to aid and defend its allies. This is known as the NATO Response Force, this being the first time the force has been activated, reported CNN.
Since the two countries, Ukraine and Russia are not members of NATO, the most likely role is to call for peaceful dialogue. NATO may not be able to intervene indirectly but may only play advisory role.
NATO has called on Russia to cease assault, this was the outcome of the NATO summit held Friday to address the conflict between Russia and Ukraine and the threat it poses to NATO.
"We condemn in the strongest possible terms Russia's full-scale invasion of Ukraine."
NATO called on Russia to withdraw troops from Ukraine and stop the attack.NATO places full blame on Russia for this crisis, standing in support of Ukraine.
"This long-planned attack on Ukraine, a peaceful and democratic country, is brutal and wholly unprovoked and unjustified. We deplore the tragic loss of life, enormous human suffering and destruction caused by Russia's actions."
Here is the statement by NATO Heads of State and Government on Russia's attack on Ukraine 25 Feb. 2022:
We have met today to discuss the gravest threat to Euro-Atlantic security in decades. We condemn in the strongest possible terms Russia's full-scale invasion of Ukraine, enabled by Belarus.
We call on Russia to immediately cease its military assault, to withdraw all its forces from Ukraine and to turn back from the path of aggression it has chosen. This long-planned attack on Ukraine, an independent, peaceful and democratic country, is brutal and wholly unprovoked and unjustified. We deplore the tragic loss of life, enormous human suffering and destruction caused by Russia's actions.
Peace on the European continent has been fundamentally shattered. The world will hold Russia, as well as Belarus, accountable for their actions. We call on all states to condemn this unconscionable attack unreservedly. No one should be fooled by the Russian government's barrage of lies.
Russia bears full responsibility for this conflict. It has rejected the path of diplomacy and dialogue repeatedly offered to it by NATO and Allies. It has fundamentally violated international law, including the UN Charter.
Russia's actions are also a flagrant rejection of the principles enshrined in the NATO-Russia Founding Act: it is Russia that has walked away from its commitments under the Act.
President Putin's decision to attack Ukraine is a terrible strategic mistake, for which Russia will pay a severe price, both economically and politically, for years to come.
Massive and unprecedented sanctions have already been imposed on Russia. NATO will continue to coordinate closely with relevant stakeholders and other international organisations including the EU.  At the invitation of the Secretary General, we were joined today by Finland, Sweden and the European Union.
We stand in full solidarity with the democratically elected president, parliament and government of Ukraine and with the brave people of Ukraine who are now defending their homeland.
Our thoughts are with all those killed, injured and displaced by Russia's aggression, and with their families. NATO remains committed to all the foundational principles underpinning European security, including that each nation has the right to choose its own security arrangements.
We will continue to provide political and practical support to Ukraine as it continues to defend itself and call on others to do the same. We reaffirm our unwavering support for the independence, sovereignty and territorial integrity of Ukraine within its internationally recognised borders, including its territorial waters. This principled position will never change.
In light of Russia's actions, we will draw all the necessary consequences for NATO's deterrence and defence posture. Allies have held consultations under Article 4 of the Washington Treaty. We will continue to take all measures and decisions required to ensure the security and defence of all Allies.
We have deployed defensive land and air forces in the eastern part of the Alliance, and maritime assets across the NATO area.
We have activated NATO's defence plans to prepare ourselves to respond to a range of contingencies and secure Alliance territory, including by drawing on our response forces. We are now making significant additional defensive deployments of forces to the eastern part of the Alliance.
We will make all deployments necessary to ensure strong and credible deterrence and defence across the Alliance, now and in the future. Our measures are and remain preventive, proportionate and non-escalatory.
Our commitment to Article 5 of the Washington Treaty is iron-clad. We stand united to protect and defend all Allies. Freedom will always win over oppression.
Advertise or Publish a Story on allcitynews.ng: Kindly contact us at ojezand@yahoo.com. Have breaking story! Please send such with pictorial evidence to the above email. Thank you.
Disclaimer:
Comments expressed here do not reflect the opinions of allcitynews.ng or any employee thereof. It assumes no responsibility or liability for any errors or omissions in the comments.