Topic for today 22 July 22: WORLDLY TRENDS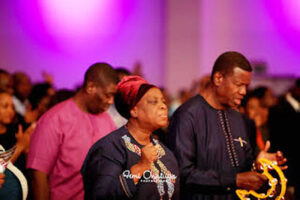 By Pastor E. A. Adeboye
OPEN HEAVEN 22 JULY 2020 MEMORIZE: And be not conformed to this world: but be ye transformed by the renewing of your mind, that ye may prove what is that good, and acceptable, and perfect, will of God. Romans 12:2
Open  Heaven 22 July 2020 Bible reading  MATTHEW 5:14-16 Ye are the light of the world. A city that is set on an hill cannot be hid.
Neither do men light a candle, and put it under a bushel, but on a candlestick; and it giveth light unto all that are in the house.
Let your light so shine before men, that they may see your good works, and glorify your Father which is in heaven.
GOOD MORNING BELOVED,
Open Heaven 22 July 2020 MESSAGE
It amazes me when I see Christians trying to copy the world. It is even more shameful when we see Church leaders following worldly trends.
The world is now dictating how we dress, sing and dance in the Church. It appears that a lot of people in the Church no longer follow Christ but the world.
While Jesus Christ said that we are the salt of the earth, He said further that if the salt loses its savour, it becomes useless and will be trampled upon by men.
I pray from the depth of my heart that we will not lose our savour in the mighty name of Jesus.
We must not, in a bid to be acceptable, lose our savour.
The sad thing is that the people of the world know the truth and they wish that they had the discipline to embrace the ways of God, but when they see you copying them, you make it more difficult for them to leave their lifestyle.
The problem is that we don't understand the kind of power we carry.
When it comes to fashion, our God has been wearing the same clothes from the day of creation and up until now, it is not outdated (Psalms 104:2).
In music, He is the best, such that if you were to visit heaven just once and hear the angels singing, you would not want to come back.
Talking about dancing and feasting, our God throws a party in heaven every time one single soul surrenders his/her life to Christ.
Everything our God has is better than what the world can offer; the problem is that we are not seeking Him for inspiration. If we did, we like the Psalmist would say:
"I have more understanding than all my teachers: for thy testimonies are my meditation." – Psalm 119:99
Technology is good. We can use it to reach more people for Christ.
However, dressing like the world does not bring more people to Christ, neither does drumming the beat of worldly songs to our own choruses, or dancing like the people of the world.
While we are adopting new technologies, we must not adopt worldly culture. We must be the perfect reflection of who Christ is.
Open Heaven 22 July 2020 KEY POINT:
Light and darkness don't look or act alike; be the light.
Open Heaven 22 July 2020 HYMN
WHEN WE WALK WITH THE LORD
When we walk with the Lord,
In the light of His word,
What a glory He sheds on our way!
While we do His good will
He abides with us still,
And with all who will trust and obey.
CHORUS:
Trust and obey!
For there's no other way
To be happy in Jesus,
But to trust and obey.
Not a shadow can rise,
Not a cloud in the skies,
But His smile quickly drives it away;
Not a doubt nor a fear,
Not a sigh nor a tear,
Can abide while we trust and obey.
Not a burden we bear,
Not a sorrow we share
But our toil He doth richly repay;
Not a grief nor a loss,
Nor a frown nor a cross,
But is blest if we trust and obey.
But we never can prove
The delights of His love,
Until all on the altar we lay,
For the favour He shows
And the joy He bestows
Are for them who will trust and obey.
Then in fellowship sweet
We will sit at His feet,
Or we'll walk by His side in the way,
What He says we will do,
Where He sends we will go,
Never fear, only trust and obey.
Open Heaven Wednesday  22 July 2020 Bible Reading in one year: ISAIAH 31 :1-9, ISAIAH 32:1-20, ISAIAH 33:1-24, ISAIAH 34:1-17.
Special note:
Beloved Reader, if you are yet to give your life to Christ Jesus, I would advise you to do so before you continue in this reading. Remember! The Lord Jesus in John 3:3 says, "Truly, truly, I say to you, unless ye are born again, ye cannot see the kingdom of God."
And remember there is nothing like once born again, you remain born again forever. Examine yourself on regular basis. If you are ready to give your life to Christ Jesus, please pray the displayed prayer below in faith:
Lord Jesus, come into my life. I accept You as my Lord and Personal Saviour. I believe in my heart You died and rose from the dead to save me. I confess all my sin, have mercy on me, forgive me all sin, give grace to go and sin no more. Thank You Lord for saving me, in Jesus name Amen.
If you just prayed the prayer of salvation online please send your testimonies and prayer request to info@rccg.org, +234-1-8447340, +234-0-7098213112.
Advertise your goods and services with us. Email us: ojezand@yahoo.com. And also, you can do CHANGE OF YOUR NAME IN PRINTED NEWSPAPER. God bless you richly in Jesus name.