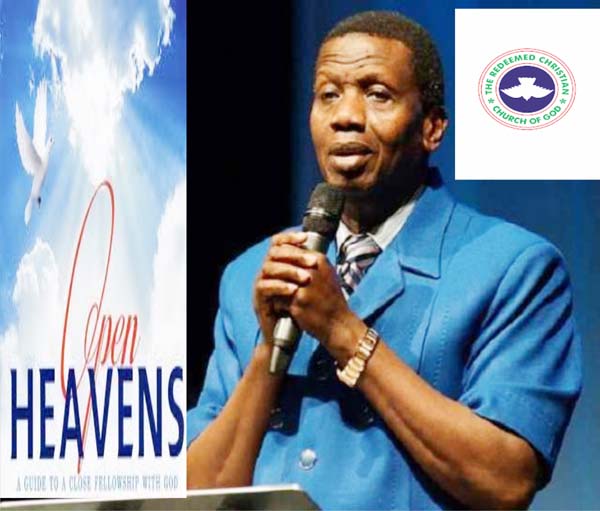 TOPIC FOR TODAY, WEDNESDAY 2:6:21: Strive for perfection
By Pastor E. A Adeboye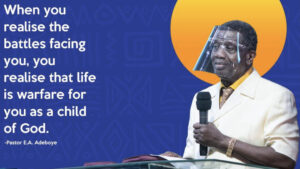 MEMORISE: Matthew 5:48
"Be ye therefore perfect; even as your Father which is in heaven is perfect."
READ: Genesis 17:1-2 (KJV)
1. And when Abram was ninety years old and nine, the LORD appeared to Abram, and said unto him, I am the Almighty God; walk before me, and be thou perfect.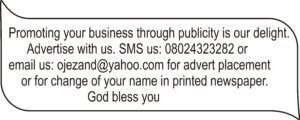 2. And I will make my covenant between me and thee, and will multiply thee exceedingly.
When something is perfect, it means that it is good in itself and there is no complaint about it. It also means that it is so good that it cannot be improved upon. Thus, a perfect Christian is one without blemish.
There are Christians who have been saved but not sanctified. Such people may easily get annoyed. Some are saved and sanctified and may not get annoyed as easily. I recall a rehearsal session for a drama that was to be staged in our Church years ago.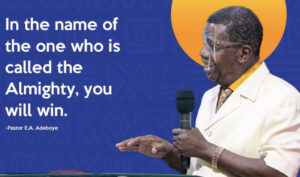 A scene required that a character become very annoyed but the actor assigned to the role could not bring himself to demonstrate anger, despite numerous attempts. He had dealt so completely with anger in his life that he could not even pretend to be angry. May you be sanctified to this point and beyond in Jesus' name.
Without the power of the Holy Spirit however, even if you are saved and sanctified, you may still have limitations in fighting spiritual battles. Evil forces may overpower you if there were to be any encounter. (1 Peter 1:2) says:
Elect according to the foreknowledge of God the Father, through sanctification of the Spirit, unto obedience and sprinkling of the blood of Jesus Christ: Grace unto you, and peace, be multiplied.

To strive towards perfection as a Christian, you must first and foremost be Spirit-filled. Without the Holy Spirit, you cannot bear any of the different fruits (Galatians 5:22-23). For you to strive towards perfection as a Christian, three things must manifest in your life. First, you have to do things exactly how God Himself would do them.
Knowing that God can only do things perfectly, you must see to it that you strive towards perfection in everything you do. Secondly, to strive towards perfection as a Christian, you will aspire to get to where God wants you to reach. You should never stop or rest until God's purpose for you is accomplished. Many Christians backslide because they think they have attained the highest spiritual height.
Thus, they become contented. Thirdly, you must be perfect as your Father in Heaven is perfect (Matthew 5:48). I pray that God gives you the grace to be so in the mighty name of Jesus. Amen.

PRAYER POINT: Father, make me as perfect as You want me to be in every area of life, in the mighty name of Jesus.
BIBLE IN ONE YEAR: Hebrews 8-10
SPECIAL NOTE!
Beloved Reader, the sweetest way to enjoy full blessings from God in this 2021 is to make Jesus Christ your personal Lord & Saviour. Remember! the Lord Jesus in John 3:3 says, "Truly, truly, I say to you, unless ye are born again, ye cannot see the kingdom of God."

If you are ready to give your life to Christ Jesus, please pray the displayed prayer below in faith:
Lord Jesus, I am a sinner. I confess all my sin, have mercy on me, forgive me all my sin. Give me grace to go and sin no more. I invite You, come into my life. I accept You as my Lord and Personal Saviour. I believe in my heart You died and rose from the dead to save me Thank You Lord for saving me, in Jesus name Amen.
If you just prayed this prayer of salvation now, please call the following numbers for counselling and prayer request on: 
08033440631 
07064979797 
08101204546 
08103830237 
Or mail: info@rccg.org, God bless you.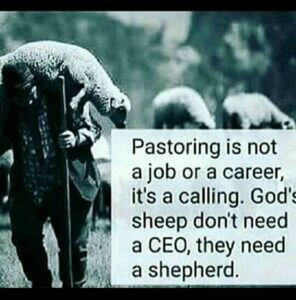 Beware! this period we are in today is fulfilling this saying of Jesus Christ:
"And because iniquity shall abound, the love of many shall wax cold," Matt 24:12.
Our prayer for all of us is: any power, any problem that will quench our love for God and His unfailing Word, Holy Ghost Fire will destroy and flush them away.
Good Day Beloved, Thank you for your patient with us. Thank you for all your comments, observations, feedbacks and time spent on this platform. We cherish your presence here.

Beloved! We are in perilous time when kidnappings, banditry and other vices have become daily occurrences.
But the Lord is saying, do not be afraid! Be strong in the Lord! Be bold & be courageous! They will be defeated with prayer, because the God that answers prayer with signs & wonders is still alive.
In the name of Jesus Christ of Nazareth, & by the power in the Blood of Jesus, in this year 2021, you will never be a victim to whatever calamity, affliction, or tragedies
flying around in the name of Jesus, Amen! Shalom!