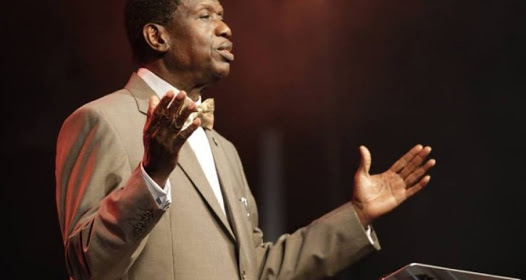 Topic for 29 Oct: Let go of anger
By Pastor E.A Adeboye
OPEN HEAVEN 29 OCTOBER 2020 MEMORIZE: He that is slow to anger is better than the mighty; and he that ruleth his spirit than he that taketh a city. Proverbs 16:32
OPEN HEAVEN 29 OCTOBER 2020 BIBLE READING EPHESIANS 4:31-32
31. Let all bitterness, and wrath, and anger, and clamour, and evil speaking, be put away from you, with all malice:
32. And be ye kind one to another, tenderhearted, forgiving one another, even as God for Christ's sake hath forgiven you.
GOOD MORNING BELOVED,
PLEASE, PRAY FOR AFRICA
OPEN HEAVEN 29 OCTOBER 2020 MESSAGE
Anger is so dangerous because it can destroy a lifetime of achievements within seconds.
Ask Moses: a man who God spoke to face to face (Exodus 33:11), the one who led the children of Israel out of bondage in Egypt and also caused the Egyptian army to be destroyed in the Red Sea (Exodus 14:27-28).
Many great miracles had happened through him and he was on the way to leading the children of Israel to the promised land, but anger ended his mission within seconds (Numbers 20:10-12).
Anger is a destiny-killer and that is why I am determined never to get angry again in my life.
I was once asked to act the role of an angry man in a play. As hard as I tried, l just couldn't do it because l had dealt with anger so much in my life.
Once in a while, things happen around me that can get me angry but I ensure that I do not stop doing things that help me avoid anger.
Always be in control of your emotions. Anger has a way of making people say or do things they wouldn't, normally.
You need to be in control so anger does not take you in that direction.
When people say that is how l behave when I get angry, it shows they don't place great value on their destiny.
If you let anger dictate how you behave, it will also dictate how far you go. Proverbs 25:28 says:
"He that hath no rule over his own spirit is like a city that is broken down, and without walls."
You have control; use it!.
When someone gets me angry, I sing choruses.
As I sing, i am inviting the Holy Spirit to take control and since He is a gentle Spirit, once He comes in, the anger will go.
At other times, you may just quietly leave a place to avoid getting angry. Whatever you do, ensure anger does not control you.
"Be not hasty in thy spirit to be angry, for anger resteth in the bosom of fools. Ecclesiastes 7:9″
Don't be a fool.
OPEN HEAVEN 29 OCTOBER 2020 KEY POINT
If you let anger dictate how you behave, it will also dictate how far you go in life.
OPEN HEAVEN 29 OCTOBER 2020 HYMN
ROCK OF AGES, CLEFT FOR ME
1. Rock of Ages, cleft for me,
Let me hide myself in Thee!
Let the water and the blood,
From Thy riven side which flowed,
Be of sin the double cure;
Cleanse me from its guilt and power.
2. Not the labours of my hands,
Can fulfill Thy law's demands;
Could my zeal no respite know,
Could my tears for ever flow,
All for sin could not atone,
Thou must save and Thou alone.
3. Nothing in my hand I bring,
Simply to Thy cross I cling
Naked, come to Thee for dress,
Helpless, look to Thee for grace,
Foul, I to the fountain fly
Wash me, Saviour, or I die.
4. While I draw this fleeting breath,
When my eyelids close in death,
When I soar to worlds unknown,
See Thee on Thy judgement throne,
Rock of Ages, cleft for me,
Let me hide myself in Thee.
OPEN HEAVEN 29 OCTOBER 2020 BIBLE READING IN ONE YEAR: LUKE 17:1-37, LUKE 18:1-43.
Special note:
Beloved Reader, the sweetest & best way to enjoy the blessings of God is to accept Jesus Christ as your personal Lord & Master. if you are yet to do so I would advise you to do so now. Remember! the Lord Jesus in John 3:3 says, "Truly, truly, I say to you, unless ye are born again, ye cannot see the kingdom of God."
If you are ready to give your life to Christ Jesus, please pray the displayed prayer below in faith:
Lord Jesus, come into my life. I accept You as my Lord and Personal Saviour. I believe in my heart You died and rose from the dead to save me. I confess all my sin, have mercy on me, forgive me all my sin. Give me grace to go and sin no more. Thank You Lord for saving me, in Jesus name Amen.If you just prayed the prayer of salvation online please send your testimonies and prayer request to info@rccg.org, +234-1-8447340, +234-0-7098213112.
You are welcomed to allcitynews.ng, where growing your business through publicity is our job. Advertise with us. Call 08024323282 or email us: ojezand@yahoo.com for advert placement. And also, you can do CHANGE OF NAME IN PRINTED NEWSPAPER. God bless you richly in Jesus name.
Good Morning Beloved, Thank you for your patient with us. Thank you for all your comments, observations, feedbacks and time spent on this platform. We cherish your presence here.
In the name of Jesus Christ of Nazareth, & by the power in the Blood of Jesus, you will never be a victim to whatever calamity, affliction, roaming around in the name of Jesus, Amen!