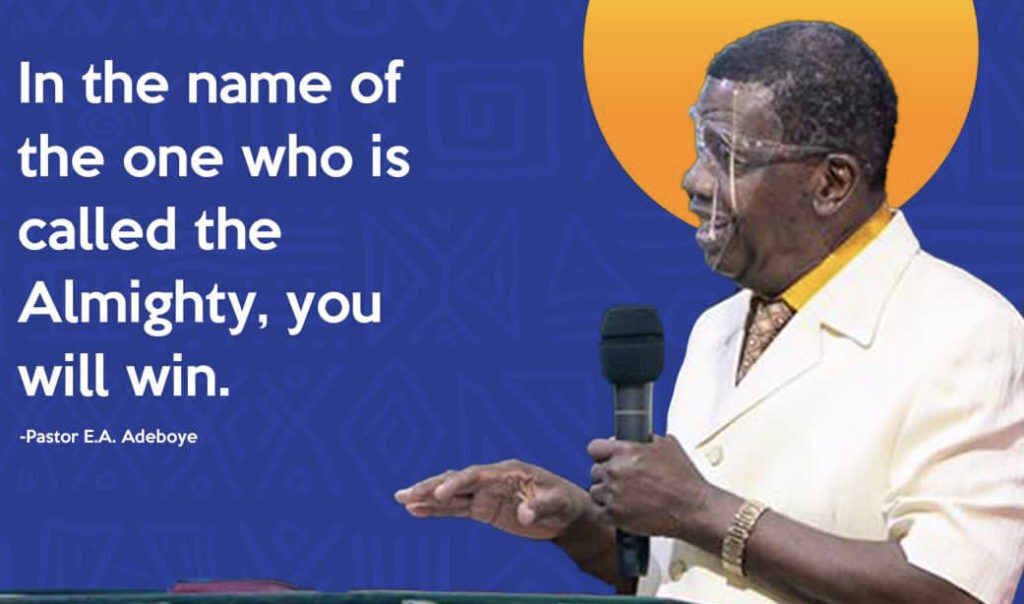 Written by Pastor E. A Adeboye, President, Christ the Redeemer's Ministries
TOPIC FOR TODAY MON: 24:1:22: Let there be light 8
OPEN HEAVEN 24 JANUARY 2022 MEMORIZE: Thou wilt shew me the path of life: in thy presence Is fullness of joy, at thy right hand there are pleasures for evermore. Psalm 16:11
OPEN HEAVEN 24 JANUARY 2022 BIBLE READING GENESIS 26:1-4
1 And there was a famine in the land, beside the first famine that was in the days of Abraham. And Isaac went unto Abimelech king of the Philistines unto Gerar.
2 And the Lord appeared unto him, and said, Go not down into Egypt; dwell in the land which I shall tell thee of:
3 Sojourn in this land, and I will be with thee, and will bless thee; for unto thee, and unto thy seed, I will give all these countries, and I will perform the oath which I sware unto Abraham thy father;
4 And I will make thy seed to multiply as the stars of heaven, and will give unto thy seed all these countries; and in thy seed shall all the nations of the earth be blessed;
Welcome to a new week dear beloved. We are so happy to have you join us in today's devotional.
God is still blessing us through the "Let there be light" series devotional.
Just like physical light, God's light is excellent at bringing clarity and making people see what they couldn't before. The light of God is extraordinary in that it makes our lives as believers easy and precise.
If you've been living in obscurity and confusion, you don't have to do that anymore. In today's devotional, you are about to learn how God's light shines upon things and people, granting direction and visibility. May God's Word perform its mighty works in your life in Jesus name.
Share this blessing with other believers by saving this website [RCCGONLINE.ORG] and sharing the link by using the share button below.
Today's Powerful Confession: I confess today that I am a city set on a hill and I will not be hidden in Jesus name, Amen Hallelujah!
Join Today's RCGG Fasting: Rccg Fasting And Prayer Guide For 24 January 2022
OPEN HEAVEN 24 JANUARY 2022 MESSAGE
"Let there be light" could mean "Lord, show me the good ground to sow into" or "Lord, show me the business I should venture into".
It could also mean "Lord, show me the solution to the problem(s) I am faced with" as in the case of the bitter water discovered at Mara in Exodus 15:22-26.
In that story, many lessons could be learnt. One is that the physical eyes are good and necessary, the spiritual eyes are far better and more beneficial.
At times the solution is right there under our noses, but we may not know until the light of God beams on such a solution. Though the tree that was a solution to the bitterness in the water at Mara was there, they (both the leader and the led) did not see Or recognize it until the light of God shone upon it.
You may be a solution to your people, yet not be appreciated to the point of being considered able to help, until the light of God shines upon you.
A country did not see the usefulness of a nationalist leader until he died, after which he was declared "The best president they never had".
None of David's kin was ready to consider him as a possible candidate for the throne until the light of God shone and Samuel anointed him.
In the same vein, you need the light of God to shine upon you before you can choose rightly where to invest your time and energy.
To the glory of God, when the light of God shone upon Isaac, he remained in Gerar where he prospered so tremendously that even the king of the land envied him (Genesis 26:12-14).
There are categories of soil to sow into, according to the parable of the sower (Matthew 13:3-9). There are soils that represent the wayside; some are good enough to produce in thirties, sixties and hundreds.
We also need to consider the quality of the seed being sown. Beloved, the light of God is required not only to identify the correct soil, but also the right seed to sow.
You cannot sow corn in the sea; it would also be an exercise in futility for you to raise fish fingerlings in the desert.
One may say these are obvious, but then, that is what many do when they dabble in businesses God has not approved for them. May the light of God lead you from now, in Jesus' name.
OPEN HEAVEN 24 JANUARY 2022 PRAYER POINT: Prayer Points For Open Heavens 24 January 2022
Father, shine Your light upon my life, that I may know Your perfect will for me in every aspect of my life, in Jesus' name.
Thank you for reading today's devotional Beloved.
Make the decision to to be a contributor to the advancement of God's Kingdom in one way or another. Live your life daily mindful of the purposes and plan of God.
Kindly purchase your own hard copy version of the Open Heavens devotional. You can buy it for your friends too as a potent evangelism tool.
God bless you, as you sow, into the book ministry of Pastor E.A. Adeboye in Jesus' name.
OPEN HEAVEN 24 JANUARY 2022 HYMN
DEEPER, DEEPER IN THE LOVE OF JESUS
1. Deeper, deeper in the love of Jesus
Daily let me go;
Higher, higher in the school of wisdom,
More of grace to know.
CHORUS
O deeper yet I pray,
And higher evry day,
And wiser, blessed, Lord,
In Thy precious, holy Word.
2. Deeper, deeper! blessed Holy Spirit,
Take me deeper still,
Till my life is wholly lost in Jesus,
And His perfect will.
3. Deeper, deeper! tho it cost hard trials,
Deeper let me go!
Rooted in the holy love of Jesus,
Let me fruitful grow.
4. Deeper, higher, evry day in Jesus,
Till all conflict past,
Finds me conquror, and in His own image
Perfected at last.
OPEN HEAVEN 24 JANUARY 2022 BIBLE READING IN ONE YEAR: EXODUS 22-25


SPECIAL NOTICE:
Beloved Reader, Remember! John 3:3 says, "Truly, truly, I say to you, unless ye are born again, ye cannot see the kingdom of God."
If you are ready to give your life to Christ Jesus, please pray the displayed prayer below in faith:
Lord Jesus, I am a sinner. I confess all my sin, have mercy on me, forgive me all my sin. Lord Jesus come into my life. I accept You as my Lord and Personal Saviour. I believe in my heart You died and rose from the dead to save me. Thank You Lord for saving me, in Jesus name Amen.
If you just prayed the prayer of salvation! Congratulations! You are now born again. You need to belong to a Bible-Believing Church where you can know more. For testimonies, counselling or prayer requests please call any of the following numbers:
08033440631
07064979797
08101204546
08103830237
Or mail: info@rccg.org,
Beware! This Scripture: "And because iniquity shall abound, the love of many shall wax cold," Matt 24:12, is being fulfilled in our time. Our prayer is: any power or any problem that will kill our love for God, blood of Jesus will destroy and flush them away from us, in Jesus name.
Good Day, we cherish your presence here. Thank you for your comments, observations, feedbacks and time spent on this platform.
Beloved! We are in perilous time when kidnappings, banditry and other vices have become daily occurrences. But the Lord is saying, fear not, be bold & be courageous!
In the name of Jesus Christ of Nazareth, you shall not be a victim to whatever calamity flying around by day and by night, in the name of Jesus, Amen!
DO HAVE A BLESSED DAY