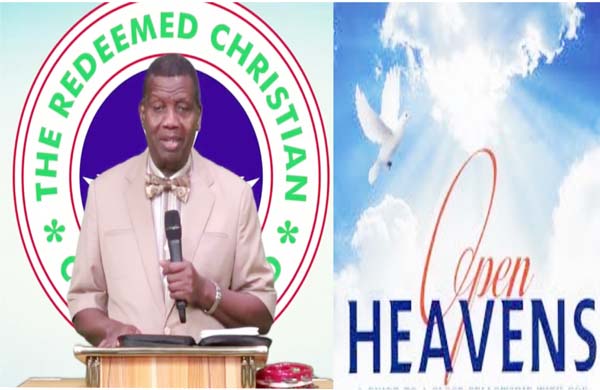 Topic for Friday 19/2/21: How desperate are you?
By Pastor E.A Adeboye
Do you not know that God is still in the business of doing miracles? Since He is still Miracles-Working-God, before you finish reading this piece, if you will believe, your life shall be instrument of His miracles, signs & wonders in the name of Jesus.
OPEN HEAVEN 19 FEBRUARY 2021 MEMORIZE: And he said, Let me go, for the day breaketh. And he said, I will not let thee go, except thou bless me. Genesis 32:26
OPEN HEAVEN 19 FEBRUARY 2021 BIBLE READING GENESIS 32:24-30
24. And Jacob was left alone; and there wrestled a man with him until the breaking of the day.
25. And when he saw that he prevailed not against him, he touched the hollow of his thigh; and the hollow of Jacob's thigh was out of joint, as he wrestled with him.
26. And he said, Let me go, for the day breaketh. And he said, I will not let thee go, except thou bless me.
27. And he said unto him, What is thy name? And he said, Jacob.
28. And he said, Thy name shall be called no more Jacob, but Israel; for as a prince hast thou power with God and with men, and hast prevailed.
29. And Jacob asked him, and said, Tell me, I pray thee, thy name. And he said, Wherefore is it that thou dost ask after my name? And he blessed him there.
30. And Jacob called the name of the place Peniel; for I have seen God face to face, and my life is preserved.
OPEN HEAVEN 19 FEBRUARY 2021 MESSAGE
There are many blessings that have been prepared for God's children, but many do not receive them because they are not just desperate enough.
In our Bible reading for today, Jacob wrestled with God because he was desperate for a blessing.
Mark 2:4-5 records that the paralysed man was healed because he and his friends were desperate for his healing.
I tell you, if only you can be desperate, that issue you have been waiting on God for could have been history by now.
Unfortunately, some Christians take unpleasant situations as their fate.
That shouldn't be!, There is nothing you cannot change it if you approach God desperately.
There was a festival of arts in one of the Northern states in Nigeria some years ago and some of the people who went from the South were involved in a fatal accident on their way back.
There was a young man – a Christian who was also involved in the accident.
He was among the few survivors but was in a coma for days.
Once in a while, he would come out of the coma and shout just one word: "Jesus", then go back into unconsciousness.
One day, he came up again and said "Jesus", then opened his eyes and continued, "Death, you are not going to have me; I refuse to die."
I am sure he was at the verge of dying, but he fought and overcame.
The forces of darkness and hell could not hold him down because he held desperately unto Jesus.
Are you going to let the devil hold you down in that situation?
Are you going to give up hope and let the devil have his way?.
You must be desperate in your prayers today.
You must tell the devil "No way! I am not going to let you have the last say over this matter".
Now, go ahead and pray to God concerning that stubborn matter. Tell Him that you will not rest until He has answered you.
Keep calling the name of Jesus concerning that situation.
Today is your day of freedom! If you don't have anything to pray about, pray for someone else, or you can pray for me.
OPEN HEAVEN 19 FEBRUARY 2021 KEY POINT
Pray desperately today about that issue that has lingered for too long. I join my faith with yours and decree that your answers will come speedily in the name of Jesus.
OPEN HEAVEN 19 FEBRUARY 2021 HYMN
PASS ME NOT, O GENTLE SAVIOUR
1. Pass me not, O gentle Saviour,
Hear my humble cry;
While on others Thou art calling,
Do not pass me by.
REFRAIN:
Saviour, Saviour,
Hear my humble cry;
While on others Thou art calling,
Do not pass me by.
2. Let me, at Thy throne of mercy
Find a sweet relief;
Kneeling there in deep contrition,
Help my unbelief.
3. Trusting only in Thy merit,
Would I seek Thy face;
Heal my wounded, broken spirit,
Save me by Thy grace.
4. Thou, the spring of all my comfort,
More than life to me,
Whom have I on earth beside Thee?
Whom in heaven but Thee?
OPEN HEAVEN 19 FEBRUARY 2021 BIBLE READING IN ONE YEAR: EPHESIANS 1:1-23, EPHESIANS 2:1-22, EPHESIANS 3:1-21


Special note
Beloved Reader, the sweetest & best way to enjoy full blessings from God in this 2021 is to make Jesus Christ your personal Lord & Saviour. Remember! the Lord Jesus in John 3:3 says, "Truly, truly, I say to you, unless ye are born again, ye cannot see the kingdom of God."
If you are ready to give your life to Christ Jesus, please pray the displayed prayer below in faith:
Lord Jesus, come into my life. I accept You as my Lord and Personal Saviour. I believe in my heart You died and rose from the dead to save me. I am a sinner, I confess all my sin, have mercy on me, forgive me all my sin. Give me grace to go and sin no more. Thank You Lord for saving me, in Jesus name Amen.
If you just prayed this prayer of salvation now, please call the following numbers for counselling and prayer request on: 
08033440631 
07064979797 
08101204546 
08103830237 
Or mail: info@rccg.org, God bless you.
Beware! this period we are in today brings fulfilment of this saying of Jesus Christ:
"And because iniquity shall abound, the love of many shall wax cold," Matt 24:12.
Our prayer for all of us is: any power, any problem that will quench our love for God and His unfailing Word, Holy Ghost Fire will destroy and flush them away.
Good Morning Beloved, Thank you for your patient with us. Thank you for advertising with allcitynews.ng. Thank you for all your comments, observations, feedbacks and time spent on this platform. We cherish your presence here.  
In the name of Jesus Christ of Nazareth, & by the power in the Blood of Jesus, you will never be a victim to whatever calamity, affliction, roaming around in the name of Jesus, Amen!