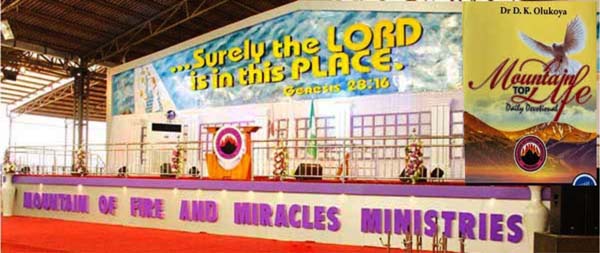 Topic for Tuesday 23: 2: 21: God's picture of the Christian home 1
By Dr D.K Olukoya General Overseer MFM worldwide
Do you not know that God is still in the business of doing miracles? Since He is still Miracles-Working-God, before you finish reading this piece, if you will believe, your life shall be instrument of His miracles, signs & wonders in the name of Jesus.
BIBLE IN ONE YEAR: Num. 1-2
FIRE SCRIPTURE: 1 Cor 7:1-9
MEMORY VERSE: 1 Cor. 7: 2 
Nevertheless, to avoid fornication, let everyman have his own wife, and let every woman have her own husband.
MOTIVATIONAL QUOTE: Let purpose be the driving factor before marriage in your life
PROPHETIC WORD FOR TODAY: Your marital journey shall not be satanically diverted, in the name of Jesus.
Marriage is a holy union, a living symbol, a precious relationship that needs tender and self-sacrificing care. It is God's idea and not a derivative of any culture. It is a gift from God to man and it has three basic aspects:
First, the man leaves his parents, and in a public act, pledges himself to his wife.
Second, the man and woman are joined together by taking responsibility for each other's welfare and by loving the partner above all others. In this context, love is given a richer and more interesting meaning. L stands for loyalty to each other. O stands for openness to each other. V stands for vocalising appreciation to each other and E stands for encouragement to each other.
Third, the two become one flesh in the intimacy and commitment to the wonderful union which is reserved for marriage. By doing the foregoing, marriage provides the needed fellowship, comfort, companionship and partnership. It is one of God's methods to keep men and women free from fornication and immorality.
With very few exceptions, most men and women are to marry. These exceptions are to receive God's guidance and are not to be the product of infantile decisions, misguided initiations, faithless consecration (Gen. 2:18-20, 22-24; Matthew 19:4-5). Marriage is part of God's plan to raise the Christian family. But the believer is not to go searching for a wife or husband without God's guidance, neither is he or she to resort to an abominable method of sampling or picking and choosing.
The Bible reveals this truth in Gen. 2:18, "And the Lord said "It is not good that the man should be alone; I will make him a help meet for him." God seems to be saying, "I am not going to allow the man to choose for himself." In Gen. 2:22, the Bible affirms, "And the rib, which the Lord God had taken from man, made he a woman and brought her unto him."
Beloved, you need to wait on God and get His guidance on important steps to be taken concerning your marriage.
PRAYER POINTS:
MORNING
1) Holy Spirit, come and dwell in Your fullness in my home, in the name of Jesus Christ.
2) My marriage shall fulfil God's purposes, in the name of Jesus Christ.
3) Agents of darkness reporting my marriage to satan, die, in the name of Jesus Christ.
EVENING
4) My marriage shall not follow the evil pattern of my ancestors, in the name of Jesus.
5. The end of my marital life shall be better than the beginning, in the name of Jesus Christ.
6. Wolves attacking Christian homes, you shall not prosper in my home, in the name of Jesus Christ.
7. Holy Spirit, direct the steps of my marital life, in the name of Jesus Christ
Special Note:
Beloved Reader, the sweetest way to enjoy all-round blessings from God in this Year 2021 is to make Jesus Christ your personal Lord & Saviour.  Remember! the Lord Jesus in John 3:3 says, "Truly, truly, I say to you, unless ye are born again, ye cannot see the kingdom of God."
If you are ready to give your life to Christ Jesus, please pray the displayed prayer below in faith:
Lord Jesus, come into my life. I accept You as my Lord and Personal Saviour. I believe in my heart You died and rose from the dead to save me. I am a sinner, I confess all my sin, have mercy on me, forgive me all my sin. Give me grace to go and sin no more. Thank You Lord for saving me, in Jesus name Amen.
If you just prayed the prayer of salvation online please send your testimonies and prayer request to ecounselling@mountainoffire.org, +234 (803) 078-0919 OR +234 (817) 363-1657.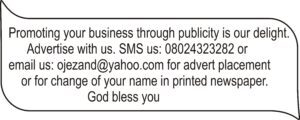 Beware! this period we are in today brings fulfilment of this saying of Jesus Christ:
"And because iniquity shall abound, the love of many shall wax cold," Matt 24:12.
Our prayer for all of us is: any power, any problem that will quench our love for God and His unfailing Word, Holy Ghost Fire will destroy and flush them away.
Good Day Beloved, Thank you for your patient with us. Thank you for all your comments, observations, feedbacks and time spent on this platform. We cherish your presence here.
In the name of Jesus Christ of Nazareth, & by the power in the Blood of Jesus, in thia year 2021 you will never be a victim to whatever calamity, affliction, roaming around in the name of Jesus, Amen!