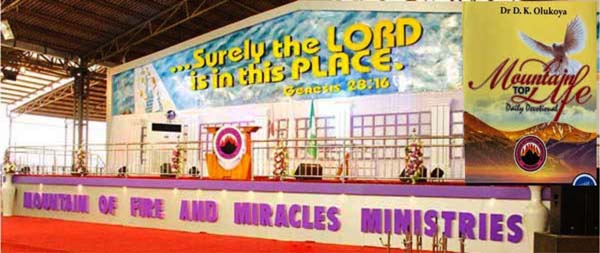 Written by Dr D.K. Olukoya, General Overseer, MFM worldwide
Posted by allcitynews.ng
MFM topic for 6 Sept 2022: lessons from the life of Deborah (1)
WELCOME to MFM Devotional, 06-09-22
BIBLE IN ONE YEAR:
Isaiah 10: 20-34; Isaiah 11; Isaiah 12, Isaiah 13; Corinthians 8: 16-24; 2 Corinthians 9: 1-5; Psalm 105:37-45
MEMORY VERSE: JUDGES 5-7:
The inhabitants of the villages ceased, they ceased in Israel; until that I Deborah arose, that I arose a mother in Israel."
MOTIVATIONAL QUOTES:
NEVER GIVE GOD CONDITIONS TO OBEY HIM. BUT ALWAYS BE READY TO RESPOND TO HIS PROMPTINGS.
PROPHETIC WORD FOR 06-09-22:
GOD SHALL MAKE YOU AN INSTRUMENT OF SALVATION TO YOUR GENERATION, IN THE NAME OF JESUS.
FIRE SCRIPTURE: JUDGES 4:4-7:
King James Version
4 And Deborah, a prophetess, the wife of Lapidoth, she judged Israel at that time.
5 And she dwelt under the palm tree of Deborah between Ramah and Bethel in mount Ephraim: and the children of Israel came up to her for judgment.
6 And she sent and called Barak the son of Abinoam out of Kedeshnaphtali, and said unto him, Hath not the Lord God of Israel commanded, saying, Go and draw toward mount Tabor, and take with thee ten thousand men of the children of Naphtali and of the children of Zebulun?
7 And I will draw unto thee to the river Kishon Sisera, the captain of Jabin's army, with his chariots and his multitude; and I will deliver him into thine hand.
PRAISE & WORSHIP
Onward, Christian
1 Onward, Christian soldiers,
marching as to war,
With the cross of Jesus
going on before!
Christ, the royal Master,
leads against the foe;
Forward into battle,
see his banner go!
Refrain:
Onward, Christian soldiers,
marching as to war,
With the cross of Jesus
going on before!
2 At the sign of triumph
Satan's host doth flee;
On, then, Christian soldiers,
on to victory!
Hell's foundations quiver
at the shout of praise;
Brothers, lift your voices,
loud your anthems raise! [Refrain]
3 Like a mighty army
moves the church of God;
Brothers, we are treading
where the saints have trod;
We are not divided;
all one body we,
One in hope and doctrine,
one in charity. [Refrain]
4 Onward, then, ye people,
join our happy throng,
Blend with ours your voices
in the triumph song;
Glory, laud, and honor,
unto Christ the King;
This thro' countless ages
men and angels sing. [Refrain]
Our fire scripture today talks about a great woman in the Bible called Deborah. She was a mother and a deliverer. She was a wife, a prophetess and a judge in Israel, chosen by God to save His people at a very challenging time. She showed her belief in God and her strength through God as she quietly and obediently stepped into her role.
It is difficult to find another woman in the Old Testsment with such dauntlessness and determination as Deborah. Her faith, energy, confidence, character, intellect and clear-sightedness marked her out as a woman who was God's gift to the age in which she lived. She had passion for the freedom and deliverance of her people.
Deborah was not power drunk. When she devised a plan to bring about her people's freedom and deliverance, she shared the vision with Barak, one of Israel's military leaders.
The life of Deborah should be a challenge to both men and women. It should serve as an encouragement to all women reading this devotional to stand as prayer warriors for the needs of the time we are in now and for the deliverance and protection of nations of the world.
Deborah was highly esteemed by her people. This can be seen by the fact that when she shared with Barak her plans to overcome Jabin and Sisera, Barak refused to engage in the campaign unless Deborah was ready to counsel and guide him and others. She gave the word for battle to commence and the Israelites, with God's help, overcame the great army of Sisera (Judges 4:14-16).
PRAYER POINTS:
MORNING
1. I scatter every evil confrontion against me, in the name of Jesus.
2. O Lord, subdue kings, people and sorcerers for my sake, in the name of Jesus.
3. The sun will not smite me by day nor the moon by night, in the name of Jesus.
EVENING
4. O heavens, arise in the thunder of your power and pursue my pursuers, in the name of Jesus.
5. Every power of Sisera pursuing my destiny, I strike your forehead, in the name of Jesus.
6. Any power drawing power from the heavenlies against me, be crushed, in the name of Jesus.
7. I receive power to mount up with wings as eagles, in the name of Jesus.
Special Notice by allcitynews.ng:
Salvation of your soul is very vital to God.
Beloved Reader, Remember! John 3:3 says, "Truly, truly, I say to you, unless ye are born again, ye cannot see the kingdom of God."
If you are ready to give your life to Christ Jesus, please pray the displayed prayer below in faith:
Lord Jesus, I am a sinner. I confess all my sin, have mercy on me, forgive me all my sin. Lord Jesus come into my life. I accept You as my Lord and Personal Saviour. I believe in my heart You died and rose from the dead to set me free. Thank You Lord for saving me, in Jesus name Amen.
If you just prayed the prayer of salvation! Congratulations! You are now born again. You need to belong to a Bible-Believing Church where you can know more. For testimonies, counselling or prayer requests, write or call: ecounselling@mountainoffire.org, +234 (0)808 770-0112 ; OR +234(0)8164028731.
Weekly Activities: Sunday Worship Service, 7am to 10am. Bible Study: 5-7pm. Wednesday Revival/Manna Water Service:4.30pm to 7pm. Every Friday, Prayer Rain (except Friday before PMCH) in Prayer City.
Monthly Programme: First Saturday of every month; Power Must Change Hands (PMCH)7am to 9am.
MAY THE PEACE OF THE LORD BE WITH YOU!!
ADVERTISE or PUBLISH a Story on allcitynews.ng: Kindly contact us at ojezand@yahoo.com. Have breaking story! Please send such with pictorial evidence to the above email. Thank you.
Disclaimer:
Comments expressed here do not reflect the opinions of allcitynews.ng or any employee thereof. It assumes no responsibility or liability for any errors or omissions in the comments.