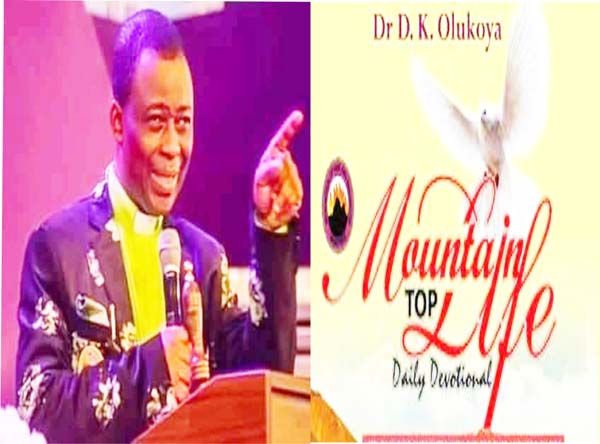 Written by Dr D.K. Olukoya, General Overseer, MFM worldwide
Posted by allcitynews.ng
MFM topic for Sun 7 August 2022: fruit of the Holy Spirit: temperance (2)
WELCOME to MFM Devotional, 07/08/22
BIBLE IN ONE YEAR
1 Chronicles 24; 1 Chronicles 25, 1 Corinthians 26:1-19: 1 Conrinthians 3, Psalm 92:1-15
MEMORY VERSE
Proverbs 16:32 " He that is slow to anger is better than the mighty, and he that ruleth his spirit than he that taketh a city."
MOTIVATIONAL QUOTE
No man can be said to be strong, if he has not mastered the art of temperance.
PROPHETIC WORD
You shall not be a signboard for satanic advertisement, in the name of Jesus.
FIRE SCRIPTURE
Genesis 39: 4-12
PRAISE & WORSHIP
O Worship The Lord In The Beauty of Holiness Lyrics
O worship the Lord in the beauty of holiness!
Bow down before him, his glory proclaim;
with gold of obedience, and incense of lowliness,
kneel and adore him: the Lord is his Name!
2. Low at his feet lay thy burden of carefulness,
high on his heart he will bear it for thee,
and comfort thy sorrows, and answer thy prayerfulness,
guiding thy steps as may best for thee be.
3. Fear not to enter his courts in the slenderness
of the poor wealth thou wouldst reckon as thine;
for truth in its beauty, and love in its tenderness,
these are the offerings to lay on his shrine.
4. These, though we bring them in trembling and fearfulness,
he will accept for the Name that is dear;
mornings of joy give for evenings of tearfulness,
trust for our trembling and hope for our fear.
MFM Devotional 7/8/22 MESSAGE
Temperance has to do with self-restraint. That is, one having the ability to subdue his appetite and passion. No man can be considered strong in the true sense of it who has not yet mastered the art of temperance. It is a good thing for one to be blessed with temperance by the Spirit of God. Walking the pathway of temperance leads to destiny fulfilment, joy, peace with God and with oneself.
Joseph is a perfect example of a man saturated with the fruit of temperance. Mrs Portiphar offered herself to this young man on a silver platter. Many young men who lack selfcontrol would have fallen for that satanic bait prepared to ruin his destiny and colour his story with the dark paint of regrets and sorrow. Had Joseph displayed lack of self-control, which is the problem with many believers today, he would never have reached the throne. He would have died in the prison.
Beloved, if you don't want to be a casualty in this Christian race, you must anchor the totality of your life to the current of temperance as discharged by the Holy Spirit. Self-control is only bestowed by the Holy Spirit. No man can ever please God, succeed in the Christian walk, excel in life and fulfil appointment with destiny without self-control.
Failure to cultivate the Holy Spirit's fruit of temperance will make you a signboard for the works of the flesh as listed in the book of Galatians, "… Adultery, fornication, uncleanness, lasciviousness, idolatry, witchcraft, hatred, variance, emulations, wrath, strife, seditions, heresies, envyings, murders, drunkenness, revellings…" (Galatians 5:19-21).
Whosoever engages in any of these fleshly acts will definitely not make heaven. Pray therefore for the infilling power of the Holy Spirit. In case you are not saved yet, repent today. There is a simple exercise I would like you to do. Take a pen and list the areas of your life that you lack self-control.
Go before the Lord in fasting and prayer and ask for His help to overcome these weaknesses. Pray until you have an assurance of positive changes in those.
7/8/22 PRAYER POINTS:
MORNING
1. O Lord, lay Your Hand of fire upon my life, in the name of Jesus.
2. My Christian testimony shall not be stained, in the name of Jesus.
3. Arrow of error fired against me, backfire, in the name of Jesus.
EVENING
4. Holy Spirit of God, overshadow my life, in the name of Jesus.
5. I shall not be a spiritual casualty, in the name of Jesus.
6. Glory of the Living God, overwhelm my life, in the name of Jesus.
7. Powers assigned to mess me up, die by fire, in the name of Jesus.
Allcitynews.ng Special Notice:-
Salvation of your soul is very vital to God.
Beloved Reader, Remember! John 3:3 says, "Truly, truly, I say to you, unless ye are born again, ye cannot see the kingdom of God."
If you are ready to give your life to Christ Jesus, please pray the displayed prayer below in faith:
Lord Jesus, I am a sinner. I confess all my sin, have mercy on me, forgive me all my sin. Lord Jesus come into my life. I accept You as my Lord and Personal Saviour. I believe in my heart You died and rose from the dead to set me free. Thank You Lord for saving me, in Jesus name Amen.
If you just prayed the prayer of salvation! Congratulations! You are now born again. You need to belong to a Bible-Believing Church where you can know more. For testimonies, counselling or prayer requests, write or call: ecounselling@mountainoffire.org, +234 (0)808 770-0112 ; OR +234(0)8164028731.
Weekly Activities: Sunday Worship Service, 7am to 10am. Bible Study: 5-7pm. Wednesday Revival/Manna Water Service:4.30pm to 7pm. Every Friday, Prayer Rain (except Friday before PMCH) in Prayer City.
Monthly Programme: First Saturday of every month; Power Must Change Hands (PMCH)7am to 9am.
MAY THE PEACE OF THE LORD BE WITH YOU!!
ADVERTISE or PUBLISH a Story on allcitynews.ng: Kindly contact us at ojezand@yahoo.com. Have breaking story! Please send such with pictorial evidence to the above email. Thank you.
Disclaimer:
Comments expressed here do not reflect the opinions of allcitynews.ng or any employee thereof. It assumes no responsibility or liability for any errors or omissions in the comments.