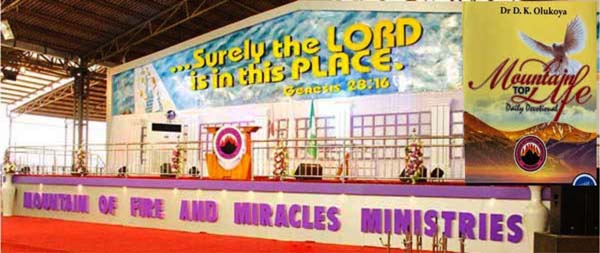 Written by Dr D.K. Olukoya, General Overseer, MFM worldwide
Posted by allcitynews.ng
MFM topic for 2 Sept 2022: coming out of Lo-Debar (2)
WELCOME to MFM Devotional, 02-09-22
PRAISE & WORSHIP:
Thy Kingdom Come, O God
1 Thy kingdom come, O God,
thy rule, O Christ, begin;
break with thine iron rod
the tyrannies of sin.
2 Where is thy reign of peace
and purity and love?
When shall all hatred cease,
as in the realms above?
3 When comes the promised time
that war shall be no more,
and lust, oppression, crime
shall flee thy face before?
4 We pray thee, Lord, arise,
and come in thy great might;
revive our longing eyes,
which languish for thy sight.
5 Men scorn thy sacred name,
and wolves devour thy fold;
by many deeds of shame
we learn that love grows cold.
6 O'er lands both near and far
thick darkness broodeth yet:
arise, O Morning Star,
arise, and never set!
BIBLE IN ONE YEAR: Isaiah 1, Isaiah 2, 2 Corinthians 6:1-2, Psalm 105:1-11
FIRE SCRIPTURE: 2 Samuel 1:1-9 (KJV)
MEMORY VERSE: "Come unto me, all ye that labour and are heavy laden, and I will give you rest." – Matthew 11:28
MOTIVATIONAL QUOTES:
Do not walk by sight or by the circumstances surrounding you; rather, walk by faith.
PRAISE AND WORSHIP:
Take praise and worship songs as led by the Holy Spirit
PROPHETIC WORD FOR TODAY:
THE POWER OF GOD WILL MOVE YOU TO YOUR PLACE OF FULFILMENT, IN THE NAME OF JESUS.
02-09-22 MESSAGE:
Yesterday, we looked at the spiritual and physical meaning of Lo-debar. Mephibosheth, the son of Jonathan who was supposed to be found among princes, was forgotten at Lo-debar.
Similarly, in our Fire Scripture today, we read about David whom God moved from grass to GRACE. He was totally forgotten in the wilderness by his father. But God showed mercy to David. Today, that same God will remember you for good, in Jesus' name. Grace attracts divine favour, divine protection and divine connection.
David, who later became king in Israel, told Mephibosheth not to be afraid. Likewise, the Kings of kings, Jesus Christ is calling you today to come out of whatever is holding you down. He is calling you to come out from your Lo-debar and begin a new life that can only be found in Him. He says, "Don't be afraid, just come.
Mephibosheth had a disability -He was lame in his two legs, but the king said, "Come to me the way you are and I will show you favour." Jesus is also calling you to come with your disability, your inadequacies, your burden, your sorrow, your pains, and He will give you rest (Matthew 11:29).
That song says, "Just as I am, without one plea." Jesus Christ is the Balm in Gilead that can soothe your hurting soul, fight your pains and heal every disability or challenge that you might have. He will also position you where you rightly belong: among princes.
Maybe like Mephibosheth, circumstances that were never your fault have pushed you to Lo-debar and you might have even been forgotten there.
Beloved, just like King David opened the book of remembrance to the son of his bosom friend, Jonathan, and called him out, and restored to him all that belonged to him by inheritance, Jesus is also calling you out from where the powers of your father's house have hidden you for years. And just as Mephibosheth responded to the king's order, if you can respond to Jesus' call today, He will save you, restore all that you have lost and put you in your rightful place. God bless you as you respond, in the name of Jesus.
PRAYER POINTS:
MORNING
1. O Lord, raise a voice for me where I need help, in the name of Jesus.
2. Every retrogressive label in any area of my life, be removed, in the name of Jesus.
3. I pull down all the strongholds erected against my progress, in the name of Jesus.
EVENING
4. Every generational curse affecting my progress, break, in the name of Jesus.
5. I release myself from any inherited bondage, in the name of Jesus.
6. My destiny, arise by fire and possess your possessions, in the name of Jesus.
7. Every arrangement by sorcerers and witches fashioned against my life, scatter, in the name of Jesus.
Special Notice by allcitynews.ng:
Salvation of your soul is very vital to God.
Beloved Reader, Remember! John 3:3 says, "Truly, truly, I say to you, unless ye are born again, ye cannot see the kingdom of God."
If you are ready to give your life to Christ Jesus, please pray the displayed prayer below in faith:
Lord Jesus, I am a sinner. I confess all my sin, have mercy on me, forgive me all my sin. Lord Jesus come into my life. I accept You as my Lord and Personal Saviour. I believe in my heart You died and rose from the dead to set me free. Thank You Lord for saving me, in Jesus name Amen.
If you just prayed the prayer of salvation! Congratulations! You are now born again. You need to belong to a Bible-Believing Church where you can know more. For testimonies, counselling or prayer requests, write or call: ecounselling@mountainoffire.org, +234 (0)808 770-0112 ; OR +234(0)8164028731.
Weekly Activities: Sunday Worship Service, 7am to 10am. Bible Study: 5-7pm. Wednesday Revival/Manna Water Service:4.30pm to 7pm. Every Friday, Prayer Rain (except Friday before PMCH) in Prayer City.
Monthly Programme: First Saturday of every month; Power Must Change Hands (PMCH)7am to 9am.
MAY THE PEACE OF THE LORD BE WITH YOU!!
ADVERTISE or PUBLISH a Story on allcitynews.ng: Kindly contact us at ojezand@yahoo.com. Have breaking story! Please send such with pictorial evidence to the above email. Thank you.
Disclaimer:
Comments expressed here do not reflect the opinions of allcitynews.ng or any employee thereof. It assumes no responsibility or liability for any errors or omissions in the comments.