TOPIC FOR TODAY: 12-9-2: The dangers of incomplete deliverance
By Dr D.K Olukoya, General Overseer MFM worldwide
Fire Scripture: Matthew 12:43-45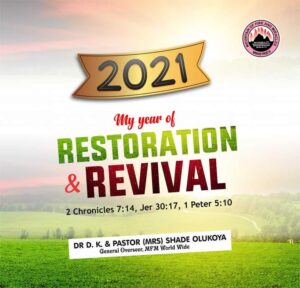 Today's devotional will highlight why many believers are still languishing in the lowest ebb of their ladder of destiny and why many high fliers have been converted to beggars. According to Matthew 12:43-45, many believers' situations become worse after an attempt in deliverance, and this is due largely to going back to sin. Many hide their sins before Jesus Christ; they are like a sick person who refuses to tell a physician what his problems really are.

Your ability to be honest and transparent before your doctor will fast track your recovery. This is true about deliverance. Many counsellors have been led astray by counselees who are not willing to be truthful. Many years ago as a young believer, a young lady was brought by her mother for prayer but unknown to her mother she was suffering from complications from abortion done by a quack doctor. The brethren began to pray while this girl was dying until I heard the voice of the Holy Spirit, "Ask the girl what she did." It was then the secret became known.

Another reason for incomplete deliverance is keeping in our possession materials from the kingdom of satan. It is disheartening to note that many of our youths today are seriously entangled with materials that are leading them deeper into bondage. People who seek deliverance should note that deliverance is in stages, and passing through the first stage is not enough. Every deliverance candidate must be determined to obtain the total deliverance that is desired.
When there is incomplete deliverance, the bondage gets stronger and the victim suffers more. Whenever the devil finds evidence of incomplete deliverance, he fights back like a wounded lion and ensures the victim becomes worse off. Although, the victims might be reading the Bible, praying and confessing the word of God, the danger of incomplete deliverance will rear its ugly head during a period of relaxation. Beloved, decide today that you will have nothing to do with incomplete deliverance.
Rather you will go the extra mile to ensure that your deliverance is complete, total, and final in every department of your life. I pray God will make you whole and completely delivered from satanic powers, in Jesus' name.



MEMORY VERSE:
John 8:32 – And ye shall know the truth, and the truth shall make you free.
MOTIVATIONAL QUOTE:
Before you ever get a problem, God has already got your deliverance planned.
PROPHETIC WORD:
The grip of the devil on any department of your life is declared loosed, in the name of Jesus.


MFM DEVOTIONAL 12TH SEPTEMBER 2021 HYMN: Cleansing Fountain
1. There is a fountain filled with blood
Drawn from Immanuel's veins,
And sinners plunged beneath that flood
Loose all their guilty stains:
Lose all their guilty stains,
Lose all their guilty stains;
And sinners plunged beneath that flood
Lose all their guilty stains.
2. The dying thief rejoiced to see
That fountain in his day,
And there may I, though vile as he,
Wash all my sins away:
Wash all my sins away,
Wash all my sins away;
And there may I, though vile as he,
Wash all my sins away.
3. Dear dying Lamb, Thy precious blood
Shall never lose its pow'r,
Till all the ransomed Church of God
Be saved to sin no more:
Be saved to sin no more,
Be saved to sin no more;
Till all the ransomed Church of God
Be saved to sin no more.
TODAY PRAYER POINTS
MORNING
1. Every power assigned to destroy my destiny, die, in the name of Jesus.
2. Every power of frustration that pursued me last year, your time is up, die, in the name of Jesus.
3. This year, I shall have unstoppable advancement, in the name of Jesus.
EVENING
4. I recover ten folds all my wasted years, in the name of Jesus.
5. Every power of the night, programmed against my progress, scatter, in the name of Jesus.
6. You mountain of affliction before me, scatter, in the name of Jesus.
7. Every dream of affliction, die, in the name of Jesus.
BIBLE IN ONE YEAR: Daniel 10; Daniel 11; Daniel 12


SPECIAL NOTE!
Beloved Reader, the best way to enjoy the best of God is to make Jesus Christ your personal Lord & Saviour.  And remember! John 3:3 says, "Truly, truly, I say to you, unless ye are born again, ye cannot see the kingdom of God."
If you are ready to give your life to Christ Jesus, please pray the displayed prayer below in faith:
Lord Jesus, I am a sinner. I confess all my sin, have mercy on me, forgive me all my sin. Lord Jesus come into my life. I accept You as my Lord and Personal Saviour. I believe in my heart You died and rose from the dead to save me. Thank You Lord for saving me, in Jesus name Amen.
If you just prayed the prayer of salvation online please send your testimonies and prayer request to ecounselling@mountainoffire.org, +234 (803) 078-0919 OR +234 (817) 363-1657.


Beware! This Scripture: "And because iniquity shall abound, the love of many shall wax cold," Matt 24:12, is happening in our days.
Our prayer is: any power or any problem that will kill our love for God, blood of Jesus shall destroy and flush them away from us, through Jesus Christ our Lord, Amen.
Thank you for your patient with us. And thank you for all your comments, observations, feedbacks and time spent on this platform. We cherish your presence here.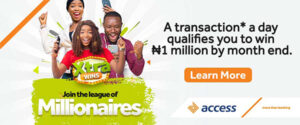 Beloved! We are in perilous time when kidnappings, banditry and other vices have become daily occurrences. But the Lord is saying, do not be afraid! Be strong in the Lord! Be bold & be courageous!
In the name of Jesus Christ of Nazareth, you shall not be a victim to whatever calamity flying around by day or by night, in the name of Jesus, Amen!
Shalom!