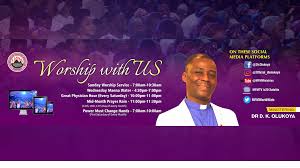 Mountain Top Life, MFM Daily Devotional Monday 5 October 2020
Topic for Oct 5: In the name of the Lord of hosts
By Dr D.K. Olukoya, General Overseer MFM worldwide
BIBLE IN ONE YEAR: 2 Chronicles 33-34
FIRE SCRIPTURE: 1 Samuel 17:38-46
MEMORY VERSE: 1Corinthians 1:28
"And base things of the world, and things which are despised, hath God chosen, yea, and things which are not, to bring to nought things that are:"
MOTIVATIONAL QUOTE: As long as you keep the Bible open and read its contents daily, you will never go astray.
PROPHETIC WORD FOR TODAY: Any battle the enemy has brought your way from the past, that battle shall die in the name of Jesus.
Today's devotional is crucial. It is filled with practical lessons. When you take the name of the Lord of hosts to the field of battle, your victory is sure.
Sometime years ago, a relative of mine brought a girl who had just arrived from the village to my house. The first night, she talked throughout in her sleep. I got angry in my spirit that day but I had to keep quiet as a matter of courtesy, since that was her first night in my house.
The following morning, I confronted her and told her that if she dared have any conversation in her sleep again, both herself and her invisible partner would be imprisoned and caged.
Behold that particular night, she did not make a single sound while she was sleeping. But by the following morning, she carried her things and left. My warning destabilized her! The apostles of old had cause to report some people to God.
They said, "O Lord, behold their threatening." Perhaps you have been threatened in the past, or you are now living under the threat of your enemies. What a big insult to the children of the living God to live under such a condition!
Therefore, I want you to get angry in your spirit and fire prayer arrows at them. We have modern-day Philistines. Threatening the lives of many Christians are the forces harassing the people of God, and vowing to cause tragedies in their lives.
They do not hide their evil intentions. They utter them openly, and with pride just as Goliath was doing to the children of Israel. They must be stopped, even as David sniffed life out of Goliath.
Every Goliath fighting against your destiny shall be disgraced. The name of the Lord of hosts is the guarantee of your victory. You will prevail.
MORNING
1. I put the curse of the Lord upon every sickness and satanic mark upon my life, in the name of Jesus.
2. I pronounce the curse and destruction of God upon every evil plantation in my life, and I command them to wither away, in the name of Jesus
3. I revoke every curse under which I labour, in Jesus' name
EVENING
1. I revoke every curse of sickness that is working against my life, in the name of Jesus
2. I pronounce the curse of the Lord upon producers of stagnancy, in the name of Jesus
3. I break every curse of backwardness, in the name of Jesus.
4. I dismantle every curse issued against my finances, in Jesus' name.
The annual 70 days prayer and fasting for year 2020 started today Monday 5 October. God bless you as you join.