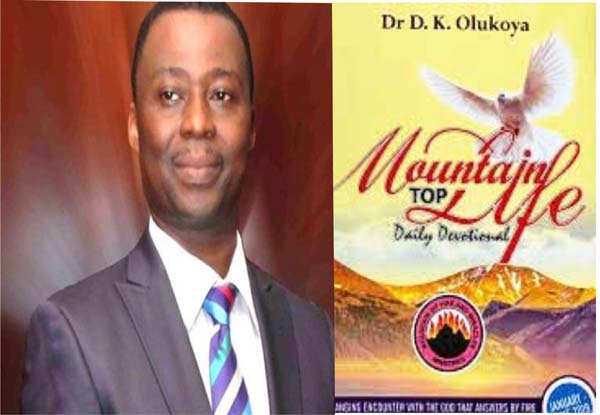 Written by Dr D.K Olukoya, General Overseer MFM worldwide
Posted by allcitynews.ng
TOPIC for 13/05/22:- Holy Spirit: the power of the believer (2)
WELCOME to MFM Devotional 13:5:22
.
BIBLE IN ONE YEAR: Judges 16, Judges 17, John 7:45-53, John 8:1-11, Psalm 60:1-4
FIRE SCRIPTURE: Galatians 5:16-18
MEMORY VERSE:
Galatians 5:16 – This I say then, Walk in the Spirit, and ye shall not fulfil the lust of the flesh."
MOTIVATIONAL QUOTES:
Follow the Holy Spirit and you will never miss it, physically and spiritually.
PRAISE and WORSHIP
PROPHETIC WORD FOR TODAY:
YOUR SERVICE IN THE VINEYARD OF THE LORD SHALL NOT BE IN VAIN, IN THE NAME OF JESUS.
MFM 13/5/22 MESSAGE:
Yesterday, we started looking at the Holy Spirit, the power of the believer. We mentioned that for believers to be effective in their lives and service to God, the power of the Holy Spirit is compulsory because that is God's divine ability and authority given to believers to enable them to live godly lives and also to be productive in their service to God.
The disciples of Jesus Christ received this power and they became different men. Instead of going into hiding like cowards, as when the power had not come, they preached the gospel with boldness and dammed the consequences. Thousands of souls were won to the Lord (Acts 2:41), and they were able to perform miracles, signs and wonders (Acts 3:1-8). They got the power and were able to fulfil purpose, making heaven very proud.
In the same way, if we hope to accomplish the will and purpose of God concerning our lives, we need to see the Holy Spirit as our source of power and strength. We need to depend absolutely on Him and allow Him to lead and guide us. James 1:5 says, "If any of you lack wisdom, let him ask of God, that giveth to all men liberally, and upbraideth not; and it shall be given him."
When we walk in the Spirit, we are relying on His power to accomplish God's will. If we do not walk in the Spirit, we will fulfil the lust of the flesh (Galatians 5:16). And John 6:63 tells us that the flesh profits nothing. It means that when we do not walk in the Spirit, we are only walking in disobedience and our work will not yield any profit. Child of God, may your work not be profitless, in the name of Jesus.
PRAYER POINTS:
MORNING
1. O Lord, teach me to walk in the Spirit, in the name of Jesus.
2. O Lord, give me the grace to continue to walk in the Spirit, in the name of Jesus.
3. I refuse to fish in a desert sea, in the name of Jesus.
EVENING
4. Every chain limiting my life, break, in the name of Jesus.
5. Lord, overshadow me by Your Spirit, in the name of Jesus.
6. Lord, raise the altar of prosperity in my life, in the name of Jesus.
7. My breakthroughs, come out of every satanic stronghold, in the name of Jesus.
Allcitynews.ng NOTICE BOARD:
Salvation of your soul is very vital to God.
Beloved Reader, Remember! John 3:3 says, "Truly, truly, I say to you, unless ye are born again, ye cannot see the kingdom of God."
If you are ready to give your life to Christ Jesus, please pray the displayed prayer below in faith:
Lord Jesus, I am a sinner. I confess all my sin, have mercy on me, forgive me all my sin. Lord Jesus come into my life. I accept You as my Lord and Personal Saviour. I believe in my heart You died and rose from the dead to set me free. Thank You Lord for saving me, in Jesus name Amen.
If you just prayed the prayer of salvation! Congratulations! You are now born again. You need to belong to a Bible-Believing Church where you can know more. For testimonies, counselling or prayer requests, write to ecounselling@mountainoffire.org, +234 (803) 078-0919 OR +234 (817) 363-1657.
MAY THE PEACE OF THE LORD BE WITH YOU!!
Advertise or Publish a Story on allcitynews.ng: Kindly contact us at ojezand@yahoo.com. Have breaking story! Please send such with pictorial evidence to the above email. Thank you.
Disclaimer:
Comments expressed here do not reflect the opinions of allcitynews.ng or any employee thereof. It assumes no responsibility or liability for any errors or omissions in the comments.