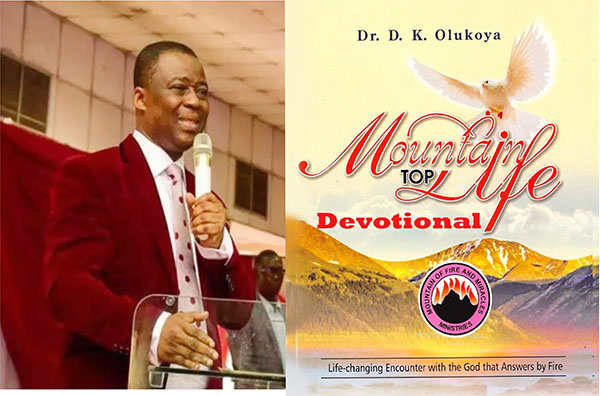 TOPIC FOR TODAY: 6-8-21: Prince of this world
By Dr D.K Olukoya, General Overseer MFM worldwide

BIBLE IN ONE YEAR: 
FIRE SCRIPTURE:  John 14:30; 16:11; 12:31
Memory verse: Ezekiel 36:25
"Then will I sprinkle clean water upon you, and ye shall be clean: from all your filthiness, and from all your idols, will I cleanse you."
Motivational Quote: This is your moment of triumph. Adversity shall soon pass away. Weakness shall soon depart. You shall not faint.
Prophetic Word: Any power working against your family shall be disgraced.
The truth is often bitter. However, it is only the truth that can set you free. A lie may be on the run for 1,000 years, but the truth will overtake it one day. A lady stole a television set and watched it for years. She later noticed that there was no single breakthrough in her home.
Each time she switched on that television, the devil would start to dance because they were watching his property. In the same house, they usually held vigil every last Friday of the month. But, the devil always laughed because of the stolen television and the stolen carpet in the sitting room. So, nothing positive or successful happened.
A songwriter says, "I have decided to follow Jesus, no turning back, no turning back." He says, "The cross before me, the world behind me." Is the world behind you or at your front? Have you left the shackles of the world behind?
For example, if the prince of the world, the devil comes to you now, can he say, "I cannot find anything in this man? I cannot find anything in this woman?" Can he say that about you? Can you be bold like Jesus and say, "The prince of this world cometh but he finds nothing in me."? This is a very crucial question that every believer has to answer.

The reason why some people are having backache is because they are sleeping on stolen beds. The reason why some people are having stomach ulcer is because they are eating with stolen spoons. Somebody goes to a hotel and when he is checking out, he steals the towels in his room and goes home with them. Now, he says he has skin rashes. The reason is that he is using stolen towels.
Do not allow the prince of this world to catch you and destroy your destiny. Avoid him with perfect hatred, stubborn resistance and unshaken determination.
PRAYER POINTS:
MORNING
1. Every assembly of witchcraft working against me, scatter, in the name of Jesus.
2. Every seed of witchcraft in my life, die, in the name of Jesus.
3. Every dream sponsored by witchcraft, die, in the name of Jesus.
EVENING
4. Every power troubling my star, die, in the name of Jesus.
5. I declare war on every enchantment, in the name of Jesus.
6. Confidence of the wicked, be broken, in the name of Jesus.
7. Every serpent and scorpion of affliction, die, in the name of Jesus.

SPECIAL NOTE!
Beloved Reader, the best way to enjoy the best of God is to make Jesus Christ your personal Lord & Saviour.  And remember! John 3:3 says, "Truly, truly, I say to you, unless ye are born again, ye cannot see the kingdom of God."
If you are ready to give your life to Christ Jesus, please pray the displayed prayer below in faith:
Lord Jesus, I am a sinner. I confess all my sin, have mercy on me, forgive me all my sin. Lord Jesus come into my life. I accept You as my Lord and Personal Saviour. I believe in my heart You died and rose from the dead to save me. Thank You Lord for saving me, in Jesus name Amen.
If you just prayed the prayer of salvation online please send your testimonies and prayer request to ecounselling@mountainoffire.org, +234 (803) 078-0919 OR +234 (817) 363-1657.


Beware! This Scripture: "And because iniquity shall abound, the love of many shall wax cold," Matt 24:12, is happening in our days.
Our prayer is: any power or any problem that will kill our love for God, blood of Jesus shall destroy and flush them away from us, through Jesus Christ our Lord, Amen.
Thank you for your patient with us. And thank you for all your comments, observations, feedbacks and time spent on this platform. We cherish your presence here.
Beloved! We are in perilous time when kidnappings, banditry and other vices have become daily occurrences. But the Lord is saying, do not be afraid! Be strong in the Lord! Be bold & be courageous!
In the name of Jesus Christ of Nazareth, you shall not be a victim to whatever calamity flying around by day or by night, in the name of Jesus, Amen!
Shalom!