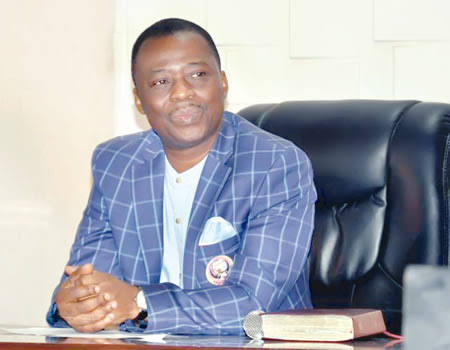 Topic for 30 October: Arresting the arrester
By DrD.K.Olukoya General Overseer MFM worldwide
BIBLE IN ONE YEAR: Mark 12 – 13
FIRE SCRIPTURE:
Is. 5:26; Is. 7:18
MEMORY VERSE:
Amos 5:17 "And in all vineyards shall be wailing: for I will pass through thee, saith the LORD."
MOTIVATIONAL QUOTE: Character is what you are in the dark when nobody can see you.
PRAISE WORSHIP: Take a worship song as led by the Holy Spirit
PROPHETIC WORD FOR TODAY: Power that cannot be insulted, the Lord will give you in Jesus name.
MFM Daily Devotional 30 October 2020
MESSAGE:
It is God's delight to take His sons and daughters to unprecedented heights where overcoming the devil becomes easy.
The focus of today's devotional is that you are not expected to turn your back against the devil. Satan will flee when you are on the offensive.
Today we shall examine how to disgrace every enemy of your colourful destiny. God has given to every one a colourful destiny. He has also armed each one with weapons to frustrate the agenda of darkness against your destiny. For your destiny to be "tamper-proof," warfare is important. You must use the right weapon to ward off evil invaders.
The net of the Lord is a weapon given unto us by God for specific areas of warfare. When God wants to capture stubborn run-away enemies, he uses the weapon of the divine net. The net is an instrument for subjecting the enemy to the same captivity which he has schemed for God's people.
It is wonderful to behold a great company of people who have been arrested through the use of the divine net. It is a weapon that God uses when he sets out to capture a network of evil powers. This is a weapon of mass destruction. It is a weapon that has continued to baffle the enemy, as a result of its ability to overshadow and capture a mass of enemies who believe that they can escape the anger of the Almighty.
When God decides that the enemy's cup of iniquity is full, and the time is ripe to capture and subject the enemy to shameful defeat, He spreads a net. Of course, when the net is spread, it will capture an entire company of agents of the pit of hell.
This is the weapon you need to make use of when you have discovered that it is time for God to round up the enemy in a net and throw them into the fire of God's judgment.
PRAYER POINTS:
MORNING:
1. I arrest any serpent of infirmity troubling my body, in the name of Jesus.
2. Destructive infirmities, hear the word of the Lord, die, in the name of Jesus.
3. I cut off the tentacles of internal disease spreading in my body, in the name of Jesus.
EVENING:
1. Power base of infirmity, dry up and die, in the name of Jesus.
2. Health arresters, be arrested by fire, in the name of Jesus.
3. Holy Ghost fire, melt away every infirmity in my body organs, in the name of Jesus.
4. I fire back, every arrow of affliction tormenting my body, in the name of Jesus.
Special note:
Beloved Reader, the sweetest & best way to enjoy all-round blessings from God is to make Jesus Christ your personal Lord & Saviour. Remember! the Lord Jesus in John 3:3 says, "Truly, truly, I say to you, unless ye are born again, ye cannot see the kingdom of God."
If you are ready to give your life to Christ Jesus, please pray the displayed prayer below in faith:
Lord Jesus, come into my life. I accept You as my Lord and Personal Saviour. I believe in my heart You died and rose from the dead to save me. I confess all my sin, have mercy on me, forgive me all my sin. Give me grace to go and sin no more. Thank You Lord for saving me, in Jesus name Amen.
If you just prayed the prayer of salvation online please send your testimonies and prayer request toecounselling@mountainoffire.org, +234 (803) 078-0919 OR +234 (817) 363-1657.
You are welcomed to allcitynews.ng, where growing your business through publicity is our job. Advertise with us. Call 08024323282 or email us:ojezand@yahoo.com for advert placement. And also, you can do CHANGE OF NAME IN PRINTED NEWSPAPER. God bless you richly in Jesus name.
Good Morning Beloved, Thank you for your patient with us. Thank you for all your comments, observations, feedbacks and time spent on this platform. We cherish your presence here.
In the name of Jesus Christ of Nazareth, & by the power in the Blood of Jesus, you will never be a victim to whatever calamity, affliction, roaming around in the name of Jesus, Amen!