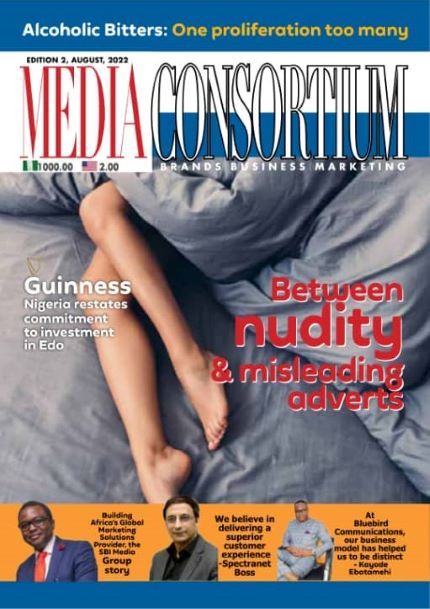 Gofam Communications announces digital platform for MediaConsortium
By allcitynews.ng
MediaConsortium,  brands, business and marketing magazine has gone online, with the url-www.mediaconsortiumng.com
Even as the Gofam Communications, publishers of the all gloss magazine, in a statement in Lagos, Nigeria explained that the idea is to give the magazine an online presence and to enable it service the vast online readers.
According to the publishers, the magazine is brands, business and marketing publication.
"MediaConsortium is a reader's delight which was born out of the need to enable the market situation ideal for its objective and mutually rewarding engagement, such that it will serve the interest among known market forces."
A publication of Gofam Communications, MediaConsortium started operations nearly a year ago, with the maiden publication hitting the news stand in February, 2022, with the lead story; "Eradicating unhealthy practices will stimulate growth in advertising industry," an interview with Dr. Lekan Fadolapo, ARCON DG and a sub-lead entitled, 'AISOP: Between practitioners and international best practice,' among other interesting stories.
Similarly,  the statement said "MediaConsortium is not in competition with any brand but has come to make little effort by contributing to the growth of the Integrated Marketing Communications (IMC) space in particular and the economy at large in its own little way.
"As a platform, it is a dedication to professional management of market and the brand ingredients operative in Brand/Consumer relationship at the market place. On a broader scale, it is focused on growing commercial activities by paying attention to those areas of possible conflict on interest among known market forces."
Promoters of the platform furthermore explained that the new website will afford the online community the opportunity to access brands and brand- related news as it is being served on the go rather than wait till when the hard copy is served once in a month.
"MediaConsortium is a platform that can be relied on to set agenda for dialogue among industry stakeholders by the information we put in the public space.
"Our promise to our numerous readers is that, we shall continue to develop intellectual/professional contents towards serving the purposes of consumer-brand x-raying on market developments across segments with a view to highlighting those developments that deepen intellectual engagement in Nigerian marketing communications industry and beyond".
Gofam Communications is owned by three brand journalists and online publishers, Adetunji Faleye of Brand Impact, Godwin Anyebe of Consumers Assembly and Amechi Obiakpu of Espi News.
Adetunji Faleye is the immediate past editor of Brandcommunicator magazine, a position he held for more than five years before calling it quit in 2021, to start up Brand Impact, an all brands publication. Prior to his time at Brandcommunicator he had worked with different reputable media houses among which are Financial Standard and News Direct Newspaper.
Consumers advocator, Godwin Anyebe is a versatile brand journalist whose work experience spans various media houses among which are Daily Times, Daily Trust, Thisday and National Economy. He has also worked for many other publications under pseudo names.
Amechi Obiakpu has more than a decade experience in journalism haven started his journalism career with the defunct, Prime Sunset Newspaper. Before venturing into online publishing, his last place of employment was at News Express, an online news platform known for its breaking news.
Amechi is the current Chief Information Officer (CIO) of Brand Journalists Association of Nigeria (BJAN).