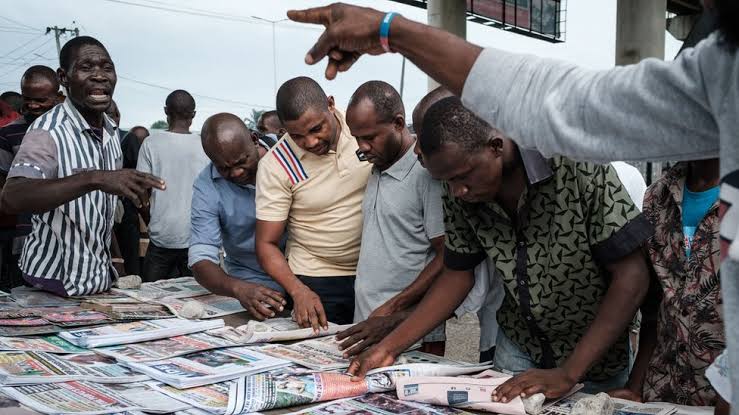 By Olopade Kayode
Posted by allcitynews.ng
**Osun Assembly rejects Adeleke's decision to rename state
**JAPA: If you think migrating legally is good for you by all means– Presidency
**Presidency: Why Buhari can't wait to leave office-Femi Adesina
**Adeleke directs LG heads to replace sacked chairmen
**Kayode Muse, a selfless and prolific worker bows out of Lagos service after meritorious service
**Better days ahead, Malami assured Judiciary
**Minister, Industry captains to grace SON's 50th Anniversary ceremony
**Uzodimma appoints Ace Broadcaster, Ify Onyegbule DG, Imo Broadcasting Corporation.
**2023: NNPP weighs alliance to defeat Makinde
**EKOEXCEL pupils shine at 25th Annual JETS Competition
**SANs right to condemn Ekiti speaker's removal – Lawyer
**UI-ASUU protests half-pay, asks FG to honour agreements
**Building Collapse: Lagos to investigate agencies over corruption allegation
**Adeleke directs LG heads to replace sacked Chairmen-
**Osun Governor warns transport unions as crisis erupts in Osogbo
**Factional transport unions battle to occupy Osun Parks, vehicle razed
**2023: NNPP weighs alliance to defeat Makinde
**Four injured as car hits Okada on Lagos-Ibadan expressway
**Fani -Kayode reveals those trying to kill Tinubu issues fresh warning
**Covid-19 cases may rise during holiday season NCDC warns
**Zamfara community escapes terrorists' wrath, pays N20m levy
**Tinubu to embark on foreign trip, speaks on security, economy at Chatham House
**Osun Governor warns transport unions as crisis erupts in Osogbo
**Adeleke orders security agents to take over palaces of Owa, Akinrun, Iree
**Adeleke suspends OSIEC Chairman, members
**Lagos announces Surulere, Ikeja as designated parking spots
**2023 Election: Hon. Adewale Adeogun Drums Support For Tinubu, Endorse Him For Presidency
**Ukraine warns of fresh Russian missile strikes
**Landslide In Cameroon kills at least 11
**Putin, Kazakh leader affirm ties after Ukraine tensions
**China arrests BBC journalist covering COVID protests
**World Cup: Iran frees hundreds after World Cup win over Wales
**World Cup: Cameroon, Serbia in six-goal thriller
**World Cup: Ghana thrashes South Korea 3-2
I had a dream that you and your family will end this year with laughter. Can I hear a big AMEN.
For ADVERT Placement in allcitynews.ng!, for EVENT Coverage!, to PUBLISH a story in allcitynews.ng! Or Have breaking story with pictorial evidence, kindly send such to ojezand@yahoo.com. Thank you..
Disclaimer:
Comments expressed here do not reflect the opinions of allcitynews.ng or any employee thereof. It assumes no responsibility or liability for any errors or omissions in the comments.
Allcitynews.ng's goal: To be the most influential, informative and reliable issues-based online newspaper in working for the unity, peace and development of the Country.