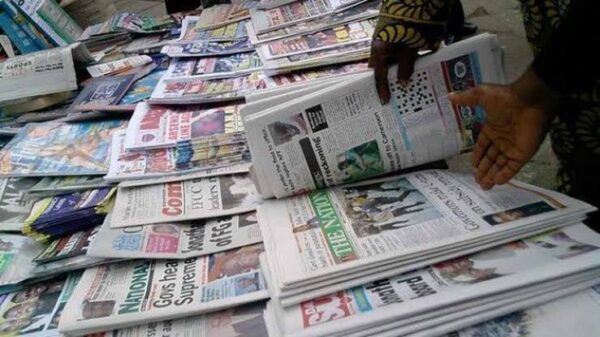 By Olopade Kayode
Posted by allcitynews.ng
**News update, Friday, 26\05\2023
**Buhari confers GCFR, GCON honours on Tinubu, Shettima
**May 29: We'll stop any attempt to scuttle handover — DSS warns
**Tinubu to chair Buhari book launch Friday
**Buhari hands over transition documents to Tinubu
**Tinubu is God's answer to prayers for good leadership – Senator Gaya
**First Lady: Aisha Buhari "hands over"to Remi Tinubu
**I've run a good race, time to pass the baton – Buhari
**Expect knocks on your door whether you go to Daura or Niger – Tinubu to Buhari
**Ohanaeze makes U-turn, set to attend Tinubu's May 29 inauguration
**MAN, NACCIMA, others highlight priority areas of devt for incoming administration
**Buhari salutes Aregbesola on 66th birthday, says his administrative, political experience will always be relevant
**DSS uncovers plans to hijack May 29 inauguration
**Nigeria Air would bring relief to Nigerians – Presidency
**Delta to shut secondary schools over cultism
**Recognising June 12 means show of courage – Tinubu hails Buhari
**I won't disappoint Nigerians, Tinubu assures
**Tinubu Presidency will guarantee Nigeria of our dream – Senator Fatimo Rasaki
**Oba Akiolu's reign has brought peace, unity, devt — Sanwo-Olu
**CJN swears in 39 additional judges for election tribunals
**Osinbajo to lead Commonwealth observers for Sierra Leone election
**OSUN: Adeleke begins process for dualisation of old garage – Oke Fia – LAMECO junction road in Osogbo
**Court jails 3 men 20 years for N45.6m stock fraud
**Sanwo-Olu commissions dual carriageway, bridge linking Ogudu to Alapere
—Inaugurates new markets in Ketu, 12 other projects in Lagos East
**Acquaint yourselves with our development agenda, Oyebanji tasks Ekiti Law makers- elect
**CBN revokes operating licenses of 132 MFBs, others
**How Otti will rebuild, rebrand Abia – Lawmaker-elect
**Nigeria will 'Fall' If Nnamdi Kanu dies in detention – IPOB
**DSS warns against unruly behaviours and non-adherence to protocols during inauguration activities
**Oyo begins Makinde's 2nd Term inauguration programme, Friday
**Oyo Assembly confirms suspension of Kajola Council Chairman
**NAFDAC raids 15 supermarkets, seals one, confiscates expired commodities in Minna
**MPC shuns bleeding economy, raises interest rate to 18.5 per cent
**Seun Kuti departs Nigeria for Switzerland hours after regaining freedom
**Germany in recession as inflation, higher interest bite
**Pope Francis orders World Powers to 'Hands Off Africa' in new book
**Obama mourns American Music Legend Tina Turner
**New Liverpool director regrets Osimhen's Wolfsburg sale
**Win World Cup, become landowners – Wammako promises Flying Eagles
Wishing you a fabulous weekend ahead
Good morning, wishing you a relaxed and lovely weekend ahead.
For ADVERT Placement; for EVENT Coverage; Have story to PUBLISH;
HAVE Breaking story with pictorial evidence OR wants to assist allcitynews.ng
by DONATIONS, kindly contact us via ojezand@yahoo.com. Thank you..
Disclaimer:
Comments expressed here do not in anyway reflect the opinions of allcitynews.ng or any employee thereof. It assumes no responsibility or liability for any errors or omissions in the comments.
Allcitynews.ng's goal: To be the most influential, informative and reliable issues-based online newspaper in working for the unity, peace and development of the Country.