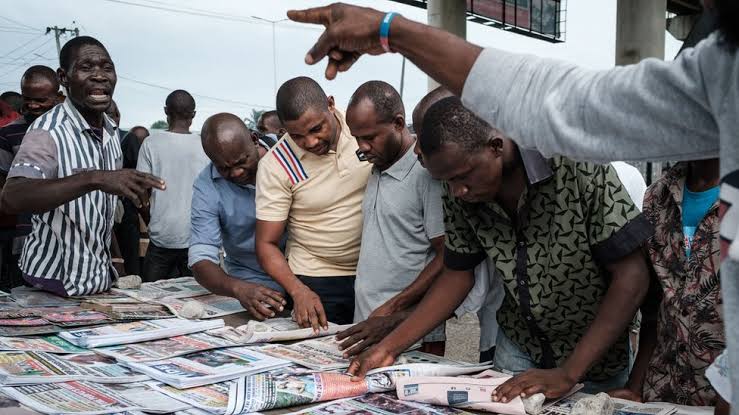 News update, Sunday, 25/12/2022
By Kayode Olopade
**Current CBN cash withdrawal policy will throw many into labour market-NLC
**Christmas: Vote for people who will maintain my govt's good momentum – Buhari
**Buhari preaches love, peace @ Christmas
**Christmas: Sanwo-Olu preaches peace and harmony
**Christmas: Be hopeful, God hasn't forsaken Nigeria, CAN president tells citizens
**Christmas: Lawan, David Mark preach peace, love
**Christmas: Remain hopeful for better nation – Obi urges Nigerians
**Christmas: Fewer intending travellers at Lagos Parks due to high fares
**Christmas: Politics not dirty game, Lalong tells Christians
**Christmas: Let love of Christ lead— Obasa advises Nigerians
**Christmas: Osun SSG urges Nigerians to extend love, kindness to others
**Christmas: NEMA launches 'Operation Eagle Eye' in Abia
**Christmas: Speak out against bad leadership – Gani Adams urges Clerics
**South-East safe for Christmas, New Year celebrations – AIG
**2 die in Christmas Eve accident
**Anyone planning to violently.disrupt 2023 elections has lost the battle – Buhari
**Calling me Jubril from Sudan wasn't a funny joke – Buhari
**We won't disappoint you – Tinubu assures Buhari
**You 're first presidential candidate to visit me, keep doing what is right – Jonathan to Obi
**Gbajabiamila commiserate Ghali Na'abba over mother's death
**SSS positions operatives to arrest Godwin Emefiele on sight
**Atiku Campaign Council knocks Wike over sealed secretariat in Rivers
**Buhari greets Ibukun Awosika at 60
**INEC decries duplicate voter registrations in Imo State, denies working for Hope Uzodimma
**Buhari will make a good entertainer post-presidency – Osinbajo
*Tinubu will take Nigeria to glorious destination – Lawmaker
**Atiku'll win without G-5 govs, says campaign council
**Troops Burst Terrorist Camps In Kaduna, Recover Arms, Motorcycles
**My best not good enough for some Nigerians – Buhari
**Atiku campaign council knocks Wike over sealed secretariat
**Emefiele issued 72-hour ultimatum to resign or be sacked by Buhari
**Ondo senator donates equipment to 90 secondary schools
**21 years after Bola Ige: Spirit remains irrepressible
**Atiku's spokesman blasts FG over rising food prices
**PDP Crisis: Wike gets tough message from Atiku after Rivers Govt sealed campaign office
**Ondo senator donates equipment to 90 secondary schools
**Sokoto NUJ lauds Army chief over community devt
**Road Construction: Lagos govt announces traffic diversion at 2nd Rainbow
**LAWMA to clear all festive waste in good time – Odumboni
**Fire guts Imo Timber market
**4 Kogi students kidnapped in Ondo
**Japa: Nigerian teachers to receive 28000 pounds salary in United Kingdom
**Taliban ban women from working in national, international NGOs
**Twenty-two killed in fire at Nursing Home in Russia
**Nigerian footballer Chinedu Uchechukwu is dead
**Guardiola accuses Phillips of returning from World Cup 'overweight'
**After World Cup, 2022/2023 football season returns
**AFCON: Nigeria to battle host Egypt, Senegal, Mozambique
I wish you a Merry Christmas and the Best year in 2023
For ADVERT Placement in allcitynews.ng!, for EVENT Coverage!, to PUBLISH a story in allcitynews.ng! Or Have breaking story with pictorial evidence, kindly send such to ojezand@yahoo.com. Thank you..
Disclaimer:
Comments expressed here do not reflect the opinions of allcitynews.ng or any employee thereof. It assumes no responsibility or liability for any errors or omissions in the comments.
Allcitynews.ng's goal: To be the most influential, informative and reliable issues-based online newspaper in working for the unity, peace and development of the Country.