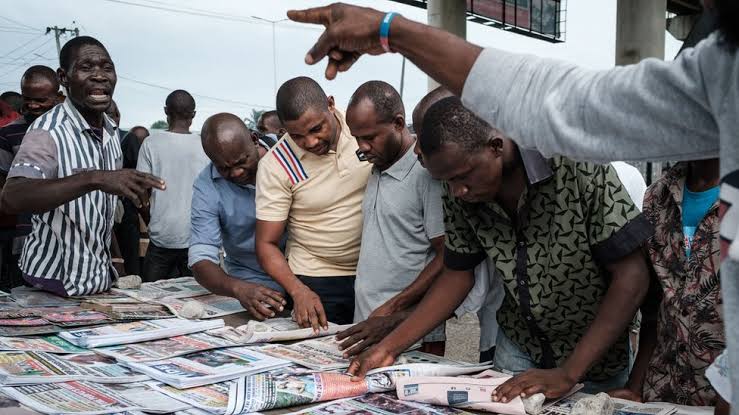 News update, Sunday, 11/12/2022
By Kayode Olopade
**World Cup: Morocco thrashes Portugal 1-0 to become 1st African country to pick semi-finals ticket
**Buhari approves disbursement of CVFF fund after 17 years
**Keyamo orders PDP: Apologise to Tinubu for your 'undemocratic' comment
**Buhari off to Washington for US-Africa Leaders Summit
**Body of Benchers clears air on NBA President's letter to Olanipekun
**After DSS threat, Abuja filling stations commence 24hrs operation
"*Buhari to varsities: Dismiss randy lecturers on your campuses
**Sanwo-Olu disbands landed properties Special Operations Team
**Ooni of Ife gives car, cash to royal aides on coronation anniversary
**Sit-at-home: Tension as gunmen attack Enugu policemen, raze vehicle
**US-Africa leaders summit: Buhari goes to Washington
**Crashed marriage: My wife said she was tired – Julius Agwu
**Kanu's lawyer laments: Armed men attacked my hometown
**2023: Atiku's North-East campaigner dumps PDP for Tinubu
**Farmers cry to FG: Herdsmen 've chased us out of our farms
**Repayment burden worsens, as national debt hits N44tn
**Abducted babies: Hospital CMD discloses what happened during gunmen attack
**Adebutu and Dapo Abiodun trade words over alleged N86.21b debt of the state
**70,000 Muslims to converge on Ogun for Ahamadiyya National Conference
—-To conduct mass wedding for 17 couples
**God is ultimate source of peace, security, prosperity, says Alatoye
**Ogun PDP flags off campaign, Adebutu unveils 7-point Agenda
**2022 Campaign Tayo Ayinde appointed Director-General
**D'bang threatens to sue ICPC over detention
**Don't be carried away by rallies, Okotie warns Nigerians
**A frontline politician, Alani Okikioposu dies
**Tayo Ayinde expresses shock over Mayor Okikioposu,'s death
—–Condoles with family, says the legacies bequeathed by Mayor can not be forgotten.
**Adebule celebrates WORLD HUMAN RIGHTS DAY
**Victim laments traffic robbers' attacks on Gbagada-Oworoshonki Express way
**UN to FG: Probe alleged forced abortions
**Portuguese Media continue to make claims about Ronaldo's mutiny
**World Cup: France outclass England 2-1 to cruise into Semi Final to face Morroco
**Giroud takes France into World Cup semis as Kane penalty miss costs England
Wishing you a blessed, gracious and miracle-filled Double Portion Sunday.
For ADVERT Placement in allcitynews.ng!, for EVENT Coverage!, to PUBLISH a story in allcitynews.ng! Or Have breaking story with pictorial evidence, kindly send such to ojezand@yahoo.com. Thank you..
Disclaimer:
Comments expressed here do not reflect the opinions of allcitynews.ng or any employee thereof. It assumes no responsibility or liability for any errors or omissions in the comments.
Allcitynews.ng's goal: To be the most influential, informative and reliable issues-based online newspaper in working for the unity, peace and development of the Country.