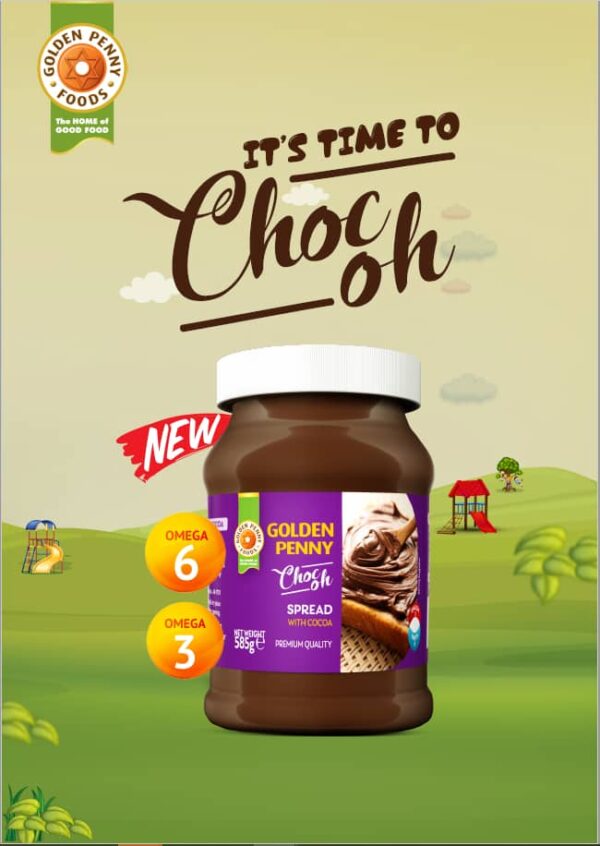 Posted by allcitynews.ng
With Cocoa … Made from natural cocoa sourced from local farmers
In apparent bid to satisfy the existing numerous consumers and gain more, Golden Penny Foods has stormed Nigerian markets with Golden Penny Foods Premium Quality Chocolate Spread With Cocoa.
The new product is made from natural cocoa is local farmers.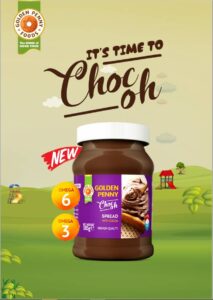 According to Golden Penny, the Chocoh Spread contains Recommended Dietary Allowance (RDA).
Through its commitment to Feeding the Nation Everyday, FMN's iconic brand, Golden Penny launched Golden Penny Chocoh, a chocolate spread made from natural cocoa which contains the Recommended Dietary Allowance (RDA) adequate to meet the nutritional needs of a healthy person.
The Golden Penny Foods brand has continued to produce superior quality products ranging from pasta to noodles, ball foods, flour, breakfast cereal, edible oil & fats, etc. to the satisfying pleasure of its consumers.
The Golden Penny Chocoh Spread is made with natural cocoa sourced from local farmers, which is very rich in Polyphenols – compounds that have potent antioxidants and anti-inflammatory effects. The Chocoh Spread also contains Omega 3 & 6, essential fats that actively help to reduce inflammation.
The Golden Penny Chocoh Spread was launched as a proactive response to consumers' need for a tasty, nutritious, and superior-quality spread that affords them the required dietary nutrients.
Speaking on the Brand's commitment to consistently affording consumers products of superior quality, the Managing Director, Foods Division, Mr. Devlin Hainsworth said "The Golden Penny Brand is synonymous with nutritional goodness, bringing joy to people and offering great quality and value, with that in mind we identify categories and new launches that we can add to the Golden Penny basket.
"The Chocoh spread is an exciting demonstration of this commitment. By locally sourcing the cocoa used in the production of our chocolate spread, we are also driving local content and innovation across our value chain and various touchpoints. And as always, we are committed to sustainably feeding the Nation, everyday".
Also commenting on the expected consumers' outlook on the product, FMN Marketing Director, Foods Division, Mr. Ilyas O. Kazeem said "We are excited to introduce our new Golden Penny Chocoh Spread to our customers. It is a direct response to our consumers' need for nutritious quality products so you they can Indulge themselves with its deliciously sweet taste.
"It is made from pure soya oil and natural cocoa sourced from local farmers. It contains Omega 3 & 6 is a good source of energy. It is smooth with a rich sweet taste. Easy to spread on bread, pastries, biscuits, and a delicious dip for fruits. It is available in three different sizes, 15g sachets, 325g and 585g jars. With Golden Penny Chocoh Spread, our consumers are assured of a tasty and indulgent experience".
The Golden Penny Chocoh Spread is now available in stores across Nigeria. With this new product, Golden Penny continues to deliver high-quality foods that meet the needs of its consumers while supporting local production and sourcing. For more information, visit @goldenpennyspread on Instagram and Facebook.
For ADVERT Placement;
for EVENT Coverage;
Have story to PUBLISH;
HAVE Breaking story with pictorial evidence
OR wants to assist allcitynews.ng
by DONATIONS,
kindly contact us via ojezand@yahoo.com. Thank you.
Allcitynews.ng's goal: To interface between policy makers & general public, most influential, informative and reliable issues-based online newspaper, working for unity, peace and development of the Country.
Disclaimer:
Comments expressed here do not in anyway reflect the opinions of allcitynews.ng or any employee thereof. It assumes no responsibility or liability for any errors or omissions in the comments.