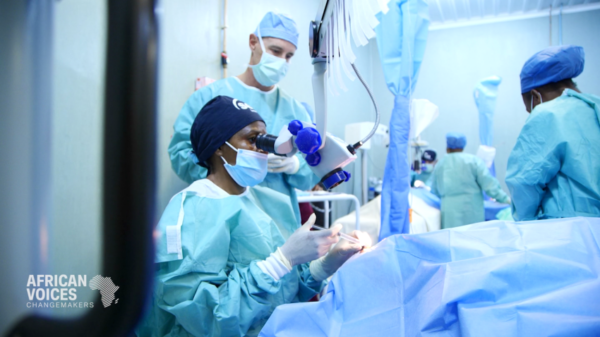 WATCH HERE
In the latest episode of African Voices Changemakers, CNN's Arit Okpo meets Dr. Helena Ndume, an ophthalmologist who is restoring sight to thousands of people in Namibia, and Dr. Ncumisa Jilata, a neurosurgeon breaking boundaries in South Africa.
Dr. Helena Ndume has helped restore sight to over 35,000 people for free. She tells CNN, "No money in this world can pay the happiness of someone who was blind and suddenly after you take that eye pad and they tell you, 'Doctor, I can see.'"
Known as the "Miracle Doctor", Dr. Ndume describes to Okpo what a typical weekend at work looks like, "We started operating on Saturday afternoon and throughout Sunday up to yesterday and so far, we've done 432 patients. After a short 15-minute operation, the patients regain their sight again. We cannot just allow people to go blind from cataracts which is preventable. We must do our part to change people's lives."
Dr. Ndume grew up during a period of political turmoil, as Namibia fought for independence from Apartheid South Africa. Her and her family sought refuge elsewhere and the help of others inspired her to give back to the community, "These people changed my life to be what I am today. That is why I also give back and change other people's lives just like mine was changed."
In South Africa, neurosurgeon Dr. Ncumisa Jilata wants to inspire others to join her field, "I want to increase the reach of neurosurgical services and expertise to the rest of the continent." Two years ago, Dr. Jilata was one of only 18 registered female neurosurgeons in the country, according to an article in the journal of neurosurgery. This is a statistic Dr. Jilata wants to change.
Patient care does not stop at the operation. "A huge part of our job is the post-op care, you can do a beautiful surgery but at the end of the day the post-op care is equally important," she says. When Dr. Jilata is not at the hospital, she is found at her private practice where she meets patients of all ages for consultations.
However, despite her busy schedule, she prioritises making time to mentor young doctors, "It's very important to identify within the youth and potential. As a neurosurgeon, you are holding the torch for neurosurgery and therefore you have to make sure that there are more that are coming after you."
https://edition.cnn.com/specials/africa/african-voices-changemakers
For ADVERT Placements in allcitynews.ng, EVENT Coverage, PUBLISH a story in allcitynews.ng, Or Have breaking story, kindly send such with pictorial evidence to
ojezand@yahoo.com. Thank you.
Disclaimer:
Comments expressed here do not reflect the opinions of allcitynews.ng or any employee thereof. It assumes no responsibility or liability for any errors or omissions in the comments.
Goal of allcitynews.ng: To be the most influential, informative and reliable issues-based online newspaper in working for the unity, peace and development of the Country.