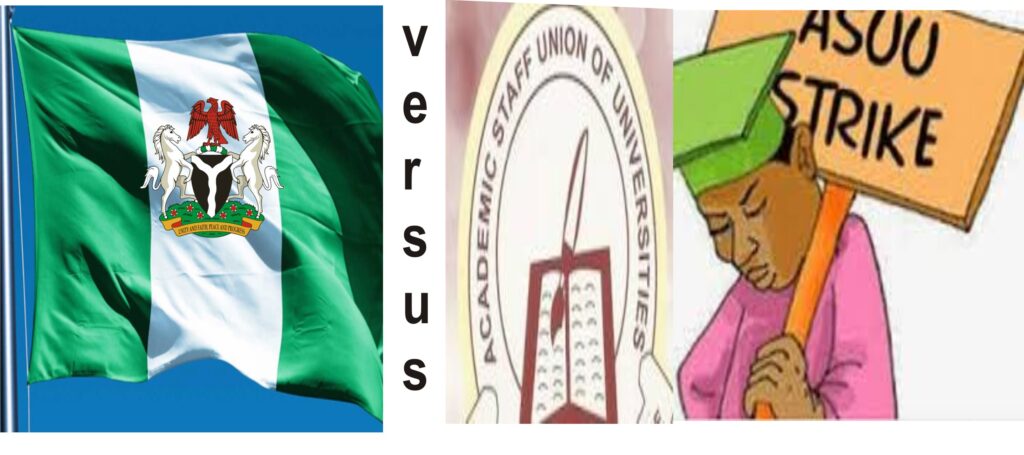 By allcitynews.ng
Barely few hours after instructing Vice Chancellors to reopen universities despite the ongoing strike by Academic Staff Union of Universities (ASUU) Federal Government has cancelled the forceful reopening.
Federal Government made the withdrawal in a new directive on Monday, 26 September 2022 afternoon through the National Universities Commission (NUC).
It would be recalled that NUC in apparent bid to weaken the rope of unity that tends to bind ASUU lecturers with National Association of Nigerian Students (NANS), wanted to go through back doors to reopen the schools by ordering Vice Chancellors to go ahead to reopen the lecture halls.
The Commission had given the order in a letter approved by the Executive Secretary of the commission, Professor Abubakar Rasheed.
In the letter signed by the Director, Finance and Accounts of the NUC, Sam Onazi, the Commission directed the Vice Chancellors to ensure that the striking lecturers immediately resume lectures.
The letter was addressed to all vice-chancellors; Pro-Chancellors and chairmen of governing councils of federal universities.
"Ensure that ASUU members immediately resume/commence lectures; Restore the daily activities and routines of the various University campuses," the letter partly reads.
But in another circular tagged NUC/ES/138/Vol.64/136, which was also signed by the Director, Finance and Account of the NUC, Sam Onazi, the commission withdrew the order without giving an explanation.
The letter tagged, "withdrawal of circular NUC/ES/138/Vol.64/135 dated September 23, 2022" partly read, "I have been directed to withdraw the NUC Circular Ref: NUC/ES/138/Vol.64/135, and dated September 23, 2022 on the above subject.
"Consequently, the said circular stands withdrawn. All pro-chancellors and chairmen of governing councils, as well as vice-chancellors of federal universities are to please note. Further development and information would be communicated to all relevant stakeholders.
"Please accept the assurances of the Executive Secretary's warmest regards."
ADVERTISE or PUBLISH a Story on allcitynews.ng: Kindly contact us at ojezand@yahoo.com. Have breaking story! Please send such with pictorial evidence to the above email. Thank you.
Disclaimer:
Comments expressed here do not reflect the opinions of allcitynews.ng or any employee thereof. It assumes no responsibility or liability for any errors or omissions in the comments