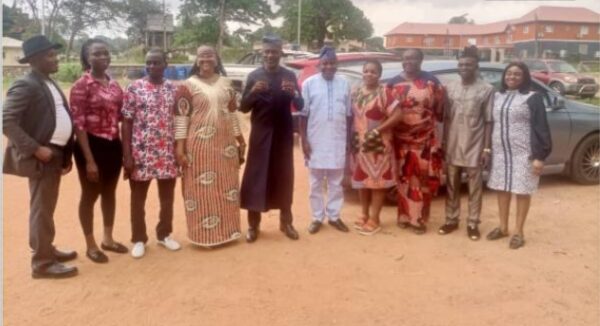 By Joseph Obaro Ikupa
The Worldwide President of the Ambrose Alli University Alumni Association, Dr. Clifford Omozeghian over the weekend visited the Ibadan branch of the Alumni Association on a working visit.
During the visit, the Chairman and members of the Ibadan branch trooped out enmasse to welcome him at the airport and escorted him to his hotel.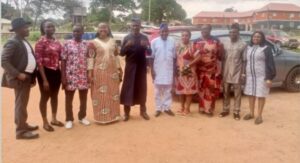 The Worldwide President Dr. Clifford Omozeghian in black flanked by the Ibadan branch Chairman in white and other members of the elected executive Committee.
In the course of the visit, the president held an interactive session with the members of the association who complained about the difficulty they experience in getting transcripts and certificates from the Ambrose Alli University, Ekpoma.
In his response the Worldwide President, Dr. Omozeghian assured them that he would set up a committee to liaise with the institution's management to ensure that the difficulty in getting transcript becomes history.
The Worldwide President therefore called on all graduates of the institution in need of transcripts and certificates to liaise with the committee once it is set up.
The high point of the working visit was the dissolution of the old Exco of the Alumni association and swearing-in of a new executive committee for the Ibadan branch of the association by the Worldwide President, following a successful election.
Written by Joseph Obaro Ikupa Worldwide Publicity Secretary AAU Alumni Association
For ADVERT Placement;
for EVENT Coverage;
Have story to PUBLISH;
HAVE Breaking story with pictorial evidence
OR wants to assist allcitynews.ng
by DONATIONS,
kindly contact us via ojezand@yahoo.com. Thank you.
Allcitynews.ng's goal: To interface between policy makers & general public, most influential, informative and reliable issues-based online newspaper, working for unity, peace and development of the Country.
Disclaimer:
Comments expressed here do not in anyway reflect the opinions of allcitynews.ng or any employee thereof. It assumes no responsibility or liability for any errors or omissions in the comments