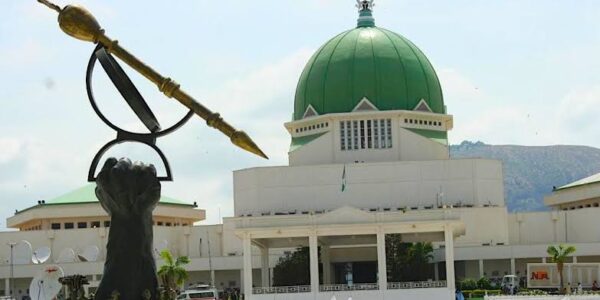 By allcitynews.ng
Not ready to be pushed aside or marginalised in scheme of things, 231 women group have entered into solidarity group to take leadership roles in the 10th National Assembly by fire by force.
Thus the agitation for top positions in the 10th National Assembly assumed a front burner on Saturday with a coalition of over 231 women organisations under the aegis of Womanifesto demanding the inclusion of women either as Senate President, Deputy Senate President or Speaker of the House of Representatives.
According to them, since gender equity was critical to sustainable development, Nigeria cannot afford to be left behind.
The CSOs which constitute members of constitute Womanifesto included The Woman Today Newspaper, Women Advocates Research and Documentation Centre (WARDC), 100 Women Lobby Group, ActionAid Nigeria, Baobab for Women's Human Rights, Christian Women in Nigerian Politics, Women in Politics Forum (WiPF), Nigerian Women Trust Fund (NWTF) and Enough Is Enough Nigeria (EiE).
Others are Federation of Muslim Women Association in Nigeria (FOMWAN), Kimpact Initiatives, Kudirat Initiative for Democracy (KIND), International Federation of Women Lawyers (FIDA), National Centre for Women Development (NCWD), National Council of Women Societies (NCWS), Nigeria Association of Women Journalists (NAWOJ), Nigerian Women Trust Fund (NWTF), Women Aid Collective (WACOL) and Yiaga Africa.
Womanifesto in a statement by its Convener and Executive Director of WARDC, Dr. Abiola Akiyode-Afolabi, said having women serve as parliamentary principal officers would contribute tremendously to inclusive governance and national development in the next dispensation.
The statement titled, "Women groups call for more women in leadership positions at the National and State Assemblies", was obtained by journalists in Abuja.
Akiyode-Afolabi said, "At least 44 per cent of Nigeria's voting population are women, yet less than 5 per cent of the 1,553 women who contested the 2023 elections across Nigeria were elected. Despite the consistent push for increased representation of women in politics–elective and appointive positions, the just concluded 2023 Presidential and National Assembly elections show alarming underrepresentation of women.
"For instance, of the 1,459 Legislative seats at the state and national levels, so far, women have won only 75 seats. Alarmingly, there are 15 states without a single woman in their State House of Assembly.
"It is of great concern that in the election into the Nigerian parliament from 1999 till date, only 176 women have been elected (new and repeat) as compared to 3,107 for their male counterparts. In the coming 10th National Assembly, there is a reduction from eight women in the Senate to three, while in the House of Representatives, only 17 women have been elected so far compared to the 13 in the outgoing 9th Assembly.
"It is no wonder that as of February 2023 the Inter-Parliamentary Union (IPU) ranks Nigeria 183 out of 193 countries in Women's Representation in National Parliaments. In Nigeria's 24 years of democracy, no woman has been Senate President or Deputy Senate President. Patricia Etteh is the only woman to be the Speaker of the House of Representatives from June to October 2007. Hon. Mulikat Akande was the first woman elected as Majority Leader at the Federal Legislative level in 2011.
"More women need to be elected to leadership positions in the National Assembly of Nigeria irrespective of the current numbers. These women represent about 50 per cent of Nigeria's population and this should be reflected in the parliament's leadership. This is a matter of equity and social inclusion.
"The National Assembly is constitutionally vested with several functions, such as lawmaking, confirmation of nominations, representation, oversight, scrutinizing bills, legislative proposals, and motions, etc. Most of these functions are achieved through Committees made up of Distinguished Senators and Honorable Members of the House of Representatives. Section 62(1) of the Constitution of the Federal Republic of Nigeria (1999) empowers the Senate and the House of Representatives to appoint Committees of special and general purpose as may be expedient.
"The Senate is charged with intervening in matters of national security, epidemic, poverty drought, and government and labor union disputes for industrial unity. Senate also confirms the President's nominations for senior diplomats, federal judges, and members of INEC. Federal and state lawmakers duly elected to the National Assembly are vanguards of Nigeria's democracy, peace, development, and unity. Decisions being made in parliament need to mainstream gender inclusion and equity.
"With Nigerian women successfully leading in various fields globally, it is vital that they take the lead in parliament and its Committees. Besides, gender equity and inclusion are a matter of efficiency and merit. In light of the foregoing, we demand the inclusion of women among the top three slots of Principal Officers of the Nigerian Parliament either as Senate President, Deputy Senate President, or Speaker.
"There are qualified women among the elected National Assembly and State Houses of Assembly. In addition, it is the reality of the day that gender equity is critical to sustainable development; and Nigeria cannot afford to be left behind. Having women serve as parliamentary Principal Officers would contribute tremendously to inclusive governance and national development in the next dispensation.
"More than ever, we demand that:
The Gender and Equal Opportunities (GEO) Bill be passed;
the five gender bills be re-debated and voted for, as the rejection of these bills has harmed Nigerian women, the country, and our social capital and more resources be allocated to pursue an equal society."
For ADVERT Placement;
for EVENT Coverage;
Have story to PUBLISH;
HAVE Breaking story with pictorial evidence
OR wants to assist allcitynews.ng
by DONATIONS,
kindly contact us via ojezand@yahoo.com. Thank you.
Allcitynews.ng's goal: To interface between policy makers & general public, most influential, informative and reliable issues-based online newspaper, working for unity, peace and development of the Country.
Disclaimer:
Comments expressed here do not in anyway reflect the opinions of allcitynews.ng or any employee thereof. It assumes no responsibility or liability for any errors or omissions in the comments.